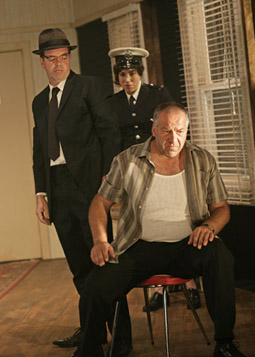 photo Jeff Busby
Kevin Harrington, Alison Bell and Tony Nikolakopoulos, The Spook
ONE OF THE UNEQUIVOCAL RESULTS OF THE' WAR ON TERROR' HAS BEEN THE NORMALISATION OF AUSTRALIA'S INTELLIGENCE AGENCIES AND THEIR ACTIVITIES. IN THE PAST, THE EXISTENCE OF AGENCIES SUCH AS THE AUSTRALIAN SECRET INTELLIGENCE ORGANISATION (ASIO) AND THE AUSTRALIAN SECRET INTELLIGENCE SERVICE (ASIS) WAS BARELY ACKNOWLEDGED. NOW, ON THE SURFACE AT LEAST, THEY LOOK AND ACT LIKE ANY OTHER PUBLIC SERVICE AGENCY.
In some ways this might seem like progress. Stripping intelligence agencies of their James Bond mystique is long overdue and, in theory at least, ought to promote more accountability. Less reassuring, though, is the way intelligence agencies and their activities have become entrenched as part of the social fabric. No longer seen as exceptional, they are fast becoming just another arm of police enforcement.
This development is particularly disturbing given that Australia's intelligence organisations have been given wide-ranging new powers that seriously erode freedoms and rights, and they are significantly increasing their personnel. ASIO alone has embarked on a massive recruitment drive—2000 new staff are currently being recruited—aided by slick press ads and regular posts on Seek.com.
Melissa Reeves' The Spook looks back to a time when recruitment was a more cloak and dagger affair. Based in fact, The Spook tells the story of Martin Porter who as a young man is recruited at a local football match by an ASIO controller to spy on the South Bendigo branch of the Communist Party of Australia. Martin ingratiates himself with the other members, in the process becoming alienated from his mother who believes him to be a bona fide Communist and, eventually, his wife who, though aware of her husband's double life, tires of their alienation from the local community. Martin ends up befriending—and betraying—those he spies on.
There's a lot that's likeable about The Spook. The scripting is tight and well paced and the performances are uniformly strong. Kevin Harrington is perfect as the bland and officious secretary of the Communist Party branch, Frank Nash, for whom sales figures of The Tribune are as important as world historical events. Tony Nikolakopoulos and Maria Theodorakis are warm and passionate as George and Eli Tassekis, who extend their friendship to Martin.
Even some of the minor characters are brilliantly observed. A particular highlight was Alison Bell's portrayal of one of the members of the communist party branch who routinely arrives late to branch meetings and sits there, frowning and fidgeting, as if caught in history's headlights. In only a few lines, she manages to create a complex and layered character.
Despite some nice performances and subject matter dealing with an intriguing and largely forgotten episode in Australia's political history, The Spook, for the most part, contents itself with nostalgia, frolicking through Australia's past, rather than actively engaging with it.
That's not to say there is no commentary on the present. For example a reference to Maoists in the classroom is a neat sideswipe at Federal Education Minister Julie Bishop's recent claim that Maoist ideology is rampant in our schools.
Similarly, after his arrest by Immigration for using a false name on his passport, George is asked about his views on the Berlin Wall in an interrogation. "Do you think we should have a wall like that around Australia?", he's asked by the defenders of freedom—a deft counterpoint to our own defenders of freedom who seem relaxed and comfortable about erecting bureaucratic walls to keep out all those pesky asylum seekers.
And, after expressing some doubts about his own spying activities, Martin's ASIO controller exclaims there's "no room to make niceties…this is a war Martin", the echo of which can be heard in the pushers of the 'war on terror' whose defence of 'our way of life' extends to destroying some of the very things —freedom and the rule of law—that define that way of life.
But these are brief, passing moments of reflection that are not sustained. Rather than meditating on the role of intelligence communities in a society that professes to live by the tenets of liberal democracy, The Spook opts to take a light romp through this episode of Australia's history. When the narrative does shift into a more serious register, any sense of drama is quickly dissipated by a quick return to gags.
One of the final scenes, for example, sees Martin confessing his double life to his mother who, recovering from a stroke, no longer knows who he is. It's a potentially tragic and poignant moment, but the comic situation created by Martin's mother's failure to recognise her son or the seriousness of what he's saying undercuts the drama. Though far preferable to an earnest and didactic treatment, the light-hearted, nostalgic treatment of Martin's fate dampens any dramatic potential.
In part, the potential of The Spook is let down by a weak central character. Martin is intended to be an everyman: the uncomplicated country boy who loves his country, is in the local football team, plays trumpet for the CMF and is a member of the air cadets. He's also uncompromisingly dull. He starts out as optimistic, if pathetic and inconsequential, and ends up as pessimistic and even more pathetic and inconsequential. It's only at the play's end, when he questions his double life that Martin shows the kind of psychological complexity that might enable deeper reflection on the past, present and future. But he's too slight and bland a character to carry anything more momentous.
One of the unintended consequences of this lack of drama is that The Spook, in spite of portraying the betrayal and the deportation and the forced separation of an immigrant family and the destruction of people's lives through the banal workings of bureaucratic machinery, leaves the impression that the activities of spy agencies are all a bit of lark. In smothering the dramatic potential of the material, The Spook leaves the impression that the past was a more innocent place.
And what of the present and the future? The Spook seems to have little to say about who we are now or what we might become, ending up a lost opportunity to use history as a way of shedding light on where we are and where we might be headed.
The Spook, writer Melissa Reeves, director Tom Healy, performers Alison Bell, Kevin Harrington, Margaret Mills, Denis Moore, Tony Nikolakopoulos, Luke Ryan, Maria Theodorakis, set & costume design Anna Borghesi, lighting design Richard Dinnen, composition, sound design David Franzke; Malthouse Theatre, Melbourne, Feb16-March 10
RealTime issue #78 April-May 2007 pg. 35