To kick off 2015 we've asked RealTime contributors for a little recap of 2014—what, thrilled, challenged, inspired or knocked their critical socks off. They also let us know what they are hoping to see in the upcoming Year of the Sheep (or Goat) which the ever reputable internet tells us is a symbol for the arts!
John Bailey | Ben Brooker | Urszula Dawkins | Nerida Dickinson | Kathryn Kelly | Matthew Lorenzon
John Bailey
I'd like to say that UK performance artist Bryony Kimmings' Credible Likeable Superstar Role Model was one of the most stirring experiences of 2014, but that would be wrong. The 2014 bit, I mean. I'm far from alone in nominating it as a work that will alter my theatre-going expectations for years to come, and I know of a range of artists and audience members who have already said the same. It was impassioned, outraged, hilarious and heartfelt; a Quixotic attempt to wage war on the culture industry that sells young girls an image of themselves as commodities (see RT120).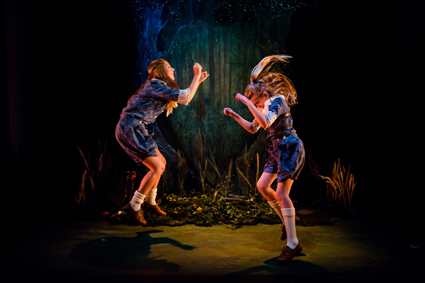 photo Richard Davenport
Bryony Kimmings, Taylor Houchen, Credible Likeable Superstar Role Model
Kimmings' earlier autobiographical work Sex Idiot was also a favourite among many Melburnians last year but Credible… is to me more compelling in the way it sees its maker shifting from a solipsistic practice of self-interrogation to one that scrutinises that self's place within a larger context, and tries to find some agency through which to change that environment. I'm excited by Kimmings' next venture here, Fake It 'Til You Make It (http://www.bryonyandtim.com), in which she collaborates with partner Tim Grayburn to do battle with taboos surrounding male depression. I can't think of a more capable warrior. (John interviews Kimmings in RT125.)
Red Stitch's production of George Brant's Grounded took the theatre of a more literal war as the starting point for something approaching the sublime (see RT122). Kate Cole's depiction of a fighter pilot landed with a desk job controlling a military drone evoked the heightened electricity of the combat-addict and the soul-crushing alienation of high-tech state-sponsored terror. Far from a ripped-from-the-news-pages war drama, its unfolding was more like a visitation from the beyond.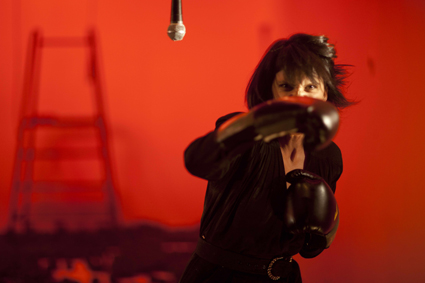 Mary Hellen Sassman, Frankenstein, courtesy Malthouse
The Rabble's Frankenstein was a more cosmic kind of horror, and one bereft of any hope of transcendence. It offered some of the most viscerally upsetting imagery the company has yet dreamt up. While it's not a world I'd ever want to live in, it suggests at least that there are those among us willing to venture deeper into the darkness than most of us are able (see RT120).
If there's a common thread apparent in these three works it's one I'll be hunting for more earnestly in the year to come: an engagement with issues personal, political or philosophical that doesn't 'explore' so much as push through, taking its audience to a place that hasn't yet been articulated, leaving them with the task of finding their own way back. Or not. Maybe there's no way home.
See John Bailey's Contributor Profile.
Related articles
A reason to care for strangers
John Bailey: Bryony Kimmings, Melbourne International Comedy Festival, FOLA
RealTime issue #120 April-May 2014 pg14
Braving the limits of the monologue
John Bailey: Red Stitch, Angus Cerini, BalletLab
RealTime issue #122 Aug-Sept 2014 p46
Dark mothering
John Bailey: Katie Warner's Dropped; The Rabble's Frankenstein
RealTime issue #120 April-May 2014 p41
Ben Brooker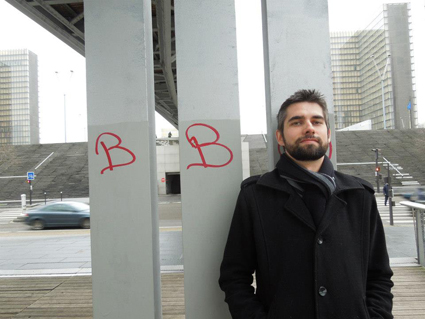 Ben Brooker
How to hold in the mind a total image of live performance in Australia in the year behind us? Not possible. Better to try for a single impression, a freeze-frame that speaks of what preceded it and what must, we imagine in hope or despair, surely follow.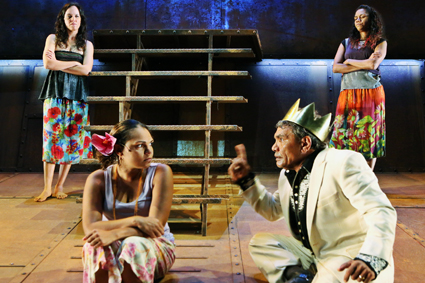 photo Prudence Upton
The Shadow King
Perhaps more than anything else, 2014 saw Shakespeare, ever our contemporary, revitalised once again. My year was bookended by two flawed but ambitious and important productions, Malthouse's King Lear retelling The Shadow King (creators Michael Kantor and Tom E. Lewis, see Stephen Carleton review RT124 & Keith Gallasch review RT119) and the State Theatre Company of SA's Othello (director Nescha Jelk). Holding up lenses of, respectively, indigeneity and feminism, both productions violently transposed Shakespeare's canonical texts to the here and now, illuminating the individual and social costs of institutionalised prejudice and subjugation.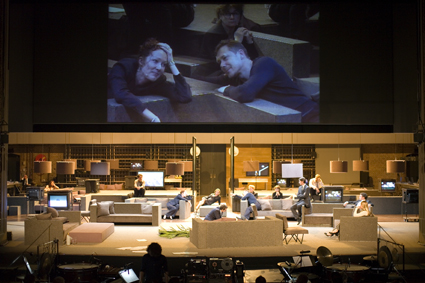 photo Jan Versweyveld
Chris Nietvelt, Hans Kesting, Roman Tragedies
In contrast, Toneelgroep's Roman Tragedies (director Ivo Van Hove, see RT120) eschewed critique, paring back the poetry of Shakespeare's Roman histories to plain, contemporary English (via Dutch) and rendering the plays with the urgent, pummeling aesthetic of the 24-hour news media. Audience members will recall for a long time performances, especially those by Gijs Scholten van Aschat, Frieda Pittoors and Hans Kesting, of a rare intensity—Shakespeare given back to us by way of nothing more alchemical than the actor's craft in unencumbered motion.
"If there is a sphere whose very nature precludes all prognostication, it is that of culture, and especially of the arts and humanities." With Creative Australia shelved and funding for the non-elite arts gutted by the Coalition, Vaclav Havel's cautionary words resonate freshly. The only certainty looking ahead into 2015 is likely to be uncertainty as our artists and arts facilitators continue to attempt more with less. It is ominous that, judging by reports, the mood at this year's Australian Theatre Forum was siege-like, culminating in a statement aimed at the Abbott Government and signed by 52 delegates: "… we are compelled to respond by our urgent concerns about the ideologically-driven erosion of our collective social fabric, which, unless checked, will radically reduce our capacity to hope, dream, imagine, build and share."
While the forum was on, an independent two-week season of readings of new Australian plays was happening in Adelaide.* Eleven of the 14 playwrights were women, many of whom travelled from interstate to share the dreams—bold, angry, messy, beautiful—that they had each built on a shoestring. Perhaps we will always find ways of restaging Shakespeare as though the centuries that separate us are an illusion. This is one kind of vitality that sustains our stages. Another is predicated on the living playwright and it is to her that I hope 2015 will belong.
*One of my own plays was presented as part of these readings.
See Ben Brooker's Contributor Profile.
Related articles
Adapto-mania: insights and limits
Stephen Carleton: Brisbane Festival
RealTime issue #124 Dec-Jan 2014 p8
The trouble with tragedy
Keith Gallasch
RealTime issue #119 Feb-March 2014 p16-17
The imagination writ large
Benjamin Brooker: 2014 Adelaide Festival—theatre
RealTime issue #120 April-May 2014 p22
Urszula Dawkins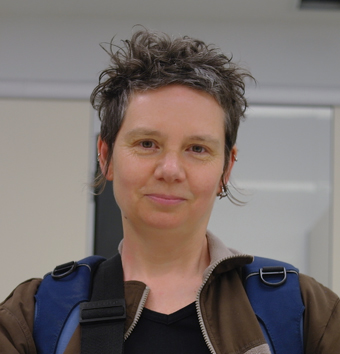 courtesy the writer
Urszula Dawkins
2014 felt like a year of individual triumphs and collective headway. I loved seeing events like the Festival of Live Art create critical mass for such a physically, viscerally and psychically engaging form (see Gail Priest review RT120). My 2014 live art highlight was one step at a time like this's profound and intimate piece, nowhere, which felt like 'active philosophy,' setting off deep intellectual and spiritual resonances.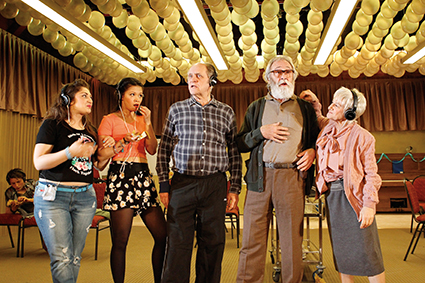 photo Jeff Busby
Roslyn Oades Hello, Goodbye and Happy Birthday
Works that privileged the emotional, without sentimentality, also thrilled me—Roslyn Oades's Hello Goodbye & Happy Birthday was one. I saw younger artists acknowledging history and making it new (see John Bailey review RT124): James Welsby's dance work Hex achieved this beautifully re the past and present history of AIDS. It's been great too to see feminism's renewal in incisive works by artists like Mish Grigor or I'm Trying To Kiss You (see Jana Perkovic's review RT121).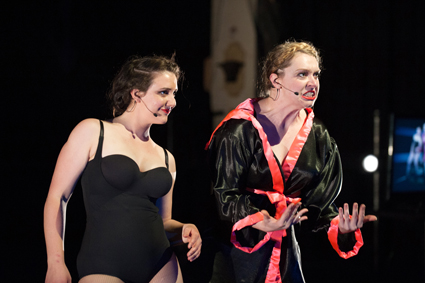 photo Sarah Walker
Madonna Arms
I sense growing collectivity and togetherness within the performing arts especially, both in emerging/experimental arts, and across the established/emerging hierarchy. More flagship companies seem to be finding resources to create development opportunities and 'emerging' seasons for younger artists. At the same time, I sense 'emerging/experimental' artists themselves are collaborating more ambitiously to produce successful, larger-scale independent events. Perhaps there's a politics of resistance at play, a sense of urgency that if artists don't get together and do it themselves, things just won't happen.
In 2015 I'd like to see more of all of this. More togetherness, more art as social intervention, more DIY and more support for the risky, the devised, the collective and the hard-to-define. A busting open of the divides between visual arts, performing arts and literature. More chances for great new work to further develop and tour. More small and medium-scale philanthropy, including creatively interactive crowd-funding. And for arts/non-arts collaborations to burgeon, loosening 'the arts' from its categories and letting creativity roam wider in a world where it's sorely needed.
See Urszula Dawkins' Contributor Profile.
Related articles
It's all about you
Gail Priest: FOLA, Arts House
RealTime issue #120 April-May 2014 p15
In others' words
John Bailey: Melbourne International Arts Festival
RealTime issue #124 Dec-Jan 2014 p10-11
Risk yields new forces
Jana Perkovic: Next Wave 2014
RealTime issue #121 June-July 2014 p34-35
The primordial present
Urszula Dawkins: Melbourne International Arts Festival: Dance Territories
RealTime issue #124 Dec-Jan 2014 p12
Body/tech crossings
Urszula Dawkins: 2014 Melbourne Fringe Festival
RealTime issue #124 Dec-Jan 2014 p19
Nerida Dickinson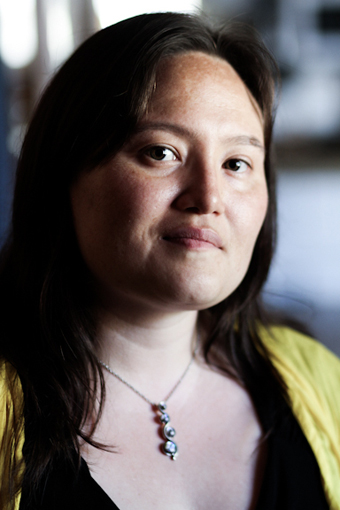 courtesy the writer
Nerida Dickinson
Festivals brought the Perth cultural scene to life in early 2014 with eruptions of performance bookending the year. The summer madness of FringeWorld saw an expansion into suburban hubs and an explosion of diversity and number of acts. Perth International Arts Festival kept standards high and brought new modes of theatre to audiences, with immersive pieces from Punchdrunk Theatre (The House Where Winter Lives) and Rimini Protokoll (Situation Rooms, see Keith Gallasch review RT120), as well as showcasing music in the Festival Gardens. Proximity Festival celebrated the magic of one-on-one performance, expanding horizons of participating artists as well as audiences (see preview RT123 & review RT124. Also pushing artists to the edge of their practice and beyond, the MoveMe Improvisation Festival explored the potential of spontaneous creative performance (see reports in RT125).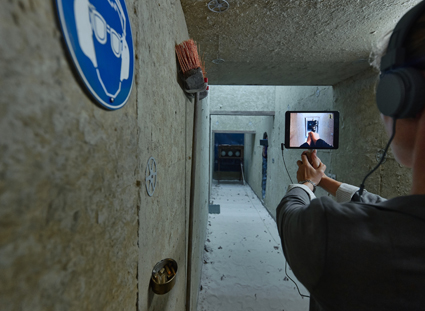 photo Jorg Baumann
Situation Rooms, Rimini Protokoll
Beyond festivals have been steady productions from the Perth Theatre Company and Black Swan, who delivered a range of exciting and provocative new works—including 8 Gigabytes of Hardcore Pornography—and solid straight theatre—A Streetcar Named Desire. Independent productions had a good year at The Blue Room Theatre, the highlight being the debut of Finegan Kruckemeyer's Those Who Fall In Love Like Anchors Dropped Upon The Ocean Floor, and also at PICA Performance Space, where The Last Great Hunt's Falling Through Clouds impressed on many levels (see RT124). Barking Gecko Theatre Company constantly inspires, with onefivezeroseven pushing theatrical boundaries beyond its nominal teen audience. STRUT Dance Company provided opportunities to see dance creativity in development, from SHORT CUTS, to IN SHORT and PRIME CUTS (see interview RT121). Touring dance companies provided inspiration—Chunky Moves with Keep Everything and Sydney Dance Company's explosive 2 One Another stood out.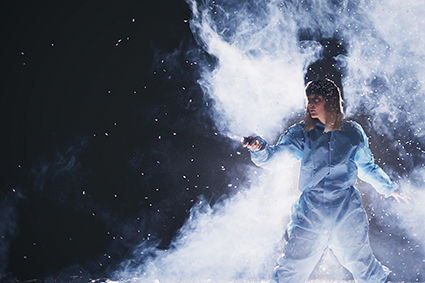 photo Jarrad Seng
Adriane Daff in Falling Through Clouds
In 2015 if these festivals, venues and companies continue to thrive, they will provide the infrastructure for talent to work in Perth, as well as create new opportunities for artists to develop creative practice. In broader terms there should be plenty of opportunities for audiences to experience new things, feeding back into a vigorous local creative culture. Of particular interest in the next 12 months will be the development of politically charged intimate performance from Toyi-Toyi Theatre, who have been tackling topical issues of social justice and immigration policy (see my review of their The Queue in the Proximity Festival).
Nerida Dickinson joined the RT team in 2014 writing about theatre and dance.
Related articles
Five days in other worlds
Keith Gallasch: 2014 Perth International Arts Festival
RealTime issue #120 April-May 2014 p17-19
What's big about being small?
Nerida Dickinson: 2014 Proximity Festival preview
RealTime issue #123 Oct-Nov 2014 p13
Intimate delights and dark disturbances
Nerida Dickinson: Proximity Festival 2014
RealTime issue #124 Dec-Jan 2014 p20
Flight from extinction
Nerida Dickinson: The Last Great Hunt, Falling Through Clouds
RealTime issue #124 Dec-Jan 2014 p45
Choreographic boom for WA
Erin Brannigan: Interview, Paul Selwyn Norton, Director, STRUT
RealTime issue #121 June-July 2014 p30
Kathryn Kelly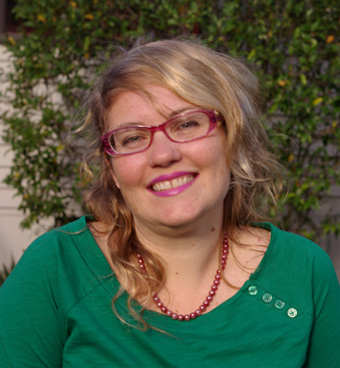 Kathryn Kelly
I spent a lot of last year trying to understand the impact of the rise of TV and the decline of film on Gen-Y and millennial performance. LaBoite Indie, home of hipster zeitgeist was a case in point: three of the four shows by terrific new playwrights displayed experimentation in form and plot but a curious flatness in the naturalistic dialogue (see RT123). This is TV reshaping the cadences of our performance texts.
Screen culture as framed by film has long been old fashioned in mediatised work but last year we went organic with media experimentation in performance: a fluid psychological interiority that echoes the bell chamber of screen culture in darkened media rooms or tunnels of concentration with i-Phones. Highlights for me included Circa Associate Ben Knapton's projection work in Margi Brown Ash's He Dreamed of Trains which began with the most subtle distortions within a picture frame that gradually colonised the entire naturalistic interior of the set, as if we were inside the mind of the dead man who owned the home.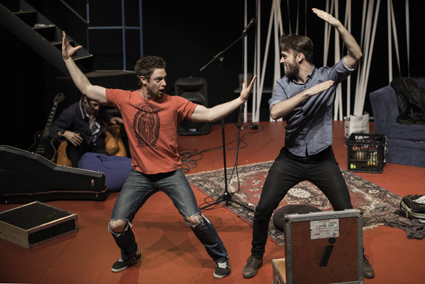 Hedonism's Second Album, La Boite Indie
Look out for a monograph by academic Sandra Gattenhof in 2015 all about how under 16s go to the theatre for each other, not for the content. Liveness is all. So cause for optimism perhaps? While joyful about the potential of performance as experience in the coming age, I couldn't shake the feeling last year that we were the New Edwardians and that like them, we have lost the ability to predict the future based on the past.
Australian theatre has finally woken up with a start to its whiteness and maleness and the resulting initiatives are like water in the desert. Big highlights include Future Fidel's autobiographical show at LaBoite: a live boxing match as Fidel recounts the experience of being a child soldier in the Sudan. Rather than a centre giving way to a margin, this seems to me the way forward: authentic cultural collaboration, artist to artist in rooms of our own, live or digital.
See Kathryn Kelly's Contributor Profile.
Related articles
Degrees of risk and violence
Kathryn Kelly: Finding the Silence; Hedonism's Second Album
RealTime issue #123 Oct-Nov 2014 p35
Matthew Lorenzon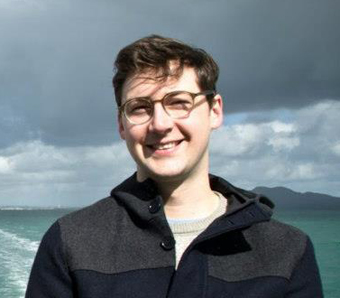 courtesy the writer
Matthew Lorenzon
Last year was one of goodbyes. If I can stretch the year to include December 2013, then the year included Margaret Cameron's Opera for a Small Mammal, directed by David Young (see RT119). An imagination like Cameron's is rare, a team like Cameron and Young even rarer. When Cameron passed away in October, Australia lost a medium listening at the threshold of theatre and music (see RT's obituary and archive)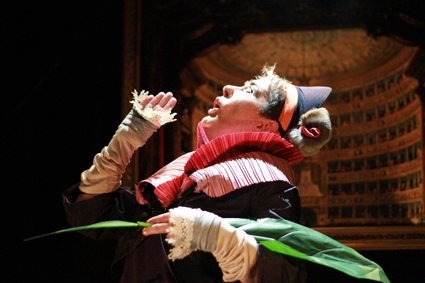 photo Daisy Noyes
Margaret Cameron, Opera for a Small Mammal
We bid farewell to Australia's only national contemporary music radio programme, Julian Day's New Music Up Late, along with the ABC's live broadcasts for Sunday Live. Without these shows, Australia's contemporary music scene will become more fragmented and disparate. We were deprived (temporarily, this time) of two excellent ensembles who have contributed so much to our musical life. James Rushford and Judith Hamann from Golden Fur joined their band mate Samuel Dunscombe on the sunny shores of California. The power couple behind Brisbane's Kupka's Piano, Liam Flenady and Hannah Reardon-Smith, moved to Brussels.
The year was also one of returning. ELISION made a much-anticipated tour of Australia and Liza Lim returned from Huddersfield. I look forward to hearing more of Lim's detailed and enchanting music in 2015. Richard Barrett's visit with Speak Percussion showed that the complex and virtuosic textures of Lim and Barrett's generation have reached an almost classical maturity.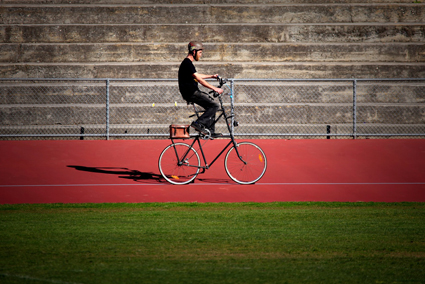 photo Jason Tavener
Eine Brise, Maurice Kagel
The Bendigo International Festival of Exploratory Music was my standout experience last year (see RT123). Under David Chisholm's careful curation, the intensive three-day festival explored some of the most daring works of the 20th century alongside commission-fresh new music. I might not go to hear Stockhausen's opera Sirius at midnight in the dome of a 19th century library again, but I probably won't have the chance either. I certainly will be going to hear more music by Claude Vivier and performances by guitarist Mauricio Carrasco.
In 2015, Chamber Made Opera will wake up from a year of development and mount several new shows. Keep an eye out for a new Liza Lim and anything by the emerging composer Samuel Smith, who recently accepted a commission from Adelaide's Soundstream Collective with his fascinating piece BUTTERFLY 3. Check in with Melbourne's quiet achiever the Medley Hall Concert Series, especially for the musical responses to Heather Swann's "Nervous" exhibition.
See Matthew Lorenzon's Contributor Profile.
Matthew's music blog Partial Durations is published in association with RealTime; https://partialdurations.wordpress.com
Related articles
The consolations of philosophical theatre
Matthew Lorenzon: Margaret Cameron, Opera for a Small Mammal
RealTime issue #119 Feb-March 2014 p48
Obituary & Archive: Margaret Cameron
Keith Gallasch & Virginia Baxter
RT Profiler 7, Nov 12, 2015
Unerring explorations
Matthew Lorenzon: Bendigo International Festival of Exploratory Music
RealTime issue #123 Oct-Nov 2014 p41
RealTime issue #124 Dec-Jan 2014 pg. web
© RealTime ; for permission to reproduce apply to realtime@realtimearts.net