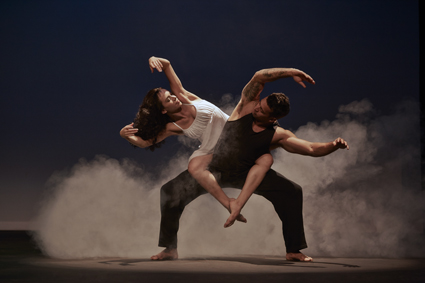 photo Glenn Campbell
Mokuy (Spirit)
Wailing fills the darkened theatre. These are the lamentations of a woman in grief. As a single spotlight cuts through the dark from left of stage our eyes make out the figure of a woman holding her dead daughter. "Oh my baby girl," cries the mother, "Oh my baby."
Mokuy is Gary Lang's first major work since Goose Lagoon in 2010. 'Mokuy' is a Yolgnu word meaning 'spirit.' "Mokuy began three years ago after two young children suicided in Arnhem Land, where [Lang's] family lives." Initially an expression of grief, "over time the work has developed to become a dedication to all who have passed and my healing for all who feel the pain of loss. Mokuy follows the soul's journey after death" (director's program note).
Mokuy moves to and fro between Aboriginal and Western cultures, its music between traditional Aboriginal clapstick and singing and the uniform structures of classical strings and piano, clearly defining each chapter of the work. The choreography is a hybrid of ballet, contemporary dance and Aboriginal dance movements symbolic of animals and of daily life. I was particularly drawn to the women's digging movements and their power as they slapped at the ground.
Initially the juxtaposition of Western and Aboriginal music was effective but as the format of moving from one to the other was repeated throughout I found myself wishing for more variation, or a contrast in musical style, something to nudge me out of the predictable rhythm I'd fallen into. Unfortunately this never arrived and I was left wondering at the sameness of each stage in this journey through the afterlife.
The dancers' performances were strong and passionate, perhaps acknowledging the long-term commitment they have made to the development of this work. Gary Lang's company features dancers with a diversity of cultural and dance backgrounds and this work brought together Aboriginal, Torres Strait Islander, Asian and Western members of the company. Catherine Young stood out as the young girl travelling from death through to the final chapter, Wonderment.
The lighting design is a highlight of Mokuy. Vanessa Hutchins has blended muted tones of purple and yellow to create an eerie world punctuated at times by brilliant white spotlight to dramatic effect. Four sharp white lights, beamed across each other from overhead, create a cathedral-like atmosphere and paint a dappled pattern on the floor, reminiscent of shadows cast by trees.
A screen flown in at the back of the stage featured projections of leaves, clouds, floating seaweed and water lapping at a sandy shore. While the images were engaging and brought the bushscapes of Arnhem Land directly to the stage, once again the repetitive format diluted their impact.
It is clear the thematic material of Mokuy has very personal significance for Lang, which his choreography shared through moments of tenderness. This is undeniably a work of grace, but I felt I was too quickly released from the challenges of death, pain and loss set up in the opening scene. Overall, Mokuy provides tantalising glimpses of an emotionally powerful work, all the while displaying the many strengths of its creative team.
Mokuy (Spirit), Gary Lang NT Dance Company, choreographer Gary Lang, performers Catherine Young, Darren Edwards, Hans Ahwang, Michele Dott, Kyle Ramboyong, Bryn Wackett; Artback NT, Arts Development & Touring; Garrmalang Festival, Darwin Entertainment Centre, 9-10 May
RealTime issue #121 June-July 2014 pg. 32
© Fiona Carter; for permission to reproduce apply to realtime@realtimearts.net