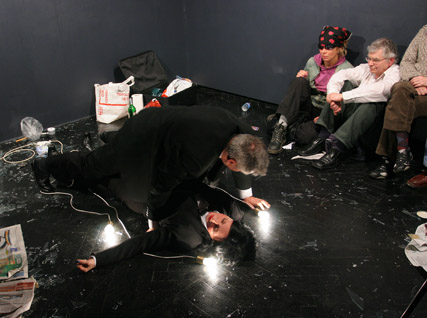 Wladyslaw Kazmierczak and Ewa Rybska, Sonne Statt Reagan
THE BARE, WHITE HALL OF THE EMPIRE STUDIOS IN LONDON RECENTLY HOUSED AN AMBITIOUS POLISH ART PRESENTATION ACCOMPANIED BY POLISH VODKA AND BEER.
There were three performances by four artists—Pawel Kwasniewski (London Tango), Karolina Stepinowska (untitled) and Wladyslaw Kazmierczak and Ewa Rybska (Sonne Statt Reagan). For those of us who don't know much about Polish Performance Art, there was also a program briefly outlining its history and a talk on the subject the following day. That history may be shaped by independence and isolation, but the work in this presentation seemed haunted by relations with the outside world.
Kazmierczak's enthusiastic program prose is a performance in itself—performative writing that exudes both enthusiasm about his subject and a distinctive, clipped-English voice. Performance art in Poland, he writes, "was for artists mainly a form of expression which sidestepped political censorship and did not lead to contention with the circles of vanguard and conceptual art." Without the political freedoms of the West, Polish artists turned to performance as a way of escaping both the evolutionary thrust of dominant practice and the oppression of the censors.
Kwasniewski embodies capitalism and socialism, left-wing and right-wing. As a not-for-profit artist, he calculates the economic worth of his performance. He describes the steps that have lead him to the Empire Studios—the cost of his travel, his loss of work, his reputation and career—and punctuates each with two ping pong balls: "a little to the left, a little to the right." The balls bounce merrily off in opposite directions, a metaphor for Kwasniewski's life. By the end of the performance this scruffy middle-aged man has revealed himself to be a successful journalist and businessman, worth over four million pounds in property and assets. But his art, he reminds us, is not-for-profit. He cuts a square centimetre of his arm and wipes the blood onto his financial calculations. Nobody buys it.
Here is a united Europe's dream—what successful integration, what seamless suture of East and West. For a London audience, Kwasniewski also questions a number of Polish stereotypes—is he really a media mogul? (Not a plumber?) By declaring his (real or imagined) economic worth he disrupts the conventional wisdom of an Eastern Europe under the spell of a wealthy and complacent West. He captures and redirects the gaze of economic history that underpins Western Europe's relationship with the former Soviet bloc.
Stepinowska is not so lucky. Cutting her hair off, banging her head against a wall, eating carnations and drinking red wine until she is sick, she enacts the trope of heartbreak. Whoever has broken her heart is unknown, and irrelevant—the fact of her forced transformation is compelling enough. It's clearly a profound and internalised loss, and one that descends into self harm. Unlike Kwasniewski, the emotional clichés in Stepinowska's piece imply a generality to her state; in the context of the show, it's tempting to read it as the state of Poland in modern Europe. Her earnest, but doomed, transformation is echoed by Kazmierczak's description of Poland's 'trauma' of exposure to the West after the fall of Communism in 1989.
As she leaves, Stepinowska takes the mirror, her reflection. Has she won back her identity after her body literally vomited in protest at the change? Or is she condemned to be defined by how others see her— from the outside in?
Completing the trajectory of political engagement, Kazmierczak and Rybska's piece tackles international relations on a large scale. Their performance begins with them playing toy electric guitars with pious enthusiasm, and ends with rubbish and firecrackers being chucked onto the stage. Kazmierczak wears glasses with the lenses whited out, and two crucifixes like black clown eyes, painted on. They place cards at the front of the stage detailing Iraqi civilian deaths since the 'allied' invasion.
Kazmierczak and Rybska's demented, anarchic protest has both the US and Christian Imperialism in its sights—huge targets that are matched by their depth of angry feeling, but not their power. Their impotence could be speaking from within the notorious phrase, "You forgot Poland." (George W Bush's retort to John Kerry after the Democrat belittled the strength of allied forces; liberal US media was quick to suggest that Poland didn't count for much.) Even their reference to Joseph Beuys' "Sonne Statt Raegan", the famous artist's pop song against Ronald Reagan's arms policy that plays in the background, seems outdated and strained.
While this piece dramatically asserts Poland's place in the world—both as participant and protestor—it also dramatises its ineffectiveness. Emotions are delineated by other cultures—a German song, images of US presidential history—and the artists' expression reduced to infantile tantrums.
It seems characteristic of the struggle for the voice of Polish performance art that it will be defined in these terms—the infant brother in the shadow of a better established cultural tradition. Kazmierczak cites RoseLee Goldberg's famous tome on performance as both a model for a Polish history and a paradigm that's difficult to escape. Perhaps that is why Kwasniewski's piece seemed the most successful: personal and intimate, it doesn't extrapolate Polish sentiment to an unrealistic scale.
But it is simplistic to chart these works as emotional points on a map of Polish relations, just as it is anachronistic to imagine a British audience will fulfil or remain within the boundaries of Polish cultural understanding. (Does Kwasniewski know about Polish plumbers? How many UK viewers will understand a German song?). And yet the presentation is shaped by the responsibility of Polish history and relations. Curator Beata Dudzic says that the show was inspired by "thousands of Poles coming to England seeking jobs", and Kazmierczak wants the program to serve as an "introductory monograph of Polish Performance Art."
In the end, it's the scale of these aspirations that undermines each individual piece: successful on their own, they buckle under the weight of representation. Kwasniewski stands the tallest, redirecting the assumptive gaze and asserting his independence. Poland's isolation is over, and compromises will be made—Kwasniewski, at least, makes them on his own terms.
Polish Art Presentation, curator Beata Dudzic Empire Studios, London, Oct 28
Kazmierczak and Rybska will appear in NRLA 2007, see p44
RealTime issue #76 Dec-Jan 2006 pg. 39
© Mary Paterson; for permission to reproduce apply to realtime@realtimearts.net