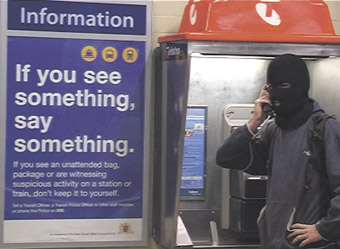 Jon Wah, Balaclava: "if you see something say something"; 2005
THE NAKED GUY IN VERMILLION BODY PAINT GESTICULATING AMONGST THE CLOWNS, THE GOLD GIMP AND THE SERIOUS LAPTOP MUSICIANS IN WADE MARYNOWSKY'S ARTSPACE INSTALLATION AUTONOMOUS IMPROV IS JON WAH. THAT FLEETING GLIMPSE OF BRILLIANCE WAS, FOR AUDIENCES NOT FAMILIAR WITH THE LOCAL SYDNEY SOUND AND PERFORMANCE FRINGE, SYNECDOCHE FOR AN EMERGENT PERFORMANCE AND VIDEO PRACTICE FIRMLY PLANTED IN THE TRADITION THAT EXTENDS FROM CHRIS BURDEN AND PAUL MCCARTHY TO GINA PANE, VALIE EXPORT AND MARINA ABRAMOVIC.
I'm not sure where that footage was sourced, but it revisits Wah's early student collaboration in which he (again naked) had painted himself red, donned a leash and gone on all fours for the first year student he had dressed as a leather-clad dominatrix. Near naked Redman has since resurfaced in a nappy and Roccoco wig in Tillianakis' Back in Black, but for me the original naked Redman will be Jon Wah, a rude baboon-bottom red, wearing his sexuality as playful insolence, not in his genitalia, but on his skin.
Then there was yellow man, Jon Wah lead singer, body painted puce for the band The Bloodied Cunts, spewing on stage in puke rock homage to the punk days of affectionate gobbing (Electrofringe, 2005, with Abe Powell and Flynn Donovon). He could go to the dark places, the extreme places (videoing friends in the intimacy of excretion for his study of the formal aesthetics of poop) but among the most memorable were the delicate Zen-yogic balancing works: Wah in a yoga position, feet extended along his side of a half-empty seesaw, the other side stretching to the disproportionate length of a massive symbolic blank. This was Wah in philosophical mode, balancing life against Lacanian psychoanalyis' structuring void, the lack at the heart of the subject (Position of Balance 1).
In Position of Balance 2, Wah filled out the void of desire by matching his weight with a crate of beer—on the one hand a blokey joke towards his own fondness for drink (and a dig at the modesty of TS Eliot's Prufrock, measuring life out in teaspoons of coffee). But that crate of beer also represented a critique of capitalism and consumerism (how we fill that metaphysical void by stuffing ourselves).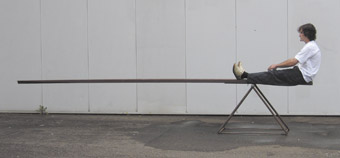 Jon Wah, Position of Balance I,
' …to balance my body against the weight of the board…' 2006
Position of Balance 6 (First Draft, 2007) had Wah with arms and feet stretched out towards a precariously balanced video camera projecting his image on the wall. In this subtle endurance work he swayed up and down in micro-movements on the tipping and rebalancing beam. Metaphysically speaking, Wah's decentred subject was now alienated, ex-sistent, in the image's mediating representations. Of course, Wah's performances played out without any psychoanalytical framing: they were immediately, intuitively grasped. The strength of his work was that his insights were instantly recognisable, even if hard to put into words (try explaining a complex joke).
Dressed (Serial Space, 2008) was his last performance work. Naked, he summoned the crowd to follow him down a flight of stairs where he ritually wrapped himself in barbed wire, pulled on clothes and then re-ascended (in wincing pain) to retreat behind closed doors. In the following symposium Wah's analysis amounted to frank confession: the performance was an allegory for a life lived increasingly out of control. When his wire cutters didn't work he had to call friends into the back room. Finally the audience saw the ambulance men arrive to disentangle him.
Repenting his extreme behaviours, Wah apologised for demands beyond those with which friends could cope. The clown-prankster doing the thing that he does best, going in too deep and needing help to get out, acknowledges the debt and what he has put the other through.
When viewed through the history of performance, and more recently, relational aesthetics, it's a complex work. The 'for whom' of Wah's barbed wire piece goes beyond the ruse of "I f'd up on the wire cutters." Wah was revisiting those 1960s works of risking the body in the contemporary context of the politics of friendship: art as an examination of the demands on the other.
Wah leaves behind an original and important body of work yet to receive the critical commentary it deserves. This includes Balaclava, on the politics of terrorism, and the movie-length sitcom King of the Loungeroom, with its anti-corporate ads. In video and performance Jon Wah opened a territory that was his own. Jon Wah died on June 29.
"Art is easy, it's life that's hard." Jon Wah interviewed by author, March, 2008.
Ann Finegan
On Friday December 4 a retrospective of Jon Wah's work opens at Serial Space 33 Wellington Street Chippendale, serial@live.com.au
RealTime issue #87 Oct-Nov 2008 pg. 52
© Ann Finnegan; for permission to reproduce apply to realtime@realtimearts.net