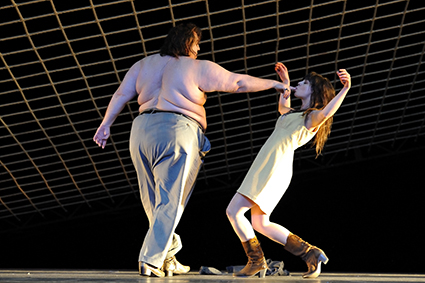 photo Krafft Angerer
Woyzeck, Thalia Theater Hamburg
Having foregone the pleasure of a conventional launch with all its speech-making in favour of opening the festival well in advance with the Peter Sellars production of Toni Morrison's Desdemona, Sydney Festival Artistic Director Lieven Bertels is in fine form, elaborating on the works in his action-packed 2016 program. He's proud of having persistently brought live music into theatre and dance productions, giving local companies international opportunities and bringing classical music back into the festival. Contemporary classical has done well too; he thinks festivals are ideal for introducing it to a wider audience.
Bertels is particularly pleased to be bringing Hamburg's Thalia Theatre to Australia for the first time—it travels rarely in Europe and its production of Georg Buchner's Woyzeck has so far only played once outside Germany. He thinks Thalia one of the country's top three theatre companies. After the success of The Black Rider in the Sydney Festival of 2005, and as part of a festival reflecting on the achievements of his forebears, Bertels wanted to bring Woyzeck, another of the Tom Waits-Robert Wilson-trilogy (Time Rocket is the third), but chose the new Thalia version by a young female director Jette Steckel. Spoken in German and sung in English, the production is strikingly designed and cast and is accompanied by live music.
Belgium's Rosas makes its second appearance in Sydney after last year's Carriageworks' season. This time De Keersmaeker is re-mounting and performing one of her classic works, Fase, to the music of Steve Reich. It's an engrossingly lyrical work and quite different from her current more open-ended choreography which will be represented by Vortex Temporum with the music of 'spectralist' composer Gerard Grisey played live by Ictus. Bertels says, "Each musician is matched with a dancer who, essentially, dances out a musical line."
Bertels is presenting Beethoven's nine symphonies, eight in "the perfect acoustic of Angel Place" and the ninth, for large forces, at the Opera House. It's not a conservative choice: "playing with period instruments is like stripping away layers of varnish on an old painting; it's extremely dynamic." A different kind of engagement with classical music comes in the form of Schubert's Wintereisse sung by the great German baritone Thomas Goerne with animations by the South African artist and animator William Kentridge.
A fan of Sydney Chamber Opera, Bertels offered the company the opportunity to work with Pierre Audi who has directed in the major opera houses of Europe and New York's Metropolitan Opera and whose impressive account of Monteverdi's The Return of Ulysses featured in the 1999 Sydney Festival. "I asked Audi if he'd like to work with a bunch of young people who graduated yesterday and have great international potential, and he said yes." The SCO's Artistic Director and conductor Jack Symonds will be flown to Amsterdam to rehearse two young singers in the chamber opera Passion, with its Orpheus and Eurydice scenario, by Pascal Dusapin, a much-honoured French composer. Composer and company unite again for O Mensch (see below).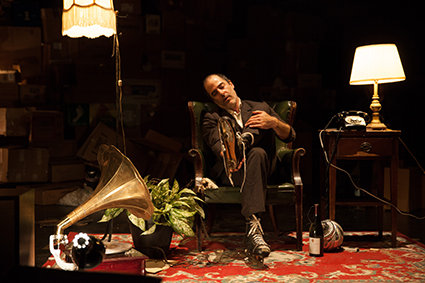 photo Max Gordon
Geoff Sobelle,The Object Lesson
In Sydney Town Hall, New York artist Geoff Sobelle will mount a fascinating installation of huge cardboard cabinets with a multitude of drawers full of personal objects which he introduces to a participating audience equipped with pencils and paper. Canada's Mammalian Diving Reflex, of the acclaimed Haircuts by Children, take participation to another level with a group of over-65 Sydneysiders reflecting on their sex lives in All the Sex I've Ever Had. The Events [see p25 Adelaide Festival], a work by Scottish playwright David Grieg about post-traumatic stress will be staged in the Granville Town Hall, which is apt says Bertels, not only because of the 1977 Granville train crash but also the "rehearsal space feel of the hall." Each performance involves a different local choir.
Participation of another kind, hands on, will take place at Barangaroo in Olivier Grossetete's The Ephemeral City (France) with audiences helping construct for an hour, a day or three weeks, monumentally sized buildings out of cardboard boxes in the cutaway beneath the park safe from Sydney's intense summer heat and likely rain. "Olivier choreographs the assembling and movement of the buildings with participants, so it's a project in urban planning." An outdoors version, The People's Tower, will be mounted over three days in Darling Harbour: "Half the fun is in tearing that one down," laughs Bertels. The backdrop to the Barangaroo installation will be a huge Shaun Glaldwell video triptych on the rock wall of US champion skateboarder, Rodney Mullen, who, about to retire ("I can't break another bone in my body") responded to the artist's request to be filmed skateboarding on great minimalist public sculptures.
Lieven Bertels' festival is full of inviting works, too many to detail here. You should think about seeing some of the following. A video installation at UNSW Galleries has recorded the journey of a piece of Carrera marble shipped from Italy to China where it's turned into a column by Chinese craftsmen and then chipped into classical form by the Albanian artist Adrian Pacj on an open deck on the return trip. Says something about globalisation.
In the huge music program Mexican musicians Mexrrissey perform Morrissey miserabilism with wit, conviction and bad translations, says Bertels; NY's Peter Gordon reforms the band that played with the late lamented and quietly influential Arthur Russell in the 1970s; Meow Meow manifests as the Little Mermaid; American jazz soprano Claron McFadden sings the audience's secrets in the show of that name; Cosmic Cambodia revive and build on classic 60s Cambodian pop and rock; and British singer, hip-hopper and poet (the Ted Hughes Award, 2013) Kate Tempest performs with her band.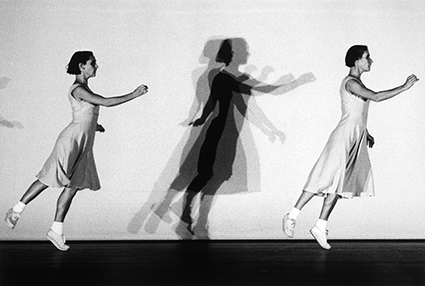 photo Herman Sorgeloos
Fase, Anne Teresa de Keersmaeker
On the performance front, About an Hour returns to its ideal venue, Carriageworks with the premiere of Melbourne choreographer Stephanie Lake's Double Bind; Tomorrow's Parties by Forced Entertainment; +51 Aviacion San Borja by a Peruvian member of the Japanese diaspora about 'going home;' Christopher Brett Bailey's (UK) not funny spoken word reflections on the dark side of life—one for the tough-minded; Performance 4A's In Between Two, hip Asian-Australian reflections on life here in word and song; and Sydney Chamber Opera, again, with O Mensch—21 poems by Nietzsche scored by Pascal Dusapin. Nick Power and his b*boys perform Cypher at Riverside Theatre. There's ample physical theatre from two Brisbane-based companies, Circa and CASUS and, in About an Hour, Fall Fell Fallen by France's Lonely Circus.
Alongside Woyzeck, Phase and Vortex Temporum, Passion and the Beethoven symphonies are the Sydney premieres of major, already applauded Australian works: the Kate Miller-Heidke/Shaun Tan/Lally Katz/Iain Grandage opera The Rabbits and Marrugeku's Cut the Sky.
Online you can enjoy "a festival gift," as Bertels puts it: Michel van de Aa's engrossing, Borges-inspired, interactive video work The Book of Sands, featuring Kate Miller-Heidke. There are many gifts in this festival, from the giant participatory works at Barangaroo and Darling Harbour to the wealth of small scale innovative works to be staged from the city to Redfern and Parramatta. For sheer variety and invention it's the best of Bertels' four festivals.
Sydney Festival, 7-26 Jan, 2016
RealTime issue #130 Dec-Jan 2015 pg. 21
© Keith Gallasch; for permission to reproduce apply to realtime@realtimearts.net