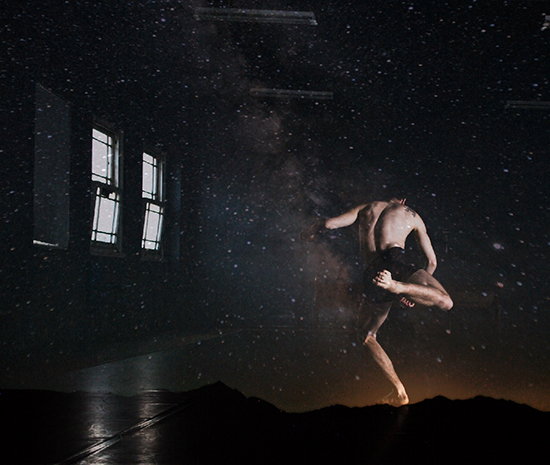 Omer Backley-Astrachan, Tohu
A key component of the program of Newcastle's Catapult Dance (read the RealTime interview with director Cadi McCarthy) is its Propel Professional Residency scheme which grants invaluable time and space for dance artists to develop works over one to three weeks, the latter period including opportunities to collaborate with local artists (read our review of PROPELLED at the Lock Up gallery). RealTime spoke with Omer Backley-Astrachan who, with partner Sharon Backley-Astrachan, has a one-week residency this month, and Craig Bary, whose residency with Newcastle composer Dale Collier takes place in January 2017.
Omer Backley-Astrachan
Omer, who is Israeli, and his Australian partner, Sharon, worked in Israel from 2008 with Kamea Dance Company, The Kibbutz Contemporary Dance Company and the Israeli Ballet and then in Tel Aviv as independent artists before moving to Australia in 2014. He explains the move: "We stayed in Israel as long as we could but life there was was tough and we always knew we had the option of moving to Australia. Sharon missed her family and thought it was time to move closer to home."
Omer and Sharon have two works in development that they'll be focusing on at Catapult, TOHU and Valley. TOHU, says Omer, "started in Israel as a very political statement. We went through several wars and we could really see how disparity grows, how racism grows and it made me try to understand if it's a human thing to be racist, for human beings to be afraid of each other. Or is it natural for human beings to love each other and then learn to hate?" He researched history, Eastern philosophies, including Tao and then tried to allow these philosophies to inform the movement, very literally at first. I think it's important to visit literal places before making the work completely abstract. The essence of dance is abstract; its language is far broader than spoken language and with a huge range of emotions."
The character of much Israeli dance seen in Australia is vigorous and sinuous; Omer concurs, "it's definitely embedded in me, but having said that there are moments in our work that are more minimal, more about the visual aspect—almost like an art installation rather than a dance." In TOHU, the pair "use marbles to represent constellations, galaxies and the movement of stars and to look at how as human beings we're influenced by gravity not only as a physical force but as a mental one; gravity's a dramatic universal force."
As to how the marbles are deployed, Omer laughs. "Well, I don't want to reveal too many secrets. We pour the marbles onto floor and, using light, we want the audience to feel as if they're looking at micro-versions of a universe. There's continuous movement on the stage not actually motivated by our bodies. There's an echo, a certain relationship. If there's a message we want to deliver it's that we're all connected. We're all a bit like marbles bouncing off each other. The problem is that we forget those connections. In a political example, a lot of Israelis coming from Arab countries themselves don't define themselves as Arab and are today increasingly right wing or feel angry with or scared of the Palestinian people. If they were able to remember their connection to the language, the culture of the place they came from, perhaps they wouldn't feel so scared of the other. Of course, the audience doesn't always get what we want them to get."
Dancer Ali Graham will perform the second work, Valley, a 15-minute piece that might grow longer during the residency, says Omer. It's described in a press release as "captur[ing] the submergence of a young woman into the deep abstract amorphous space of love and loneliness" [press release]. Omer elaborates: "Ali's solo is about love and loneliness but the general idea of Valley speaks about a certain looseness of meaning that we're experiencing in our society. A hundred years ago, death was super-meaningful. If a storm wiped out an entire village, it was regarded as an omen or that the gods wanted something. People could grasp and rely on that meaning. Religious people still have that today but most secular people are losing it because nothing is meaningful except growth and jobs and money. Land is not important unless it makes money for the government. Dance is not important unless it gives back to the economy."
Once fully developed, Omer and Sharon want to tour the works, including overseas. But as for many artists, life is complex. Sharon is undertaking a veterinarian degree at Sydney University and Omer teaches dance, including at NAISDA (National Aboriginal and Islander Skills Development Association). Omer's ambition is "to start a dance company, something a bit more stable; working with people who have a certain commitment. I feel there are a lot of really beautiful dancers in Sydney who are looking for this kind of opportunity."
TOHU and Valley will be performed at Catapult Dance Studios on 26 November.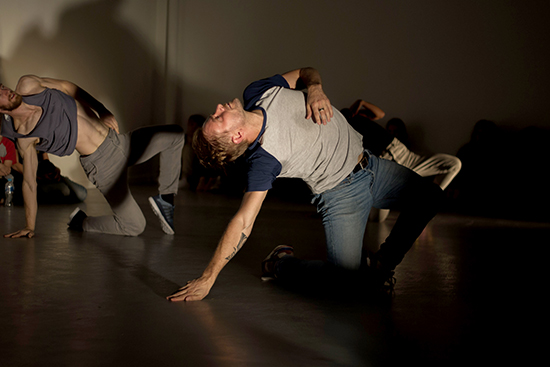 Craig Bary in Joshua Thomson's Sum of Parts, Lockup 2016
Craig Bary
New Zealand-born dancer Craig Bary's career is remarkable, performing consistently since the late 1990's with a long list of NZ and Australia's leading choreographers, documented on his website—but only up to 2012. Craig explains, "the site's in hibernation. I've been busy. Most recently I've been working on my own choreography and also teaching at NAISDA Dance College up on the NSW Central Coast. I'm the manager for the Contemporary Dance Unit. It's casual employment, so when I'm not doing that I keep dancing with other companies. At the moment I'm working with Lisa Wilson in Brisbane who has a show coming up next year. I've also been choreographing on a group of friends and have a show coming up next year at Parramatta Riverside."
Asked if he'd like choreographing to become the centrepiece his career, Craig replies, "I'm very passionate about creating work and exploring new ideas and new movement styles and also working with different collaborators. But right now I'm really enjoying a balance of dancing for people, creating my own work and teaching tertiary and pre-professional level dancers. I've found quite a nice little balance that's sustaining me at the moment—which is pretty fortunate."
For his Propel residency he'll collaborate with "trans-disciplinary" artist Dale Collier whom he met when in PROPELLED at Newcastle's Lock-Up gallery. "Cadi McCarthy suggested maybe the two of us could do a residency, with me as choreographer and Dale as lighting designer to see what we could come up with. We've never worked together. I think we'll come in with a few basic ideas. It's about getting into the space, having the conversation and starting to discover what kind of potential topics we might be interested in exploring and developing; whether it's going to be abstract or have some kind of narrative or whether we're going to just play with technology and movement."
Craig's attitude to light, he says, "is really a matter of what the work is about. But I'm very passionate about theatrical elements to enhance the work I create. I really love working with designers and technicians, exploring what will complement the material we're working on. Also, Dale has some new technology he'd like to explore and I'm excited to see what that may do as well."
Asked to describe his choreography, given the huge range of his dance experiences from Douglas Wright to Garry Stewart's ADT, Craig says, "As time has progressed, as a choreographer and collaborator, I really enjoy what each individual brings to the table, what their skills are. I think one of my great strengths as a choreographer is partnering and Contact work. I'm also very interested in seamless movement interrupted by dynamic shifts and variations. For me it's really about playing with physicality all the time, always exploring different pathways, new ways, but always going back to what you know and then exploring inside of that."
–
Catapult Dance, Propel Professional Residencies: Omer and Sharon Backley-Astrachan, 21-27 Nov; TOHU and Valley, 7pm 26 Nov; Craig Bary, Jan 2017; Catapult Dance Studios, Newcastle
RealTime issue #135 Oct-Nov 2016