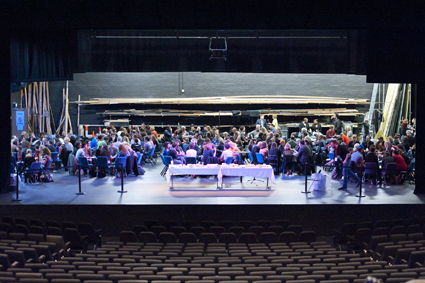 photo Angie To
Australian Theatre Forum 2013
The third Australian Theatre Forum was held in Canberra in May. Over 300 of us gathered on the cavernous stage of the Canberra Theatre Centre to be sung into the mood for discussion and exchange by Robyn Archer, who reminded us, via Brecht, that for this bleak existence mankind is never undemanding enough. A sobering prelude to curator Alicia Talbot's forum question: what is not possible?
Unlike the previous two forums, this one eschewed the open space approach, by which we the people create the event's agenda, and instead opted for the more conventional conference mix of keynotes, panels and break-outs. This provided both the advantages and disadvantages of the package tour. On the one hand, it guided me towards sessions that I might otherwise have skipped as being marginal to my interests. I would not have normally chosen to listen to an account of setting up a chain of Vietnamese restaurants, but Nahji Chu's session brought home to me how little we theatre professionals have innovated when it comes to thinking about our business models. On the other hand, I found myself trapped in other unproductive sessions where I longed for the permission to get up and move to another. For example, the keynote by the Nature Theater of Oklahoma began promisingly but its invitation for us to consider the value of theatre soon descended into an ugly display of name-calling among the audience and in the context, to leave was to 'walk out.'
The session on rehearsing the future by Lenore Manderson and Kristin Alford reminded us that there is little point in trying to predict the future—better to accept that it will probably come at us from the angle we least expect, and to develop our resilience to respond to the unimagined.
As an example of this randomness in our destinies, David Milroy told us in his keynote that he first got into theatre when he was called in to replace an actor who had dropped out on winning the lottery. Milroy went on to invite us all to imagine an Australia where white people are the Others, their rights and choices determined by the research done on their culture by Aboriginal people, who would then benignly champion the whites' cause and tell their stories for them. We Others got the point, and there was a unanimous vote at the end of the forum for the development of best practice standards in the creation of Indigenous theatre.
The forum program included a series of tours to various Canberra institutions engaged in collaborations with artists, and I chose the trip to the CSIRO, that one-time exemplar of nation building through research and development. What artist doesn't have a lurking envy of the quantifiabilities of science, its brick-on-brick accumulation of verified knowledge? On the gum-treed slopes of Black Mountain, we peered at insect collections, smelt the formaldehyde and even pressed our noses to the window of a workroom housing a genuine, lab-coated scientist.
A later break-out session asked what contribution regional theatre made to the development of contemporary practice. A special connection with local communities was cited, but, as Suellen Maunder pointed out, why are regional theatres expected to identify their communities yet metropolitan theatres aren't? Maybe because the city folk can see only markets.
There were two sessions where we got to hear from Majors: first the major theatre companies, then the major festivals. We Minors sat and listened and then were allowed to ask a few questions. But as Wesley Enoch said, the truth is the major companies are not the ecology—they are places in the ecology with a particular role, which, for him, was making works of scale. A good point: that's what they do well and should stick to. It's been a positive development that the larger companies have stopped setting up their own 'cutting edge' playgrounds, and are now supporting the existing smaller companies who do developmental work so much better (see John Bailey's report on MTC's NEON).
The festivals session was illuminating. Some of the artistic directors couldn't articulate their role beyond being taste-masters who distinguish good from bad art. They should fear for their jobs—Google's working on an algorithm to do that. Others (mostly female, mostly local) talked about the multiple things that festivals can be for both artists and communities. Robyn Archer saw single focus festivals being the future, while Edwina Lunn spoke of how festivals need to show work that is important now, in this particular time and place, even if it is still quite raw. Jo Duffy stressed the need to 'wring the juice' out of visiting artists by plunging them into contact with local artists. The commitment of the smaller festivals to their communities was salutary, and puts in relief the tired thinking that makes larger festivals indistinguishable from each other.
Tony Grybowski, the new Australia Council CEO, looking as nervous as a nice boy on his first date, talked to us about where the Council was heading and what it would do with its new money in the first year. He said there would be no surprises, which, given the many changes, was a surprise.
Ria Sulistyani from Papermoon Puppet Theatre in Yogyakarta told us how she developed her idiosyncratic contemporary style through Google—looking at what others had done and adapting it to her needs. And she gave us a taste of the tensions she experienced when creating a work based on the events of 1965, that dark period in Indonesia's past when thousands were killed.
The forum ended with a series of post cards, provocations and small group discussions. The event shared a day with the TippingPoint Australia gathering, and its convenor Angharad Wynne-Jones challenged us to come up with things we would do differently to cope with climate change. While her call was to us personally as citizens, it reminded me that the theatre artist's social duty had been a recurring theme throughout the three days. David Milroy had said that his burning passion was not for theatre but for what theatre could do. How much can theatre do? Robyn Archer evoked Brecht at the opening, yet The Threepenny Opera didn't stop Weimar Germany going into the abyss. This doesn't make the work a failure—it is still doing its satirical work long after its original targets are gone. One answer to Alicia Talbot's challenging question might therefore be: it is not possible to know if our work will make a difference, but we make it anyway.
Australian Theatre Forum 2013, curator Alicia Talbot, Canberra Theatre Centre, 29-31 May
RealTime issue #116 Aug-Sept 2013 pg. 31
© John Baylis; for permission to reproduce apply to realtime@realtimearts.net