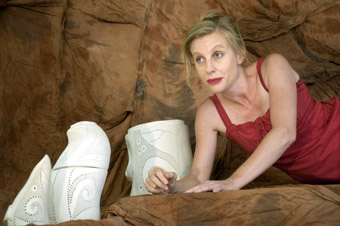 photo Suzon Fuks
Donna Cameron, The Flowering
IN THE FLOWERING, WRITER-PERFORMER DONNA CAMERON'S DISTURBING CENTRAL MOTIF CONCERNS RAPE. THE ELABORATION OF THIS THEME DRAWS ON THE GREEK MYTH OF DEMETER AND PERSEPHONE PRESENTED IN TERMS OF A MOTHER-DAUGHTER RELATIONSHIP SET IN CONTEMPORARY BRISBANE. THE GLUE THAT BINDS THIS DRAMATICALLY UNEVEN BUT OVERALL POWERFUL PIECE IS JULIE SHEPHERD'S STUNNING CERAMIC INSTALLATION WITH ITS CONNOTATIONS OF THE FEMALE PROTAGONIST'S SCATTERED FRAGILITY. THE PIECES ULTIMATELY COME TOGETHER AS A MANDALA REPRESENTING BOTH THE RESTORATION OF HER WOUNDED PSYCHE AND THE FLOWERING OF HER FEMININE POWER.
Eighteen year old Chloe disappears for a year and, seemingly traumatised, on her return refuses to tell her distraught mother what has transpired in the interval. Her mother descends into a morose state, claiming Chloe is no longer her daughter because "the light has gone from her eyes." A chronic alcoholic, she succumbs to watching classic Hollywood re-runs on television. The daughter, pursuing an artistic career, continues to visit annually to witness the the garden that flourishes under her mother's egregious green thumb. One year Chloe fails to make an appearance and when she finally returns, the garden is devastated. She holds an exhibition to which she invites her mother who pointedly refuses to attend. Mother ultimately dies of alcoholic poisoning, and her daughter is driven to confront the unexpressed truth about her absence.
Donna Cameron, the hardworking solo performer, energetically and sometimes gleefully embodies the significant characters in Chloe's tale although the adult Chloe's inner journey is never adequately explicated. The most successful of these impersonations for me was the mother chewing the cud of her own bitterness, a ravished voluptuary who had played musical chairs with a succession of lovers, now dethroned by the symbolic elevation of her daughter to queen of the underworld. But is this Chloe's projection, a question that avers to all the characters impinging on the youthful Chloe's loss of innocence, or rather the ignorance of youth that comes on as innocence?
There is the Dis figure that Chloe meets at a ceramic exhibition and willingly joins on a subterranean journey through a series of tunnels and sewers to finally emerge in a dank squat. But this dark lord of the underworld, apparently so sophisticated, is revealed as a small-time drug dealer in another kind of underworld who is wanted by the police and hails, like his friend Blister, from Beenleigh. His accent and exotic background have been assumed to hide an unconfident stammer and to get girls. Likewise Blister is portrayed with a chronic nervous laugh. Far from ravishers, these two are also innocents abroad, clumsily responding to Chloe's overdue desire to be initiated into the mysteries of sex and drugs. When their mundane rather than picaresque journey takes them to India, Chloe and Sissy, a class ally of the boys who is depicted as tastelessly wearing a top too small for her unfettered voluptuousness, are set up as drug mules by these two incompetants. Thankfully, the sympathetic Blister provides money for Chloe's escape route home, fulfilling his function as Hermes, friendliest of gods to men, who escorts Persephone from the underworld.
At this point the hapless bogans fall out of the symbolic order of the play; gone too is the young infatuated Chloe and so is the comedy created at their expense. The source of middle class Chloe's trauma is revealed elsewhere. The Flowering is dedicated to the circus girls Cameron had seen in India: "torn from your mothers far too young and living in hell." Representing the understandable feelings of the author, Chloe attempts to rescue a child who has obviously been molested, but fails significantly when she tries to flee with her through another underworld tunnel. The trope is Chloe's failure to rescue herself from her identifying role with her mother (as Persephone is classically identified with Demeter). Only after her mother's death is Chloe free to release the repressed memory of her mother taking on the physical abuse intended for her as a child, revealing her love, and enabling Chloe to distinguish between the 'good' and 'bad' mother so that in the triumphal closing mise-en-scene she can see as well as finally be seen.
The Flowering, writer, performer Donna Cameron, director, dramaturg Sue Rider, ceramic artist Julie Shepherd, lighting designer Geoff Squires; The Judith Wright Centre of Contemporary Arts, Brisbane, Feb 9-13
RealTime issue #96 April-May 2010 pg. 34
© Douglas Leonard; for permission to reproduce apply to realtime@realtimearts.net