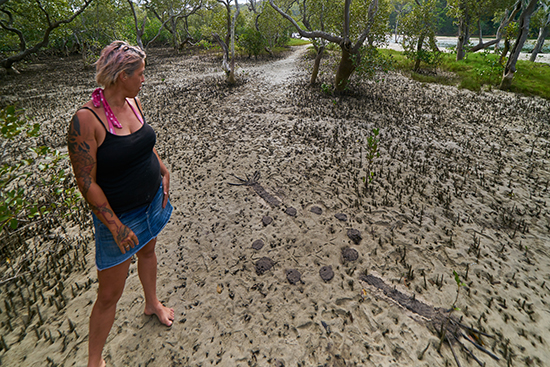 photo Alex Chomicz
Libby Harward, Tallebudgera Valley, Enter the Map
"Everyone welcome, come as you are," was the invitation emblazoned across the 2017 program of The Walls Art Space and everyone did, jamming into the reclaimed industrial estate behind Miami Beach as the sun was setting. Hosted by the razor-witted Carlotta (resident now on the Gold Coast for 11 years), the crowd watched an eclectic array of local experimental short films to celebrate the launch.
The mix showcases again that characteristic GC phenomenon, a postmodern cultural adjacency where forms that wouldn't sit together easily in other artistic geographies make sense. So we begin with the enchanting MKO Sun video, Michiko, by young filmmaker Mia Forrest. She co-opts the classic analogue slit-scan technique made famous in Kubrick's 2001: A Space Odyssey into 'digital time-slit,' elongating the clichéd mid-shot staple of the music video clip. By dwelling on these durational images of a male body encased in silk and MKO Sun's singing, she forces us to receive them as composition, a kind of dynamic sculpture rather than an empty image we gobble vacuously while we consume the music.
After a quick double entendre from Carlotta comes an Alex Chomicz public art video piece for the new Metricon Stadium, Rising Suns, in which The Suns AFL players rise up from a silvered ocean like ominous water gods. More banter and next is Cino, a slick, suburban gangsta noir short by Jaen collective, a dynamic young production house on the Gold Coast that melds arthouse tropes with commercial genres. They are followed by the highlight of the screening for me, a short video poetry work, Poem for Rent, by veteran experimental filmmaker Marie Craven. This tightly composed, rhythmic and witty montage intersperses the cryptic lines of Kim Mannix's poem with still images from Flickr, flashing staccato close-ups of ceramic swan necks and neon signs. The screening closes with another electronic music video clip, Check Ya in Burleigh, by hip-hop artists Madboots. Potential tensions between commercial and experimental, genre and arthouse, sport and culture, image and text are transcended by a shared vocabulary embracing the glamorous leisure culture of the GC landscape, its movement and push.
Indeed, the momentum around the scene here is palpable and the The Walls' 2017 program across the year reflects this scale and confidence. Artistic Director Rebecca Ross and Deputy Danni Zuvela have curated a balanced program of exhibitions, site works, performance art, installations and residencies that reach out to the rest of the world. With their first international exchange, Dimensions Variable, a Miami ARI will collaborate with local designer and renaissance man Byron Coathup, whose multi-disciplinary works include installation, graphic design, re-appropriation and typography.
There are two local residencies, autumn and winter, with electronic pop goddess and visual artist Michelle Xen creating Benevolent System II and Lowana Davies whose Action Unmarked will be a reflection on the work's devising. Rising Brisbane-based star Yannick Blattner brings his biting deconstruction of masculinity and phallic Australian pop culture, Thrust, encapsulated in the enlarged floating jet-ski image that adorns the back of the A3 program with suitable pointless machismo.
photo Alan Warren
The Walls, PrizeNoPrize, opening night, 2016
The Walls' open call #PRIZENOPRIZE returns, as does Game Plan [In the Zone], an exploration of the collision of art and sport which will be a part of the local Bleach Festival's 2017 program and is one of a series in the lead-up to the 2018 Commonwealth Games on the Gold Coast. With appropriate gravitas and historicisation there will be a NAIDOC celebration featuring leading Aboriginal artist Archie Moore, whose recreation of Bennelong's hut was an integral part of the 2016 Sydney Biennale and who will this year challenge the alleged heroism of Australia's founding fathers.
Amy-Clare McCarthy and Kieran Swann will curate Netherworlds with artists Naomi Blacklock, Anastasia Booth, Caitlin Franzmann, Chantal Fraser, Clay Kerrigan and Blake Lawrence to explore sexual orientations and gender politics, "craft[ing] dark and potent spaces of empowerment through ritual, talisman and world-building."
Dancer and recent Australia Council Dance Fellowship recipient Brooke Stamp will collaborate with Anna McMahon from feminist performance art collective Ok Yeah Cool Great. This looks like an exquisite collaboration that draws on landscape and speaks to the form of the work emerging from The Farm collective led by Gavin Webber and Grayson Millwood just down the road.
The Walls' broad and intriguing program kicks off with a corker of an exhibition—the Danni Zuvela-curated Enter the Map, a pyschogeography of the Gold Coast mapped through the eyes of iconic artist and former Gold Coaster Scott Redford, the legendary Carlotta and Aboriginal activist and artist Libby Harward. These are charismatic and provocative artists and the thought that we might navigate the dangerously glamorous terroir of the Gold Coast through their eyes is an irresistible proposition.
The Walls, Program Launch
See The Walls' 2017 program dates here.
–
The Walls, Gold Coast, Queensland
RealTime issue #137 Feb-March 2017
© Kathryn Kelly; for permission to reproduce apply to realtime@realtimearts.net