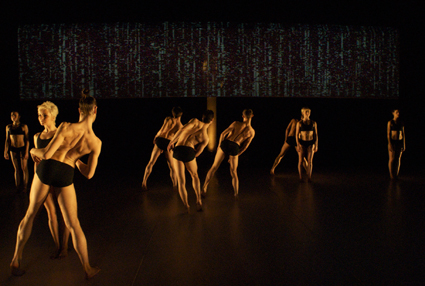 photo Ravi Deepres
Entity, Random Dance
IN THE US, YOU CAN NOW VIEW METROPOLITAN OPERA PERFORMANCES LIVE VIA STREAMING AT MORE THAN 900 CINEMAS ACROSS AMERICA AND CANADA. IN THE UK, GLYNDEBOURNE OPERA COMPANY AND THE NATIONAL THEATRE ARE ALSO BROADCASTING PERFORMANCES FOR CINEMA CONSUMPTION AS WELL AS DISTRIBUTING THEIR OWN DVD RELEASES. THIS STREAMING HAS ALSO SUCCESSFULLY EXTENDED TO A LIMITED NUMBER OF AUSTRALIAN CINEMAS.
To coincide with the cultural Olympiad, The Arts Council of England has launched The Space (http://thespace.org/), an online arts and culture streaming portal and HDTV channel which will operate until October 2012, offering content from 53 selected arts organisations. UK Culture Secretary Jeremy Hunt is so interested in the broadcast of live performance that he recently went so far as to suggest that all major arts organisations, should, as part of their funding arrangements, be forced to provide broadcast content (Artshub). But how are these works being received? The same Artshub article reports that the National Theatre audience surveys show that viewers in cinemas felt "more emotionally engaged" than if they had been in the theatre. It seems we are evolving into a species increasingly reliant on 'mediation' in order to deliver a sense of ourselves.
So with all this digital broadcasting action perhaps it's not so surprising that UK company Random Dance has decided to release their 2008 work Entity as an iTunes digital download. What might be surprising to some is that, perhaps due to the success of Wim Wenders' Pina on Blue Ray and DVD, Hopscotch Films have decided to be the distributor, releasing Entity along with two other dance works, Alexei Ratmansky's ballet, Don Quichot and Mike Figgis' The Co(te)lette Film. This marks a significant shift for performance and dance into the digital age and mainstream consciousness.
I missed Entity when it appeared as part of the 2011 Sydney Festival, however this documentation version aptly captures the sense of live performance. Filmed with eight cameras under the direction of Dennis Caïozzi at the Biennale de la Danse, Lyon in 2008, the majority of shots are complete sequences providing the perspective of an audience member, with occasional close-ups, a few well-distributed extreme close-ups and extreme wide shots for extra detail. Shooting angles change for the purpose of capturing scenes from best vantage rather than to create fancy edits. This is about the dancing, not using the dance as a basis for filmic experimentation.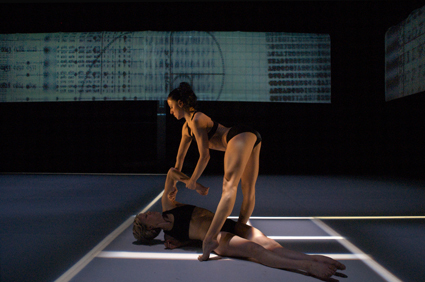 photo Ravi Deepres
Entity, Random Dance
The work itself is frenetic, angular and off-centre. Bodies are led by the sternum: movements starting with over-extensions and arching backs. Flexed hands and feet follow: detail is in the digits, splayed fingers, curled toes. The piece falls into two parts, the first scored by Joby Talbot performed by a string quartet (Quatuor Debussy, revealed in the curtain call to have performed live), that offers a relentlessly strident quality predominantly driving the energy of dance, the choreography only occasionally working in opposition. The high-anxiety of the score is partially relieved in the second half when Jon Hopkins (Cold Play and Massive Attack collaborator) takes over. Using selections from his album, Insides, more sonic and to some extent choreographic variation develops. A particularly nice shift is the impressive duet to the track "Vessel," at once awkward and sinuous—undulating bodies appearing to do full-torso licking actions, limbs grasped and tugged as if with desperate need.
What does not survive well in this documentation is Ravi Deepres' video design featured in the second half of the work projected onto large articulated screens. In a review of the work at the Sydney Festival Keith Gallasch was critical of this element: "The relationship between dancers and projections was nil, the raising and lowering of screens insignificant—a prime example of 'background new media'" (RT101). This view is supported by the documenters choosing to focus on the dancers in preference to extreme wide shots that would incorporate the accompanying screens; nor do they include separate details of the video work.
However, on the whole, this filmed performance gives a tangible sense of the piece as live performance (replete with footsteps, panting, and I'm not so sure but maybe even some audience murmuring). With ticket prices increasing for performance (particularly major international and festival works) there may very well be a market, particularly in education, for works such as these. (See RT106 for an interview with Krysta Doczy whose company Contemporary Arts Media offers DVDs and a streaming service to the education sector of Australian and international performance). And the more accessible the distribution networks the better.
Wayne McGregor | Random Dance: Entity, concept, direction & choreography: Wayne McGregor, music Joby Talbot & Jon Hopkins, set & costume design Patrick Burnier, lighting design Lucy Carter, video design Ravi Deepres; digital version produced by ARTE France, director Dennis Caïozzi, distribution Hopscotch Films. Available iTunes; http://www.hopscotchfilms.com.au/catalogue/page-e/entity-digital-catalogue/
JUST IN: The Globe Theatre in London in association with Arts Alliance Media have announced that they will be screening documentation of live performances of Much Ado About Nothing, All's Well that Ends Well and Doctor Faustus in cinemas across Australia, New Zealand, USA and UK from September. See website for details http://onscreen.shakespearesglobe.com/
Also Parramatta Riverside's Made to Move program and Shamill Films will be featuring the screening of documented works from the Nederlands Dans Theater on Sept 9. See website for details http://www.riversideparramatta.com.au/performance.asp?pID=1924
RealTime issue #110 Aug-Sept 2012 pg. web
© Gail Priest; for permission to reproduce apply to realtime@realtimearts.net