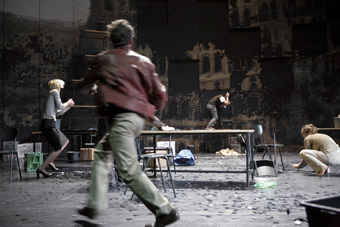 photo AT Schaefer
Pornography, Deutsches Schauspielhaus Hamburg
"IT WAS GREAT…BUT IT WASN'T REALLY A FESTIVAL SHOW, WAS IT?" I'VE HEARD VARIATIONS ON THIS SENTIMENT FOR YEARS. THIS PIECE SHOULD BE DOING FESTIVALS. THAT WORK ISN'T FESTIVAL FRIENDLY. I EVEN FOUND MYSELF SAYING SIMILAR DURING THIS YEAR'S MIAF: "IT WAS A DEFINITE FESTIVAL SHOW", AN INSTANT LATER QUESTIONING MY OWN STATEMENT. WHAT'S A 'FESTIVAL SHOW', ANYWAY? IT'S A BIT LIKE ST AUGUSTINE'S DESCRIPTION OF TIME: I KNOW WHAT IT IS AS LONG AS NOBODY ASKS ME TO EXPLAIN IT.
As good a reason as any to dig deeper. 'Festival show' doesn't seem to be used as a qualitative term; you can have good and bad festival shows, good and bad non-festival shows. Neither is it an indication of content, style, medium or audience. Rather, it's somewhere that all of these things meet.
The simplest way into the problem is to start with the works themselves, and for me the 2009 Melbourne International Arts Festival lent itself to the question very well. One of the program's centrepieces was a textbook festival work—Deutsches Schauspielhaus Hamburg's production of Simon Stephens' Pornography. It's a truly international piece of theatre on several levels: a German production of an English text, and one which alternates between a local specificity of references and more global, dislocated concerns.
Pornography is composed of seven discrete sequences which are unconnected on a diegetic level. Their common denominator is left for the audience to determine but the title offers a suggestive pointer. Each scenario addresses one aspect of the obscenity of contemporary life, where all hierarchies of meaning and value have been overwhelmed by the sheer bloody proliferation of signification. The characters of Stephens' text are in a kind of hell, though the German production makes less of this infernal imagery. And each character appears to be suffering the deleterious effects of postmodern excess which manifests itself through a variety of ugly symptoms.
An office worker self-destructively leaks a highly confidential report to a rival corporation, knowing that it will be traced to her; a bullied schoolboy describes fantasies of racism and sexual brutality; drunken siblings wind up forgetting their sorrows in an orgiastic sex spree. It's an ugly, disturbing work whose jagged edges are softened by those aspects that I identify with its internationalism: though ostensibly set within the days surrounding the London bombings of 2005, the production frequently unanchors itself to inhabit a more ambiguous space. The design is sprawling and often messy, dominated by a massive, mythic jigsaw puzzle depicting a pixelated Tower of Babel.
The atemporal aspect of the production does, in itself, moor it to a certain aesthetic dock, though. Pornography's stylisation feels very representative of particular recent trends in both German and British theatre, from the Von Mayenburgs and Ostermeiers to the In-Yer-Face UK crowd. All of these are profoundly concerned with contemporary social life, but it is one defined by global concerns and mass-mediated imagery, and it's no surprise that these works can comfortably travel to international festivals the world over.
Examining the programs of recent international arts festivals from Taiwan to Iceland, I noted two distinct and recurring features. Firstly, there's the prevalence and ubiquity of that internationalist style of performance, which transcends cultural barriers but often sees the same productions popping up again and again, as if there were only a limited pool of works available from which festival directors may choose. This is of course a misperception, but one that makes sense when we consider that the most obvious place a festival director will look to for inspiration is other festivals. The result is a certain homogeneity to the festival world—some festivals appear a mix-and-match version of the past decade's MIAFs (or other Australian equivalents).
The second observation I've made is more surprising: the converse of those internationalist works are culturally specific productions which reflect the space in which they were produced and wear proudly their difference, their localism. And, interestingly, such productions seem increasingly to be limited to the arts festivals of the country from which they originate. In order to travel extensively, a new work cannot be too based around regional concerns.
Abbey Theatre's Terminus is a story with little reference to cultural specifics, making it an ideal touring work, but on artistic grounds an odd contender for festival inclusion. It's a superb and assured piece of storytelling handsomely performed. But it's also physically static, visually uninspiring and formally simplistic. Three actors deliver three monologues that collectively create a gripping and horrific narrative of death and rebirth, murder and redemption. Supernatural elements add an air of magicalism, but it's very much a case of a ripping yarn well told. None seemed disappointed by the entertainment Terminus offered, but few would argue that it pushed artistic boundaries. It could work as a radio play with nothing lost; indeed, more than a few audience members admitted to closing their eyes at some points and enjoying the performance as just that. The text is everything here, and this may be due in part to writer Mark O'Rowe's other role as director. It was great…but it wasn't really a festival show, was it?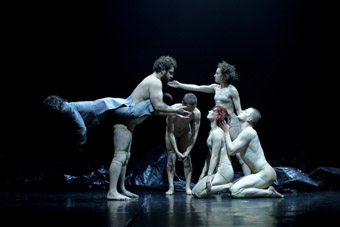 photo Proud Mother Pictures
Black Marrow, Chunky Move
Black Marrow, on the other hand, ticks plenty of festival boxes—international cast and creative team; apocalyptic nowhere setting realised on a grand scale; typification of numerous global artistic trends—while failing to satisfy on many other levels. Presented by Chunky Move and choreographed by Icelander Erna Ómarsdóttir and Belgian Damien Jalet, it's an underprepared mish-mash of concepts that range from the sublime to the plain silly. A primordial world of evolving, mutating bodies spawn from the oily ooze of a molten and bubbling blackness; they copulate violently, dissolve the boundaries of corporeal individuality and ingest the waste from which they emerged. Much of this is striking, visceral stuff, but it quickly wanders off on less bewitching tangents: a suited performer ad libs stilted entreaties to suck on some petroleum; a horrible scene sees a man venturing into a writhing woman's womb to retrieve a trash baby (the gender politics here are questionable at best).
This is the sort of collaboration and starting point from which great festival works are born, but it proves that there's no real formula for greatness. Black Marrow works on paper, but it's ultimately down to the creatives involved and the effort put in during the development process.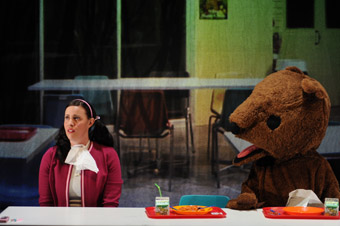 photo Paul Dunn
Katherine Tonkin and bear, Apocalypse Bear Trilogy, Stuck Pigs Squealing
Stuck Pigs Squealing's Apocalypse Bear Trilogy is a cross-platform performance centring on a fascinating ur-figure; a bear (or bear-suited man) who appears to catalyse moments of crisis in an individual's existence. The logic of these works sidesteps the rational to engage with a different kind of experiential knowledge, in which jumbled, solipsistic conversations are secondary to the passage of time itself. The performances by Luke Mullins, Katherine Tonkin and Brian Lipson are cautious, even flat, but this monotony adds to the cumulative sensation of an inescapable dream or, rather, a dream from which one awakes only to find oneself in another.
Apocalypse Bear Trilogy is not an international work; I'd be surprised if it was picked up on the festival circuit. Its concerns are no more parochial than Pornography's but its scale and ambition are of a different order. It's an inward-turning piece, one which speaks neither of a local tradition nor the global culture of which we are now all a part. These aren't the reasons it lacks that festival edge, however. It's that the 'festival show' is, evidently, the show which will attract eager audiences but would be unlikely to tour on its own steam—the work such as Pornography or Terminus or Black Marrow that's edgy enough to scare off the masses who make Cirque du Soleil a profitable enterprise but not so difficult as to alienate a festival audience. It's a fine balance.
But while Apocalypse Bear Trilogy isn't likely to be touring to Taipei and Reykjavik, it's still a fine work. It's just not big enough to attract international festival attention, which is why it, and many other deserving works around the world, will remain ensconced in the cities in which they were created. Simple economics—if we're going to pay to bring your production halfway around the world, it better be worth it. And as mentioned at the outset, 'worth' here is less a qualitative judgement than something else entirely.
Deutsches Schauspielhaus Hamburg, Pornography, writer Simon Stephens, director Sebastian Nübling, set Muriel Gerstner, lighting Roland Edrich; Playhouse, Arts Centre, Oct 15-18; Abbey Theatre (Amharclann Na Mainistreach), Terminus, writer, director Mark O'Rowe, designer Jon Bausor, lighting Philip Gladwell; Merlyn Theatre, CUB Malthouse, Oct 9-13; Chunky Move, Black Marrow, choreography Erna Ómarsdóttir, Damien Jalet, design Alexandra Mein, lighting Niklas Pajanti; Merlyn Theatre, CUB Malthouse, Oct 20-24; Stuck Pigs Squealing, Apocalypse Bear Trilogy, writer Lally Katz, directors Luke Mullins, Brian Lipson, performers Brian Lipson, Luke Mullins, Katherine Tonkin, design Mel Page, sound Jethro Woodward, lighting Richard Vabre; Lawler Theatre, Melbourne Theatre Company, Oct, 8-24 Oct; Melbourne International Arts Festival, Oct 9-25
RealTime issue #94 Dec-Jan 2009 pg. 5
© John Bailey; for permission to reproduce apply to realtime@realtimearts.net