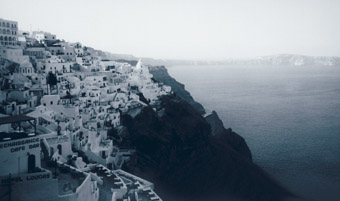 photo Ben Goldsmith
Santorini, view from Fira
In the 3rd of our series on future directions in the arts, Ben Goldsmith reports on an international conference on the impact of globalisation on the arts and the organisations taking shape in response to it. We'll have more on those groups in the near future. On the local front, Sarah Miller casts a wary eye over 2 documents, a new, apparently enlightened arts policy out of Western Australia and a Discussion Draft from the Australia Council's New Media Arts Vision Day.
For or against, or finding a third way to think about it, globalisation is on everyone's lips. Andrew Ross, Artistic Director of WA's Black Swan Theatre, comments in an interview (page 12): "I think the notion of the flagship company now has a lot more to do with what WA contributes to the rest of Australia than the way its repertoire correlates with other flagship companies—this is a by-product of globalisation—the necessity to produce distinctive, regional works. Each company has to chip out their own aesthetic and cultural position within that framework."
Sophie Hansen's report—in our last instalment of The Arts: What Next? (RT#40, p6)—on the British arts funding policy that ties all grants to community activity, was greeted with near disbelief by several RealTime readers: "You're not suggesting it's going to happen here?" So it was interesting to read in Sarah Miller's report on the Western Australian Ministry for the Arts' Building Community through the Arts: An eight year strategy that "It states, quite unabashedly, that the arts are good for us and that they do add value to a whole range of social justice areas." Not at all the same thing as the British phenomenon, but a reminder how justification for arts spending has increasingly to rely on what's value-added.
Editors
*****************
Less than 100 miles north of the Minoan centre of Knossos, the Greek island of Santorini is a most fitting place to debate the arts' end of the world. The Cycladic island's rich history, like that of neighbouring Crete, interleaves stories of natural disaster with invasions and great maritime wars, all of which have had dramatic and at times apocalyptic impacts on island cultures and ways of life.
Within the space of 2 centuries, Knossos was devastated by a series of cataclysmic events: fire, invasion, earthquake, volcanic eruption, tidal waves. In that same period about 3 and a half thousand years ago, earthquakes and volcanic eruption forced the abandonment of the thriving 2000 year old port of Akrotiri on the southern tip of Santorini. The town lay buried under metres of lava and ash for centuries, and has only recently given over some of its riches to eager archaeologists. Trained and expert minds today piece together fragments of Bronze Age life and hypothesise about the rituals and routines depicted in the intricate and extensive wall frescoes. Some of the more excitable even claim Akrotiri is the mythical lost city of Atlantis.
But these are not just stories of loss and desolation. They are also stories of cultural renewal. One of the most striking things about the Akrotiri excavations is that, to date, no human remains have been uncovered. This would suggest that the inhabitants had time to flee before the eruption to Knossos or other centres, dispersing stories of the events like clouds of volcanic ash around the eastern Mediterranean.
Most of the hardy souls who live on the volatile island inhabit Fira. There they enjoy cinemascopic views of what is said to be the largest caldera on earth and share their island with throngs of tourists cruising or island hopping or backpacking their way through Greece. Fira is the largest town on this island of lost cities, artists, volcanoes, goldsmiths, and grapes which grow stubbornly and stoutly in fertile volcanic soil on windswept slopes, into a sweet dessert wine for which the island's 3 vineyards are justly famous. The town is also the home of the most stunningly sited conference centre in the world where afternoon speakers regularly lose their audience to the view from the windows of the sun setting into the sea.
In September 2000, 70 writers, artists, teachers, students, circus performers, curators, musicians and media folk gathered at this conference centre to discuss globalisation and cultural diversity. Representatives of non-government organisations from around the world shared common concerns about the homogenising impulses of globalisation, and the threats posed to global cultural diversity by the removal of barriers to international trade or the implementation of new intellectual property agreements. They urged restraint on trade negotiators who may seek to bargain away the capacity of their governments to make cultural policies which protect, promote and help build audiences for the work of artists and cultural workers. They sought to learn from and connect with other activist networks, and to represent cultural interests and values in a policy environment in which they seem to have less and less purchase on the ethics of government. And they formed a new international body, the International Network for Cultural Diversity (INCD; www.incd.net), to advise and coordinate the activities of non-government cultural organisations, and attempt to ensure that cultural considerations are given due weight in this current Millennium Round of World Trade Organisation negotiations on further international trade liberalisation.
In February 2000, discussion of a new and more comprehensive General Agreement on Trade in Services (GATS) began in earnest. While the exact agenda for these discussions has not been made public, the United States has signalled its intentions to seek broad agreements not only on audiovisual services—the issue which almost scuttled the last (Uruguay) round of negotiations in the early 1990s—but in a range of "cultural service sectors." In acting as an information exchange and alerting service, the INCD will play an important role in ensuring that governments do not enter into any future agreements without taking close account of their impacts on cultural diversity both domestically and around the world.
A comprehensive round of negotiations on trade in services is intended and cultural workers and audiences are likely to be affected in a variety of ways if any international agreement is reached. A number of networks (like the INCD) have been established in recent months to link national cultural ministers, professional associations of artsworkers, academic cultural research centres, and arts support agencies like the Australia Council. These networks are testament to gathering interest in the value of sharing information and engaging in dialogue on issues not only for their own sake, but in order to meet the challenges posed to cultural diversity by emerging international free trade regimes, media convergence and the digital divide. The foundation meeting of the INCD was held in Santorini in September because the island was also hosting in that month the 3rd annual meeting of the International Network on Cultural Policy (www.pch.gc.ca/network_reseau/), an informal network of cultural ministers from around the world. That network was formed to allow dialogue to continue between governments on policy and diversity issues, following a major UNESCO intergovernmental conference on Cultural Policies for Development that was held in Stockholm in 1998. That conference provided the first opportunity for cultural ministers to meet in 20 years. At the initiative of the Canadian minister for culture, Sheila Copps, ministers met later that same year in Ottawa to form the INCP, which now meets in a different country every year.
Canadian agencies, organisations and government departments have played leading roles in both the INCD and INCP, as well as in the new International Federation of Arts Support Agencies which was launched at the recent World Summit on the Arts and Culture in Ottawa in December (www.culturenet.ca/cca/index.html). This network, whose secretariat will in the interim at least be hosted by the Australia Council, was formed to connect the many arts councils, foundations and public cultural agencies which have been founded around the world in recent years. In many cases these arts councils represent new partnerships between the public sector, the non-government sector and the private sector in the administration, promotion, production and preservation of cultural activities. Through the Federation, these councils will be able to use knowledge gained from international counterparts to shape domestic cultural policy.
Australian artists, agencies and organisations have a great deal in common with their Canadian counterparts but our organisations are only just beginning to play prominent roles in international debate on cultural diversity. This may be because the Australian political environment is less attuned than the Canadian to the challenges to cultural industries, diversity or expression posed by economic globalisation. Of necessity, Australian arts organisations tend to focus attention on the effects of domestic policy changes such as the introduction of the GST or the activities of the Australia Council. They are often poorly informed about the potential impacts of international trade agreements on the capacity of governments to make cultural policies which subsidise cultural production, instrumentalise commitments to cultural diversity, discriminate on cultural grounds in favour of domestic producers, and ensure a space for public appreciation of domestic cultural expression. As the trade negotiations roll on, Australian organisations would be well advised to participate as fully as possible in these international debates. Economic globalisation could have similarly dramatic effects on cultural life and activity as the earthquakes and volcanic eruptions have in Santorini. The new international cultural networks including the INCD will play a role in determining whether those effects are productive or destructive, and in keeping a place for cultural values to offset the grosser inequities and most harmful effects of the rules-based trading order.
RealTime issue #41 Feb-March 2001 pg. 10
© Ben Goldsmith; for permission to reproduce apply to realtime@realtimearts.net