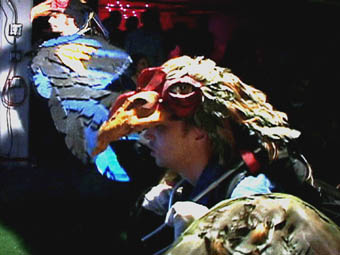 C-Level, Cockfight Arena
When South Australian Labor Premier and Arts Minister Mike Rann took office in March 2002, central to his arts platform was the establishment of the Adelaide International Film Festival (AIFF). Soon after, former Adelaide Fringe Artistic Director Katrina Sedgwick was appointed as Director with only 8 months to program the March 2003 Festival.
The 2002 Adelaide Fringe, directed by Sedgwick, broke new ground in that film, digital media, interdisciplinary practice and sound featured prominently alongside traditional Fringe fare. After the success of the Fringe, Sedgwick approached the AIFF with a similar vision of expanded programming, including a mixture of media and practices. Taking a cue from the Fringe's first screen program Shooting from the Hip, Sedgwick has broadly interpreted screen culture for the AIFF, including film, new media, computer gaming, music video and installation.
If the AIFF is received with the enthusiasm and passion Sedgwick brings to it, it's bound to be successful. Launching the highlights in November 2002, she said, "If cinema was the art form of the 20th century what will the 21st century bring? Screen culture will continue to dominate our lives and culture but in what forms? The AIFF will be a celebration of the imagination, diversity and innovation of the screen and the artists and ideas behind this creative phenomena."
With her emphasis on screen culture, Sedgwick has included diverse and innovative works which cross the many uses and interpretations of 'screen.' With events such as Mirrorball (the world's hottest new music videos from the Edinburgh Film Festival) alongside a celebration of Hong Kong Cinema, video installation Ice Cube by Craig Walsh (Qld) and interactive gaming demonstrations, the program is a snapshot of Australian and international trends in screen innovation.
As an 'international' film festival, the program also aims to include broad cultural and geographic representation, with local, national and international guests descending on Adelaide's East End for the week. The film component is strong, and coinciding with the SA Film Corporations' 30th anniversary, several local productions are included. Rather than a nostalgic foray into past great SAFC films, Sedgwick has programmed recent shorts that reveal the SAFC as a leading body in digital media production. SA-based Rolf de Heer will present his unreleased feature The Old Man Who Read Love Stories (made before The Tracker) and 2 films by local directors Shane McNeill and Matthew Saville are also included.
Sedgwick details the challenges of staging a film festival in March: "Many producers aim to launch their films at Cannes in May, and it is difficult to obtain prints…" Despite this, she is delighted to have secured 45 Australian premieres of international features. Guests to the AIFF will include Iranian-Kurdish director Bahman Ghobadi with his film Marooned in Iraq; Dominic Savage from the UK with Out of Control; American director Lourdes Portillo presenting Senorita Extraviada and Taiwanese Yee Chih-Yen, director of Blue Gate Crossing. These filmmakers and other AIFF guests will make public appearances in 'Meet the Filmmaker' sessions and other forums during the week.
A key component of the programming strategy is to make films and filmmakers accessible and visible to a wide audience. To encourage active engagement, there are free programs including forums, workshops and the outdoor Deckchair Cinema. The Animations for Kids program features short animated films from around the world for children of 8-12 years, curated by the Melbourne Animation Posse. As well, there will be hands-on computer animation workshops presented by Ngapartji Multimedia Centre and Come Out '03. A hip-hop program features New York documentary filmmaker Kevin Fitzgerald presenting New York Freestyle: The Art of Rhyme and Joey Garfield with Breath Control: The History of the Human Beatbox. A special event beatboxing night with Garfield will be held at the Late Night Festival Club in Rundle Street.
Sedgwick is keen to run interactive and gaming sessions alongside the features, shorts and documentaries. Central to this is the involvement of Los Angeles based C-level, a co-operative lab formed to share physical, social and technological resources. Artist Eddo Stern from C-level will be in Adelaide with the highly interactive Cockfight Arena, "in which volunteers from the audience will slip into feathered wings and helmets and then flap about in an arena with other dangerous faux fowl; wireless game controllers will translate, and exaggerate, their activities into images on large screens. The goal? To prompt "contemplation of violence, media and performance in the midst of ferocious, feathery mayhem" (Holly Willis, LA Weekly).
An all day forum on interactivity will be held on Friday March 7, plus screenings of digital and new media work curated by ACMI's (Australian Centre for the Moving Image) Alessio Cavallaro. Special guest Mike Stubbs from the UK is presenting a compilation of international short video works spanning 25 years, to describe how video art emerged, formed its own culture and has subsequently transformed into the digital.
And to throw some schlock into the mix, the Sex, Death and Greed strand celebrates the ageing studio systems of the 1960s when filmmakers such as Seijun Suzuki, Dario Argento and Sergio Leone worked on the margins of the commercial film industry and threadbare genres, taking the studio system into a baroque and flamboyant phase. Rare screenings of iconic masterpieces Once Upon A Time in the West and The Good the Bad and the Ugly will be followed by spaghetti served to the enigmatic tunes of performance band The Ennio Morricone Experience. Philip Brophy will present a lecture "The Sound of Sex" and The Horror Sleepover, perhaps a film festival first, is an all night movie marathon starting at 11pm on Saturday March 1 (BYO sleeping bag).
And when it's all over there's a weekend of world music at WOMADELAIDE. Asked if she will be heading straight to Botanic Park at the end of the film festival, Sedgwick replies, "Of course. When it's festival time in Adelaide you just keep going."
Adelaide International Film Festival, Feb 28-Mar 7, Full AIFF screening program and timetable will be announced Feb 2003 www.adelaidefilmfestival.org,
RealTime issue #53 Feb-March 2003 pg. 21
© Julianne Pierce; for permission to reproduce apply to realtime@realtimearts.net