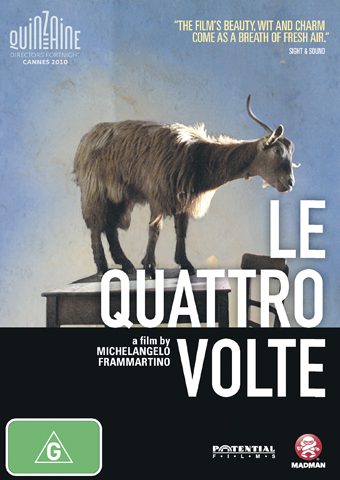 Le Quattro Volte, DVD
Greatly admired in the Adelaide and Sydney Film Festivals, Michelangelo Frammartino's Le Quattro Volte (The Four Times; 2010) is "a sublime fiction that does away with language and conventional plotting, tracking the mysterious transmission of a soul from nature to man to domesticated animal to tree and—via ritual and artful rural manufacture—to fire, smoke and charcoal. All of this is achieved without any sense of religiosity (a seasonal church pageant is quite comical if juxtaposed with a moment of poignancy) and constantly surprises with its unpredictability and glorious cinematography. We'll certainly now regard goats in a different light, observed here with the same acuity usually given human subjects." RT102
3 copies courtesy of Madman Entertainment
ZONA: A Book about a Film about a Journey to a Room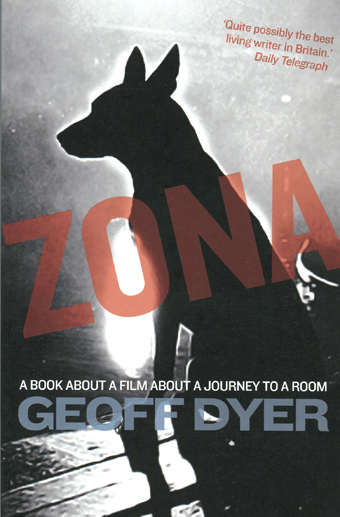 A remarkable book about the film experience, ZONA is UK writer Geoff Dyer's acclaimed personal account of his relationship with Andrei Tarkovsky's classic film Stalker. As Dyer recounts the events of the film and evokes its imagery, he spins a web of rich associations with other films, the nature of cinema-going, growing up, his girlfriends, stories about the making of Stalker, the role of boredom in film, Tarkovskian suspense and much else. It's also very funny, hypercritical of other people's favourite films (including Tarkovsky's Nostalghia) and informed by vast cultural knowledge. As Tom Redwood writes in this edition, "What Dyer has offered by piggybacking on a masterpiece is an extension of Tarkovsky's artistic project, a quite literal fulfilment of the creative contract Tarkovsky makes with his (devoted) viewers whereby the artist obliges the audience to…think on, further than has been stated…[putting] the audience on a par with the artist" (see review). ZONA is an entertaining provocation.
3 copies courtesy of Text Publishing
Email us at giveaways@realtimearts.net with your name, postal address and phone number. Include 'Giveaway' and the name of the item in the subject line.
Please only nominate one item.
RealTime issue #109 June-July 2012 pg. 48
© RealTime ; for permission to reproduce apply to realtime@realtimearts.net