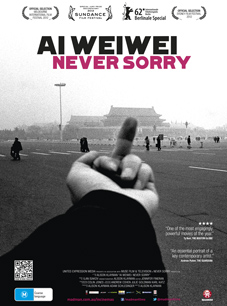 Ai Weiwei, Never Sorry, Madman DVD
Dan Edwards writes in this edition (p19) "Never Sorry [is] the debut documentary of US director Alison Klayman and the first sustained look at this crucial figure in contemporary Chinese culture." The film places the work of this internationally acclaimed visual artist in context. While providing glimpses of the artist's early years and his life now "Never Sorry's main interest is Ai's place within an increasingly fractious domestic debate about China's future and the need for greater transparency….The man may be caged, but his humour, defiance and sense of play remain strong."
6 copies courtesy of Madman Entertainment
The Sapphires, Hopscotch DVD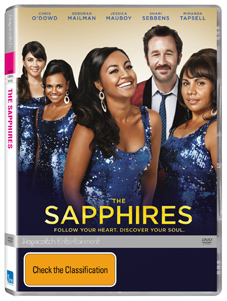 Directed by Wayne Blair from an adaptation of the Tony Briggs' stage musical, The Sapphires has been a huge popular success in Australia. Four young women from a remote Aboriginal mission are forged by an enterprising manager into a powerhouse quartet who entertain American troops in Vietnam in the late 60s. The combination of 'true story,' comedy, romance and drama, realised by fine performers, plus audience curiosity about a rarely addressed, complex period of Australian history has proved a winner. As well, the high calibre of Aboriginal-directed films (Beneath Clouds, Samson & Delilah, Stone Bros, Here I Am, Bran Nue Dae, Toomelah) has guaranteed continued interest in films about the lives of our fellow Australians. The film stars Deborah Mailman, Jessica Mauboy, Miranda Tapsell, Shari Sebbens and Chris O'Dowd.
6 copies courtesy of Hopscotch Films
Aki Kaurismaki's Le Havre, Madman DVD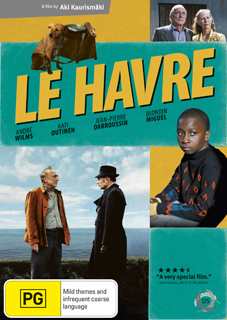 Finland's Aki Kaurismaki is one of cinema's great directors, idiosyncratic and consistently inventive. His humorous-sad vision of humanity, sometimes bordering on pessimism or exuding an aura of deadpan optimism (or elsewhere just funny, as in his Leningrad Cowboy films) has created in Le Havre an empathetic fable about the plight of refugees in which a small African boy is rescued by an ageing shoeshine man in the northern port of Le Havre. If you don't know Kaurismaki's films, Le Havre is an excellent starting point. The film received the prize for best film at the 2011 Cannes Film Festival and, Laiki, the dog featured in Le Havre, won the Special Jury Palm Dog Award. What more recommendation do you need?
6 copies courtesy of Madman Entertainment
Email us at giveaways@realtimearts.net with your name, postal address and phone number.
Include 'Giveaway' and the name of the item in the subject line.
PLEASE NOMINATE ONLY ONE GIVEAWAY
These Giveaways are no longer available.
RealTime issue #112 Dec-Jan 2012 pg. 48
© RealTime ; for permission to reproduce apply to realtime@realtimearts.net