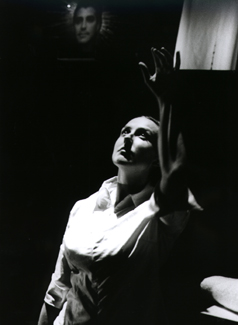 photo Heidrun Löhr
Lisa Ffrench, Part-Time
Just a few keywords to give you the flavour: swirly amorphously romantic music, the absurd keenness of youth, and a terrible urge to smile—all strong features in Lisa Ffrench's new solo work, Part-Time. Meet Lisa, a girl with a part-time sales job and a full-time desire for stardom: the almost epic squabble between tedious reality and an insatiable fantasy life, making her in the end a sadder but wiser part-time choreographer.
One teeters between disbelief and amazement at the possibility that her story is autobiographical. Does the Lisa Ffrench we know actually (but secretly) worship at a pink heart-shaped altar to George Clooney? Does she really devour Vanity Fair with rabid desperation to feel closer to the stars? Or is this some other fictitious Lisa—like Muriel—perhaps, with stardom rather than a wedding as her supreme goal? Maybe the answer doesn't matter. Ffrench's aims are, to a certain extent at least, ironical and self-mocking. However, unlike Muriel's Wedding, the purpose is unclear in the straightforward narrative delivery. While she leaves minimal room for interpretation, most people who watched her performance didn't seem to mind. They also enjoyed the dance which was simple, accomplished and unambiguous, containing literal gesture and well-formed steps. Finally, Ffrench delivers a short, touching song that manages to reach places the rest of the performance might have missed.
The Fondue Set, originally billed as an "also featuring" act, delivered a show which, despite its obvious limitations (Emma Saunders had a broken foot complete with cast), managed to create something quite new in Sydney dance culture, bringing their own particular flamboyant party girl context with them from night club to theatre. Soft Cheese is in roughly 8 sections, illuminating the social behaviour of girls with their guard drooping, at a party or just looking for a good time. The scaffolding for this behaviour is most likely the familiar 60s cocktail scene, where politeness gradually disintegrates with the quantity of drugs ingested. There's also the particularly bitchy, tragic, nihilistic flavour of today's public party crowds—women dressing up and getting blotto in their efforts to have a good time.
The movement itself seems to seep naturally out of the nightlives of the 3 women, becoming heightened when they're frocked up in red tulle and ankle boots or chilled out in an excess of cool. Whether falling face first into a bar top and a plate of Jatz, staggering boozed through cigarette smoke patterns, exhibiting nonchalance as if it were a lifestyle or slowly swaying to the beat as they pour drinks over themselves in perfect unison, the dancers recapture fragments of the fantasies of some other fast-disappearing generation.
Jane McKernan slowly rolls across the floor to face the audience, legs awkwardly kicking, doll-like and unstrung, arms gesturing, beckoning. It's quiet but for Louise Davis who sings a plangent unaccompanied version of The Doors' Hello, I Love You. McKernan scrawls her phone number in lipstick on the inside of her arm, sprawled out for the taking.
In the last section, Gabby Adamik and McKernan don what look to be netball colours for the quaintly charming elite team event of marathon dancing. But what starts out to be a very slight joke becomes a dance which breaks over the audience with increasing abandon, a gruelling, driving, repetitive cycle of unison phrases, and with each repetition the dancers become more breathless and out of control. This dance caused me to rush out and buy The White Stripes' CD just for those 50 seconds of Little Room. The Fondue Set make it last for at least 10 minutes.
One Extra Dance Company, Part-Time, solo work by Lisa Ffrench; Soft Cheese, The Fondue Set (Emma Saunders, Jane McKernan & Gabrielle Adamik), Downstairs Theatre, Seymour Centre, Sydney, Oct 25
RealTime issue #46 Dec-Jan 2001 pg. 28
© Eleanor Brickhill; for permission to reproduce apply to realtime@realtimearts.net