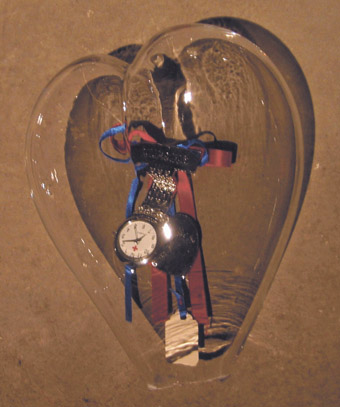 Shelia Ghelani, Covet Me, Care For Me, courtesy of NRLA
SHEILA GHELANI'S COVET ME, CARE FOR ME TAKES A MATTER-OF-FACT APPROACH TO HEARTBREAK. JUST PUT ON PROTECTIVE GLOVES AND A FACE MASK, TAP LIGHTLY WITH A HAMMER ("DON'T TRY TO BREAK IT IN ONE GO," SHE SAYS), AND IT JUST SHATTERS INTO TINY, SHARP PIECES.
This shattering is repeated time after time inside Stable 4 of the Tramway, which has been remade into a luxury space which is part shrine, part upscale boutique. There are opulent red curtains, tastefully framed illustrations of hearts, a light scent of incense, and Frankie Avalon's "Why?" pining sweetly away in the background. Arranged across the centre of the room are fifty hand-blown glass hearts, each one containing a numbered nurse's fob watch, decorated with ribbons and a silver heart pendant.
One by one we are invited to put on protective gear, smash the heart of our choosing, and take the shining tokens next door to be carefully gift-wrapped and placed inside a tiny velvet satchel. On the surface, this all seems saccharine and melancholy. Might it be looking back to a past heartbreak of the artist? Each gift box includes a sponge containing one teardrop shed by the artist. Might the choice of nurse's fob watch refer to some personal family history, a heroine lost too early? The gift-wrapping is printed with part of an article titled "What are people?", which suggests that what sets us apart from other primates is our sentimentality, our search for meanings underlying our complex emotional lives. But there's something else as well. This work doesn't just nurse old wounds, if indeed it does that at all—instead, it casts itself into the future.
Each gift comes with care instructions ("Buff with soft cloth at regular intervals, Wear from time to time over the heart"), and each person who takes a gift is invited to a future gathering (date and venue tbc). At the entrance to the room is a framed declaration that "what she [the artist] was hoping was that one of them … might find its way from a pair of your caring hands into a heart, into a legacy, into a museum." Ghelani's hope, projected into the future, might be the source of this piece's heartbreak and fragility–not a past disappointment, but a future longing.
Covet Me, Care For Me binds us all up in this hope, each of us carrying our synchronised watches ticking away the same measure of the same time. Ghelani's work is a kind of service economy, in which gifts are exchanged for a future promise, and for which each gift-taker signs an acknowledgement of receipt. What are people? Sentimental, yes, carrying the memories of old wounds—but also complicatedly intertwined in each other's lives and each other's futures. I like this open-endedness, and the construction of alternative economies of exchange and intermingling.
Shelia Ghelani, Covet Me, Care For Me, National Review of Live Art, Tramway, Glasgow, Feb 6
RealTime issue #84 April-May 2008 pg. 4
© Theron Schmidt; for permission to reproduce apply to realtime@realtimearts.net