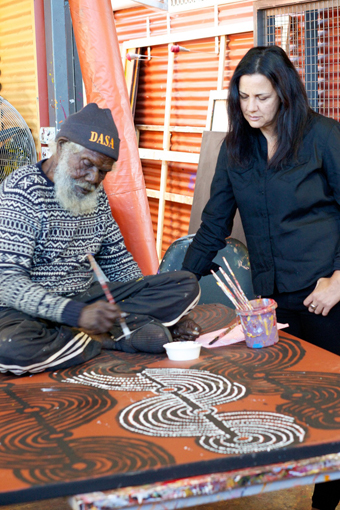 image courtesy Hibiscus Films
Hector Burton, Hetti Perkins, Art+Soul 2
There are remarkable things to see in Art+Soul 2: the intriguing creations of fascinating artists, venerable exponents of ancient practices and a younger generation of contemporary artists working in video, film, performance and installation, melding with the traditional forms and concepts of their inheritance.
The second of curator and writer Hetti Perkins' much-anticipated Art+Soul series is about to be launched on ABC TV. Perkins travels Australia meeting artists in their homes, studios and beloved country, often with their families and communities. The sense of art as integral to life is woven through the series, profoundly entwining the everyday, the spiritual, the land and collective and personal Indigenous histories. Alongside traditional artists in remote art centres (Yolgnu man Wanyubi Marika; the people of Tjala Arts, SA) and shell artists Lola Greeno and Esme Timbery, Perkins interviews contemporary artists Jonathan Jones, Warwick Thornton, Daniel Boyd, Nicole Foreshew, Vernon Ah Kee, Christian Thompson, Brian Robinson and Julie Gough.
Perkins pulls together threads from across the continent—with its extremes of landscape and climate and sharply contrasting craft and art practices—to reveal lineages of unexpected continuity of influence (sacred tree art in a Jonathan Jones' fluorescent light sculpture; Albert Namatajira in the works of Warwick Thornton and Daniel Boyd; traditional dyeing in the swirling cloth of Nicole Foreshew's performative video creations). All the artists in this series make works that speak for themselves, but in conversation each is also eloquent about their feelings of connectedness with a sustaining ancient culture and the deeply disturbing history of Aboriginal and Torres Strait Islander history over the last two centuries. Perkins informally and unhurriedly draws them out, in the same way she draws us in, her voice warm, deep, intimate, her manner easy. They in turn are frank, witty and observant.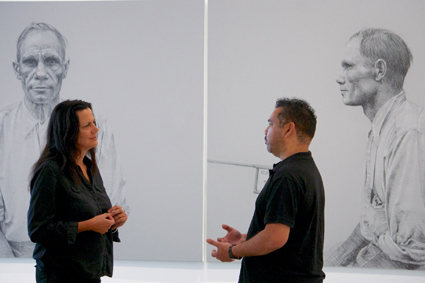 image courtesy Hibiscus Films
Hetti Perkins, Vernon Ah Kee, Art+Soul 2
Perkins herself is more than a guide, more than a delineator of art history, she is a story-teller—the art she reveals to us is part of her own story, not as an artist but as curator, an intimate of the artists and, above all, as someone whose own life parallels theirs in shared culture and history. Episodes are framed with reference to the inspiration from her grandmother, her father—the activist Charles Perkins—and his clan country near Alice Springs, land which Perkins says sustains her.
The series is superbly made with Perkins as writer, director Steven McGregor, cinematographer Eric Murray Lui and sound recordist David Tranter. These are Indigenous filmmakers with extensive experience and considerable achievements, documented over the years in RealTime (see Indigenous Film Archive Highlight) and in Dreaming in Motion, Celebrating Indigenous Filmmakers, AFC-RealTime 2007). With a score largely made up of affecting contemporary Indigenous songs, Art+Soul 2 is engrossing viewing, another fine record of Indigenous Australian art from Perkins and an exhortation, firmly if gently stated by the activist-presenter-writer to understand art as Culture.
What did it feel like to make this series, to be nomadic and travel far and wide?
It's a thrilling opportunity to travel around and renew old acquaintances and see friends. One of the pleasures of being a contemporary nomad of sorts is that I really love driving out bush, around places like Uluru, Arnhem Land, Aurukun is just amazing—beautiful. And those long drives are something I find quite therapeutic. But doing it in the company of someone like Mrs Porter—we see her in the series [at Warakurna Artists, WA] giving the children their paints and canvases and a little painting lesson—when you travel with someone like her, of course, the country, even though it's beautiful and enriching, you start to understand why all these places you're passing by, whether it's a tree or a rock-hole or hill, have significance. I think that sense of the country being sentient and alive is very important. While obviously we can't cover every minute of what we do in the series, I hope the sense of that comes through strongly in each episode.
It's a fascinating range of artists—most relatively young artists but also older people with a very strong sense of craft whose creations we might be surprised to see juxtaposed with contemporary practice. But they all make sense. How did you come up with this amazing 'cast'?
One of the things we try to do is to say that contemporary Indigenous art practice has myriad forms of expression. So Lola Greeno's beautiful shell necklaces can be as political as a Daniel Boyd Treasure Island painting [a map of Australia detailing hundreds of original Indigenous language groupings over which the label 'Treasure Island' is imposed by wealth-seeking colonialism]. So I think that's one of the probably not-so-subtle messages we're trying to get across, that in being connected to country and being an Aboriginal or Torres Strait Islander person, you're inherently political or politicised and this can be expressed in ways that can often be quite subtle or more suggestive than strident.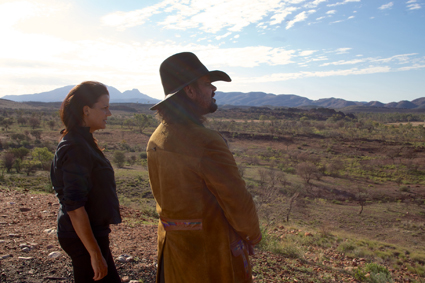 image courtesy Hibiscus Films
Hetti Perkins, Warwick Thornton, Art+Soul 2
But with a darker, underlying sense; as Warwick Thornton says, that even to breathe is a political act.
Yes, that's right. I shouldn't even be alive. He makes that point very clearly. And as he says, I'm an Aboriginal artist because if I'd been a plumber, I'd be an Aboriginal plumber. Having a film director now as an artist is also kind of fun.
There's a diversity of voices in each artist. Daniel Boyd can make quite overtly political works and others like his mysterious Dark Matter images. Vernon Ah Kee makes the Tall Man video work but on the other hand those rather scary charcoal drawings, Unwritten [both works triggered by the Palm Island Riot of 2004 and its causes].
They're quite haunting, aren't they?
There's a connection between Boyd's dots against dark space and Vernon Ah Kee's 'faceless' visages [in each case suggesting faces or bodies not seen by white culture].
What strikes me too as you look at the works of those artists and you see the different presence that they have—some quite subtle, others more overtly political—is the softly spoken artists themselves. I think it's wonderful to be able to introduce them to people. There's a lot of compassion and conviction and they're steadfast in what they say, but I think people will be surprised at how almost self-effacing or even humble they are.
They'll let their art speak for them and for their people but they can make strong statements.
Yes, they're quietly persuasive and I think that's something I've always admired about these artists and one of the reasons for doing this series. [It's] not only their work but because they have the courage to make the work, to put it out there.
There's also quite a strong emphasis on families—family photographs and archival material, including your own. You make that connection regularly so that each artist reveals a sense of lineage and place.
Yes, I think one of the reasons for doing that was to be open. It's meant to be intimate, to get to know these people and their country and their homes. I don't think you can do that if you're some sort of narrator up on high. You have to meet the generosity of spirit that the artists are offering. It was felt appropriate for me to have the same sort of approach with myself as I asked of the artists.
You pack a lot into each 60-minute program, but there's still a feeling of reflection and enquiry. You must have spent quite a bit of time making this.
Yes, quite a few weeks on the road and the inevitable post-production. You have to allow for pauses. There's a term in poetry—I forget what it is. Caesura? I've always been struck by that idea. In my experience, a lot of the time, listening is as important as asking. Often if you just wait, when one of the artists stops that pause means something amazing is about to come out of their mouth. But I also think a lot of that was due to Steven McGregor, the way he directs is so inclusive and intuitive. He often will say in the edit, "We just want to give people a chance to breathe; let the art, the landscape, let it breathe." A lot of that [sense] you're identifying in it is very much to do with Steven's editing.
He's a very fine film director. He's made his own films and for other people. Working with him must be a great advantage. Also Eric Murray Lui who's a great cinematographer.
And David Tranter on sound—three super-experienced, super-talented and, I have to say, super-fun people to work with. And that's really great because, like Art+Soul 1, you can just go into a community and you know you don't have to have the cultural planning workshop sort of thing before you go in. Nobody's going to shove a camera in anyone's face without [permission].
When you're talking to the women in the Yarrenyty Arltere art centre in the Larapinta Valley near Alice Springs who make soft sculptures, we see a very good stop-animation segment featuring toy figures in a story that combines traditional lore and good advice. Who made it?
That was a couple of people at the art centre. These wonderful people, the nannas and kids and cousins and dogs all get to play a role in these animations about all the stuff that happens out in the town camps—and pretty much anywhere. One of my favourite moments—we used it at the end of one of the episodes—is the little nanna and pop figures in bed. One rolls over and puts their arm over the other one. It's such a nice touch.
It's interesting that in your selection of artists for Art+Soul 2 you see younger artists like Warwick Thornton, Daniel Boyd, Christian Thompson and Nicole Foreshew who engage with new technologies, video, installation and performance as clearly sustaining tradition, if in different ways. Are you attracted in particular to these artists?
I'm lucky, because I'm old enough so I've been able to work with a lot of these artists in one form or another over the years, which makes it even harder to narrow down who will participate in the series. Often it's a matter of availability and who's around that comes into it. But the artists you mentioned, they're reasonably young and I love the way they're picking up that mantle, whether it's Rover Thomas, Emily Kngwarreye…the pioneers. Daniel Boyd talks about Albert Namatjira. They feel they're very much part of that artistic tradition. They maintain their heritage but [have] their own individual form of contemporary expression…that's really what Aboriginal and Torres Strait Islander culture is about. It's about this endlessly adapting, evolving, changing cultural sphere. That's one of the most exciting things about it.
The series says that art is very important. You say it's a beacon and that it promotes understanding. Warwick Thornton says it's very 'healing.' You say at one point it's about finding a way home. For Aboriginal people seeing this art and this series must be a much more profound experience than for the non-indigenous viewer.
We all have common experiences—home and family, place and a sense of belonging are things we all share. My people are no different. We feel the same way. It's about trying to find touchstones, those things we all identify with, we all crave and need. Indigenous people have been denied those basic human rights. For them and for people like myself who aren't artists, I similarly can take comfort or guidance or inspiration from the work of our artists. That's why I pay so much respect to them, because they do have this incredible responsibility that they happily take on their shoulders. They choose to make these works that are inspirational. It's very important work and it's no easy task.
Art+Soul 2, writer, presenter Hetti Perkins, director Steven McGregor, cinematographer Eric Murray Lui, producers Bridget Ikin, Jo-anne McGowan, Hibiscus Films; screening July 8, 15, 22, ABC 1
You can watch the first series, Art and Soul http://www.abc.net.au/arts/artandsoul/flash/default.htm, on the ABC website.
RealTime issue #121 June-July 2014 pg. web
© Keith Gallasch; for permission to reproduce apply to realtime@realtimearts.net