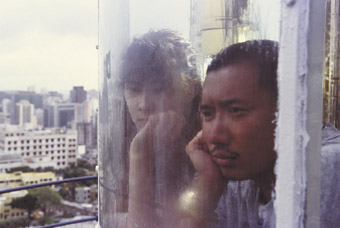 Isabella
INVIGORATING IN THEIR ENERGY AND ECLECTICISM, THE BATCH OF FEATURES FROM ASIAN FILMMAKERS AT THIS YEAR'S ADELAIDE FILM FESTIVAL ORIGINATED FROM A WIDER GEOGRAPHICAL REGION RATHER THAN FROM A SPOTLIGHT ON ONE PARTICULAR NATION. TO MATCH THIS DIVERSITY THE FILMS THEMSELVES CAME FROM ALL GENRES AND WERE AIMED AT VARIOUS AUDIENCES. THE PROGRAM INCLUDED SOUTH KOREA'S BIGGEST EVER BOX OFFICE SUCCESS ALONG WITH SOME GENUINE ESOTERICA. IT IS PERHAPS UNSURPRISING THAT ONE OF AUSTRALIA'S CHIEF CHAMPIONS OF NEW ASIAN CINEMA AND LONGTIME REALTIME CONTRIBUTOR, MIKE WALSH, HAD SIGNIFICANT INFLUENCE IN SHAPING THE PROGRAM.
invisible waves
Pen-ek Ratanaruang's new feature, Invisible Waves, was always going to be compared with his breakout hit, Last Life in the Universe. Another collaboration with Australian cinematographer Christopher Doyle and Japanese star Asano Tadunobu, it's startling in its own fresh way. Straddling locales in Macau, Hong Kong and Phuket, Ratanaruang has constructed a low-key surrealist film noir about karma. Balanced by Tadunobu's portrayal of a criminal who is also a chef and epitomises existential cool, Invisible Waves is a contemporary Dante's Inferno infused with Asian art cinema aesthetics and the downbeat mystery of 50s gangster productions. It sounds a heady cocktail, and it is: the story of a low life who murders his boss's wife and then goes on the run takes on the symbolism of a descent into hell when the gangster uses a derelict cruise ship as his mode of escape. There are bizarre passengers and mysterious malfunctions, walls smeared with mould and blood, and strange hummings that permeate the cabins. Combined with Doyle's lush compositions and elaborate, smooth camera movement the world Ratanaruang constructs is completely transporting.
isabella
One of the brats of Hong Kong cinema, Pang Ho-cheung, has produced his most mature work to date. Although the premise sounds tawdry—a prostitute wakes up in bed with a hard-living cop and promptly announces that she is his daughter—the film shifts direction altogether to become an interesting inversion of the family melodrama. Featuring Cantopop star Isabella Leong in the lead role, this is no exploitation piece, but an assured relationship study that reveals the emotional underbelly of the archetypal hard-boiled policeman. The backdrop of the handover of Macau's handover to China lends a sense of confusion and displacement to the main action.
the host
If you needed a reprieve from the contemplative pacing of the rest of the program, Bong Joon-Ho's The Host was a stiff antidote: an enjoyable monster movie with some intellectual layers. While it doesn't quite have all the allegorical properties others claim for it, there is no doubt about its visceral thrills, and it bears all the hallmarks of a project that will have an immediate remake in California on ten times the budget. Many years after a US chemical facility dumps hazardous waste in the Han River a mutant creature emerges to wreak havoc and spread a deadly disease. Something like a tooth-and-taloned tadpole the size of an elephant, Bong's monster's lithe initial appearance on the riverbank will be a cherished scene for many of the genre's fans. Apart from the environmentalist, anti-American themes running throughout, the film becomes what Bong considers a family drama after a young girl is abducted by the monster and her father, uncle, aunt and grandfather embark on an amateur vigilante mission.
still life
OnScreen has already dedicated extensive coverage of Jia Zhangke's masterwork Still Life (RT76, p22), and politically and critically, one of the most important films of the last year. The inaugural jury for the AFF Natuzzi Prize agreed, awarding the $25,000 to the Chinese director. Jury president and co-director of the Toronto Film Festival Noah Cowan stated that the film was selected "for its bold, powerful artistic vision. It asks an urgent question: How do we value human life in the face of economic and cultural upheaval?"
exiled
Johnnie To has constructed a career on making Hong Kong action genres palatable to the tastemakers of European festivals, and also manages to produce multiple projects each year. While his latest film, Exiled, could be considered a reprise of his 1997 classic, The Mission, it is probably not as strong an example of the craft of the hitman film. However, there is much to savour here for connoisseurs. While the setup is familiar, a man is targeted by two assassins for failing to complete a hit on a local crime boss while two other hitmen set out to protect him, what follows is not. After a brief gunfight, all of the men, who turn out to be longtime friends, prepare an elaborate dinner together and sit down to talk through their issues. When they eventually band together to challenge Macau's gangland leader, the film becomes a stylised aria on friendship, with several operatically arranged action sequences.
woman on the beach
Hong Sang-soo has established himself as one of Asian cinema's more reliable auteurs, producing consistently high quality work on similar themes. Woman On the Beach continues his preoccupation with sexually predatorial males coming face to face with their own superficiality. Set in the foggy, spectral western coast of South Korea, Woman on the Beach follows a film director who goes to a seaside resort ostensibly to finish his latest script but ends up pursuing two women who are also staying in the town, one of whom is his best friend's girlfriend. As his journey unfolds it becomes apparent that the women are the richer, more complex characters. Shot with almost exclusively long takes and making best use of the soft white light of the coastal area, this is an elegantly told film punctuated with moments of playfulness.
opera jawa
In a timely reminder that Western narratives often dwell in narrowly confined spaces and that there are many alternative modes of storytelling, comes a dazzling musical from Indonesia in the form of Opera Jawa (Garin Nugroho, 2006). Although using traditional puppetry and folk theatre, the film is never less than extremely cinematic in a chain of colourful set pieces marked by intricate set design and staging. The story, a reinvention of an ancient Indonesian tale, is universal: two men from different classes are in love with the same woman. How the story is presented here via gamelan music, acrobatic dance and puppetry is unique in global cinema, and while the film is overlong, its sheer spectacle is continually impressive.
These are just some of the films in a strong collection, a healthy mix of genre films and art cinema fare providing a well rounded representation of the Asian cinema zeitgeist, The blend of festival-favourite auteurs sprinkled with the less experienced directors felt about right.
Adelaide Film Festival, director Katrina Sedgwick; Adelaide, various venues, Feb 22-March 4
RealTime issue #78 April-May 2007 pg. 18
© Sandy Cameron; for permission to reproduce apply to realtime@realtimearts.net