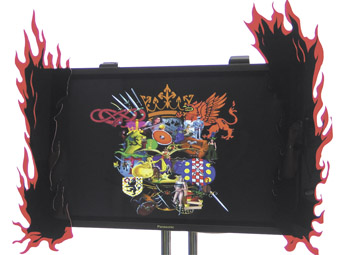 Eddo Stern, Best…Flame War… Ever (2007)
"VIDEO GAMES ARE THE FIRST STAGE IN A PLAN FOR MACHINES TO HELP THE HUMAN RACE, THE ONLY PLAN THAT OFFERS A FUTURE FOR INTELLIGENCE. FOR THE MOMENT, THE INSUFFERABLE PHILOSOPHY OF OUR TIME IS CONTAINED IN THE PAC-MAN. I DIDN'T KNOW, WHEN I WAS SACRIFICING ALL MY COINS TO HIM, THAT HE WAS GOING TO CONQUER THE WORLD. PERHAPS BECAUSE HE IS THE MOST GRAPHIC METAPHOR OF MAN'S FATE. HE PUTS INTO TRUE PERSPECTIVE THE BALANCE OF POWER BETWEEN THE INDIVIDUAL AND THE ENVIRONMENT, AND HE TELLS US SOBERLY THAT THOUGH THERE MAY BE HONOR IN CARRYING OUT THE GREATEST NUMBER OF VICTORIOUS ATTACKS, IT ALWAYS COMES A CROPPER."
Chris Marker, Sunless
Truncated, repetitive, coin-operated nihilism? To a point. The "insufferable philosophy of our time" is not a single object or symbol, but an array of signs and symbols placed at odds with each other, made to wage a type of war we aren't told how to engage with. We were told that play would desensitise, depoliticise and disconnect us, and now games are presented by the museum as the latest historical and contemporary cultural artefacts. So what happened?
To come to this point in proceedings exceedingly peculiar trajectories have been followed. The uneasy relationship between playful art practice and gallery culture always provided some friction, but there had always been something gauche about videogames, something beyond the pale. For over 20 years, there has been a relentless drumbeat of deferral—game art was always immature, not practical enough, too ephemeral, not critical enough. Rather than the always expected, never-mature 'growing up' of videogames and art, something funny happened on the way to the arcade. Games became permanently happy with their status as technological adolescents, always in the pouty, rebellious but also permanently lame zone of transition.
With very few caveats, the Australian Centre for the Moving Image has to be celebrated for its commitment to furthering the cultural capital of games. As the final months of the excellent experimentally focused Games Lab tick on, and ACMI's transformation of the ground floor space into a screen culture antipasto takes shape, questions remain about how institutions see computer and videogames. That is, if they see them at all. There was always the threat of endorsement by government bodies becoming a stamp of legitimacy for commerce, but a happy if not always balanced path has been struck at ACMI with great effect.
This version of the monstrously popular Game On show adulterates the ever-sombre Screen Gallery with splashes of neon and carves out a tentative arcadia from what it steals from the abyss. Yet the two bookended iterations of the Game On show tell very different stories about games in galleries. In London's original 2002 Barbican show, games and art co-existed, perhaps uneasily, but certainly in co-habitation. In Melbourne, a very different show strips back art's presence but casually, almost without context, places game art at the literal end of the gallery space. The result is almost like a sensory prestidigitation; space designed for the element of surprise.
After a section on Australian-made games and cultural differences made playable, the visitor enters a walled-off screen room that is strangely designed to not appear at all. The ominous stone-cold lighting of ACMI's screen gallery space has led to some amazing tricks of light in past shows, but the collection of works is being shown in the screening box of this show are like an amnesiac's sudden flash recollection.
Artist Eddo Stern's new work, Best…Flame War… Ever (2007) is the standout in this space. The video assembles faces in the style of Giuseppe Arcimboldo's vegetable people and Jan Svankmajer's Dimensions of Dialogue. Here, the figures are made up of World of Warcraft character models, desktop icons and other detritus. Their discussion is a monotone retelling of an internet flame war. If the principle is absurd, then the execution is a carnival. The pageantry of this work (crowns and all) demands an answer. At the literal end of the gallery, clustering together game technology, culture (and yes, commerce), arranged to tell a history, game art is positioned as the literal future of games.
It is true that ACMI's Screen Gallery has always benefited from the sonorous secrecy of these zones, but the gamer logic of the show develops this one room like a secret area, accessible only through a 'no clipping' cheat.
A secret place always has aspects of a 'removed' existence, being a place that, physically or mentally, is created for retreat, intimacy, enclosure, screening, and protection. These often are places of power and control that cannot be known or invaded by 'outside' forces.
Frances Downing, Remembrance and the Design of Place
The secret place is, in actuality, the computer and videogames themselves. Growing up, they become cocoon-like and comforting in their particular idioms, capturing us in parallel zones and offering us an endless virtuality. The conflict with the art gallery was inevitable and will forever be unresolved. There are institutional and contextual tensions visible in Game On, but they are swerves rather than fractures. So how does a space—with contemporary art such as Eddo Stern's, an independent game such as the furiously kinetic Warning Forever on a slightly grimy PC, and commercial game products such as Super Mario Kart—work? More importantly, what is it called?
Games in the gallery are asked to position themselves between a whole range of forces and bodies, to offer rules for others to play in. They are asked to bring in those who don't usually come, while infecting them with art and thought. So on the question of the gallery, it will be difficult to imagine game art exhibitions 10 years from now being organised without reference to commerce simply because so much of the aesthetic of seriality is commerce driven. There does not need to be a corporate partner for the vast logical construct of product to rear its Pokemonic head. As Carlota Fay Schoolman and Richard Serra would say, gaming delivers players.
So Game On is the first truly major exhibition of videogame culture to come to Australia, and it is stained with all the baggage that honour provides. The subtle narrative it elicits is more timid than its international predecessors, but retains a glowing core of insight into the problems it poses. Galleries both big and small—and especially ACMI—will have to provide some answers and face up to the challenges that games provide to the categories of 'art', 'commerce', 'the origin of the work', and exhibition itself.
Especially important once the first major show packs up and the planning for the second takes place will be the role of the archive. How to speak about and access history has been gaming's most difficult problem, and is it where bodies such as ACMI will potentially have the most positive impact? Game On offers some clues about how we will proceed as players, offering up art as a kind of semantic adulthood, but it is in preservation and historical framing that the show's presence will be most keenly felt. We are already asking why we are disallowed access to our gaming past by corporate gatekeepers. The time has come for arts institutions to intervene; playtime is over.
Game On, organised and toured by the Barbican Art Gallery, City of London; Australian Centre for the Moving Image, March 6-July 13. www.acmi.net.au/game_on.aspx. The exhibition includes 125 games that can be played by visitors, taking them through the history of the form.
RealTime issue #84 April-May 2008 pg. 29
© Christian McCrae; for permission to reproduce apply to realtime@realtimearts.net