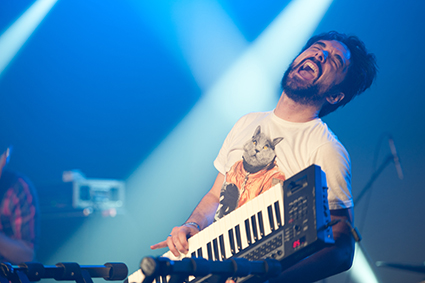 photo courtesy the artists
Hans von Vliet, 7bit Hero
Once again the Seymour Centre is host to the wilder and weirder dimensions of Vivid Sydney's popular festival of music, sound and light with a concentrated program explorating the bristling nexus between music and computer interactivity with artists and audience at play in Musify+Gamify as well as encountering new envisionings of the Gothic, the recorder, double bass and electroacoustics in New Wave Sound.
Musify+Gamify
Musify+Gamify—two concerts and an exhibition–promises to take us "where music play and game play meet." The works in the program will feature local and overseas artists "reflecting on their relationship to musical and gameplay experiences." Artists include Ensemble Offspring, Robbie Avenaim, Chris Abrahams, 7Bit Hero, Alon Ilsar and game composer David Kanaga.
The audience will have its part to play with 'gamified' participation in the music making. In the Seymour Centre's foyer there'll be a series of free "musifications and gamifications, videogames, generative music and contemporary and interactive experiences" with works by Kanaga, Lucas Abela, Michaela Davies and The Futile Research Lab.
Oliver Bown, a Postdoctoral Fellow in the Design Lab, Faculty of Architecture, Design and Planning, University of Sydney is co-curator of Musify+Gamify with Lian Locke, Senior Lecturer and Director of Master of Interaction Design and Electronic Arts in the same faculty. I spoke with Bown about the program, some of its artists and the innovations in interactive design they represent.
Where does your interest in interactive design come from?
My roles as electronic musician and researcher have over the years grown more closely aligned so my practice is as a kind of software based generative and interactive systems developer for creative applications. Gaming is part of a scenario in which interactive music is being thoroughly explored and developed in a range of scenarios and that includes contemporary classical music approaches to incorporating game elements in a score.
What excites you about the field of interactive design?
My interest in computing is closely aligned with ideas of cognition and life. Some of my training was in the field of Artificial Life, which is looking at how you can simulate life-like behaviour in machines. When you're designing digital systems you're not only designing their form, you're designing their behaviour. The challenges of designing behaviour are immense and fascinating and there's a lot to be done and music is a particularly exciting area to be doing that in, looking at the way that an interactive music system might simulate human-like musicality or maybe ecosystem-like complexity.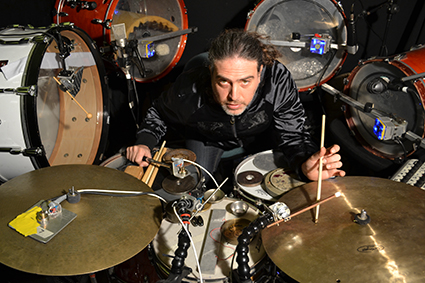 photo courtesy the artist
Robbie Avenaim with SARPS 2
Some of the artists in the program are familiar such as Robbie Avenaim and Ensemble Offspring. Who are 7bit hero?
I'm a big fan of Sydney improv and experimental music. Coming from London, I'm constantly satisfied with how great the scene is here. But I've gone to town to really mix up the program. 7bit hero from Brisbane are towards the pop end of the spectrum, coming from a very different perspective than the Sydney new music crowd. They caught my interest because their live performance involves getting the audience to log in on their phones and interact with a game the band has made appearing on a screen while the musicians perform.
Tell me about air-drummer Alon Ilsar.
He's a Sydney-based drummer who performs improvised music. His focus, which is also his PhD research, is on an electronic air drum system—AirSticks, http://www.rollerchimp.com/project/airstorm/ a pair of hand-held devices that you can swing around, a bit like the Nintendo Wii controller but a more hi-tech version. It might sound simple but it's actually a quite complex gestural interface to an electronic instrument that allows him to do percussive but also gestural, continuous-time control of the sound. It's a really interesting tool for performance, a games controller he's appropriated. You go beyond the excitement of seeing a weird new instrument to see that he's really worked up a virtuosic talent in performing with it. In the new digital music world it's rare to see someone who actually perfects the art of performing with the machines they've made.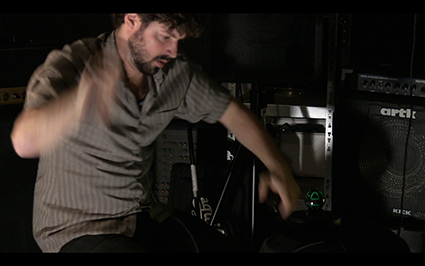 photo courtesy the artist
Alon Ilsar, Air Sticks
The works of gaming composer David Kanaga are part of your program.
He's based in California. He's not attending but he's delivering us an interactive system with its own electronic music but it's also going to be performed with Austin Buckett on piano. David Kanaga is becoming very well known as an indie games composer where the games he works on are strongly music-focused. There'll be two of his games in the exhibition. One of them is an award-winning Proteus, created with Ed Key, that takes you on a classic first person journey. But it's completely stripped back in terms of game action; it's all about a journey through an immersive landscape with music really tightly and very beautifully integrated. Trees sway, creating sound, forming part of a musical construction. The other work he's developing on commission for Musify+Gamify is a concert piece—a game that becomes a performance.
In what ways can the audience engage in the foyer exhibition?
A couple of works are regular games, so you pick up your controller, play and get immersed. We've got films documenting existing projects that we couldn't present. One of those is a composition designed to be delivered in a forest with a multi-speaker interactive music system—an example of using technology to better adapt a musical experience to a site-specific context. The other film covers making a car control the music that's playing back in the vehicle—as you're driving the car modifies the music. Both of these are quite new experiments in thinking of music in a more flexible way.
Then we have a Lucas Abela piece, a pinball machine which is a madcap kind of heavy metal game with real guitars and a Fender amp built into the deck that produces a soundscape. Lucas is a Sydney-based artist who's built a series of pinball machines, all based on quite different themes. As he describes it, the point of making these games is that people have no inhibition about playing a pinball machine. You don't worry about your skill when you're just hitting buttons. So it's a way to draw people in to engage in musical creation. The other thing I like about what he does is that his machines are quite haphazard in their construction, referencing a history of older mechanical music.
There'll be an opening night performance of Mobile Phone Orchestra in the foyer by Andrew Bluff aka Rollerchimp who has the audience download an app to their phones with which to enact a live performance—an orchestra of mobile phones. Mobile Phone Orchestra won Special Prize for Crowd Art at the 2013 ZKM AppArtAward, Germany.
As well as a forum on the future of music, Musify+Gamify is publishing a catalogue with essays by artists involved in the event and others, including a piece on video game music by Jon Rose who's away touring and being interesting in Europe.
New Wave Sound
Sydney composer Andrée Greenwell (Dreaming Transportation, The Hanging of Jean Lee, Venus and Adonis) ventures into the perennially plundered dark side of our natures embodied in the beak and sometimes bloody beauty of the Gothic (the concert's title too), composing scores for string quartet and voices (Greenwell and soprano Julia County) to poems by Edgar Allan Poe, Hugo Race, Alison Croggon, Felicity Plunkett, Maryanne Lynch and Hilary Bell to images by UK-based Australian media artist Michaela French (Lucy Guerin's MELT) with cinematic/electro sound design by David Trumpmanis.
In further concerts, the double bass is featured in Music for Double Bass with Red Planet by Elsen Price and Unnamed Work by Andrew Batt-Rawden; Senex et Sonis: Old Sounds focuses on the recorder as a contemporary instrument; and in Bridge: Electroacoustic Review sees acousmatic composers Daniel Blinkhorn and Rob Evans present media sound works "exploring their relationship with the intricate technology of the human ear." RT
Vivid Music @ Seymour, Musify + Gamify Concert 1, Ensemble Offspring (composers Julian Day, Cor Fuhler, Damien Ricketson, Steffan Ianigro) Robbie Avenaim & Chris Abrahams, Michaela Davies Alon Ilsar Lucas Abela, 29 May; Musify + Gamify Concert 2, 7bit hero, Austin Buckett (with interactive AV work by David Kanaga) Paul Heslin, The Infosthetic Orchestra, 30 May; Musify+Gamify Exhibition, Lucas Abela, Michaela Davies, Stephen Barrass, The Futile Research Lab, Frank Feltham. Videogames: Papa Sangre II, Proteus, Dyad. 27 May-6; New Wave Sound: Gothic, 27-29 May; Music For Double Bass, 28 May; Senex et Sonet, 29 May; Bridge: Electroacoustic Review, 30 May; Seymour Centre, Sydney University
RealTime issue #126 April-May 2015 pg. online
© Keith Gallasch; for permission to reproduce apply to realtime@realtimearts.net