image Peter Grieg, Tom Roschi and Rodeo
Larissa McGowan, Thomas Bradley, Kialea-Nadine Williams
Brisbane-born dancer and choreographer Larissa McGowan has built a formidable reputation as a performer and maker of works of intense physicality. Her 'bone-popping' style, combined with an overarching desire to make accessible contemporary dance works that are both dark and comic, shaped her first full-length piece, Skeleton, in 2013 (interview, review). McGowan returns to popular culture themes in her new work, Mortal Condition, which employs a two-part structure to juxtapose the real world with the virtual as portrayed in computer games.
In the first part, American singer Mike Patton's 1996 experimental album of nightmarish vocal improvisations, Adult Themes for Voice, soundtracks a viscerally expressive conversation between bodies in space. In the second, computer game characters and tropes drawn from games as disparate as Pac-Man, Call of Duty and Minecraft are used to explore a virtual world unconstrained by rules. True to form, McGowan also appears in Mortal Condition; she is joined onstage by Thomas Bradley, collaborator on McGowan's 2012 work Fanatic, Spring Dance, and fellow former ADT luminary Kialea-Nadine Williams.
McGowan tells me Mortal Condition's development has been a protracted one: "Kialea and I first started on this almost two years ago, on the second half of the show, which was the gaming side of it, the virtual world. And obviously that's just due to funding, when you get it, when you can move forward with a production. And then Tom and I, in response to that development, spent some time in a studio without funding, just to find that first world, which is reality, based on the Mike Patton album. It felt like [the work] needed something to contextualise the fantasy world that we were creating, something to bring it back to reality, to remind us why we were there in the first place."
The Patton album provided an anchor for the work's first half, McGowan elaborates, its guttural quality suggesting a particular kind of choreographic language—heavy, dense, strenuous—suited to McGowan and Williams' robust physicality. "We're built to take quite a pummelling," she quips. "It felt raw, naturally emotive, kind of organic in some ways," McGowan says of Patton's music. "The first half of Mortal Condition is very much a conversation between bodies in space and we go through everything from a nice 'hey, how are you,' to a fight, to a romantic duet, to a total explosion of something bad happening. So it's a huge range of naked human emotion that then transitions into this other world. We knew we needed to find a similar kind of soundtrack that could be as epic as Mike Patton's, and DJ Tr!p—Tyson Hopprich—really found that for the second half. It feels like he's made the soundtrack to an actual game."
The work's dramaturg and associate director is Steve Mayhew, who previously collaborated with McGowan on Fanatic, a short work that playfully deconstructed the Alien and Predator film franchise (It premiered at Sydney Opera House's Spring Dance in 2012 and was subsequently presented by Sydney Dance Company in 2013 and 2015). Although dramaturgs are normally associated with theatre rather than dance, I suggest to McGowan that this is increasingly changing. She agrees, telling me that Mayhew's objective viewpoint, and his guiding of the three dancers' many research tasks, has been crucial to the development of this work.
Mortal Condition initially came out of a conversation McGowan and Mayhew had and the work evolved from there. "It's so good having someone from another background, particularly theatre, because we are trying to emote something without it being character-driven. What's also good is someone who isn't a dancer saying, 'I like this,' 'I don't like that' and being so honest. He always challenges me. He goes, 'here's something– I'm not necessarily going to tell you what I want it to be' or 'here's an idea' or 'here's a sound'—and I have to go away and find my own dance dramaturgy from his theatrical dramaturgy. It's a very interesting way to work."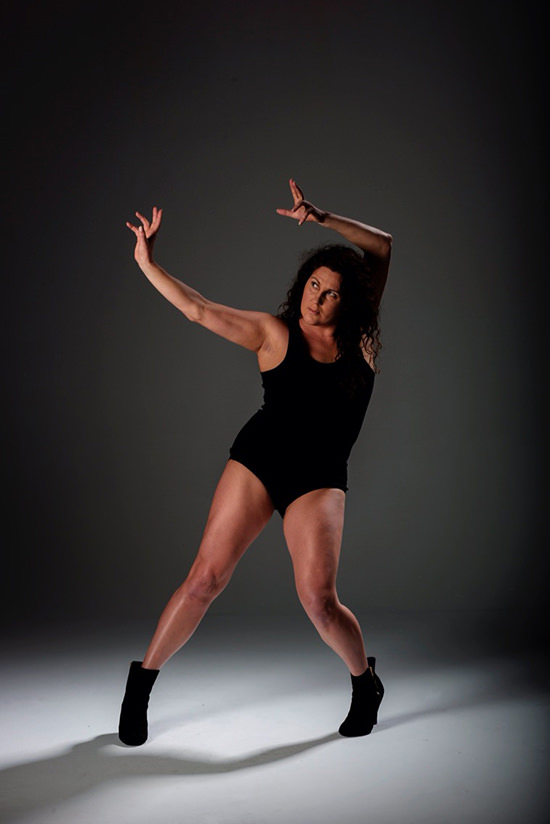 image Peter Grieg, Tom Roschi and Rodeo
Larissa McGowan
Not much of a gamer while growing up, McGowan's research focused on the mechanics of game-playing and which aspects of computer games might possibly be replicated choreographically. In Mortal Condition, Bradley portrays a gamer, McGowan and Williams a shifting array of computer game characters and player avatars. "Kialea and I," says McGowan, "asked ourselves what computer game characters would be capable of doing in reality. We found that, although many things were impossible, some things weren't, so our process became to take parts of these games and try to reenact them in some way, in an abstract form."
McGowan gives the example of a section of the work inspired by a popular breed of YouTube video in which (almost invariably male) gamers narrate their progress through certain games in order to display their prowess and to provide tips for less experienced players. During the section, a voiceover by actor Patrick Graham describes how to purchase and 'pimp-up' a car while McGowan and Williams embody the vehicles being 'molded.' While for McGowan the gendered nature of gaming—exposed so vividly by the recent Gamergate controversy—is not a central theme of the work, she does acknowledge its presence: "There are two women in the piece playing certain characters and obviously women are depicted a certain way in games. You can't not read it [in that way] with two women and a guy who is gaming, exerting a certain degree of control over those characters in the work."
She continues, "We also played with things like, in a game you can stop and start it, you can wind back, you can die and return to life." Hearing this, I ask how Toby K's lighting and projection designs will help to create the 'virtual world' of the work's second half. "He's built screens with robots that can turn them for us—it's quite amazing, " says McGowan, "and the screens can be closed and projected onto. The projections will include elements of computer game interfaces such as maps, health bars and weaponry displays, as well as images of virtual environments that the characters portrayed by Kialea and I pass through. So he's got a lot to play with, but it's there to complement what we're doing. We're getting into the theatre next week to tech all that."
–
Mortal Condition, concept, choreography Larissa McGowan, associate director, dramaturg Steve Mayhew, dancers Thomas Bradley, Larissa McGowan, Kialea-Nadine Williams, composer DJ Tr!p, lighting, projection designer Toby K, Space Theatre, Adelaide Festival Centre, 11-14 May
RealTime issue #132 April-May 2016
© Ben Brooker; for permission to reproduce apply to realtime@realtimearts.net