FEMINISTS HAVE LONG BEEN CONSUMED BY THE RELATIONSHIP BETWEEN GENDER AND TECHNOLOGY. WITH THE BIRTH AND RISE OF SUCH GIBSONESQUE "CONSENSUAL HALLUCINATIONS" AS CYBERSPACE, IT WAS FEMINISTS SUCH AS DONNA HARAWAY, SADIE PLANT, LISA NAKAMURA AND ALLUCQUÉRE ROSANNA STONE WHO SOUGHT TO ARTICULATE THE REPLICATION OF OFFLINE INEQUALITIES ONLINE. IN AUSTRALIA, THE BEGINNINGS OF NEW MEDIA WERE STRONGLY TIED TO ADDRESSING THESE CONCERNS AS EPITOMISED BY THE WORK OF VNS MATRIX.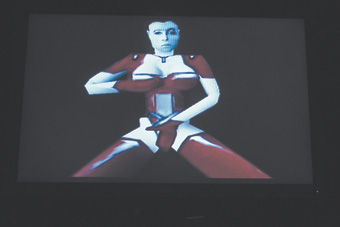 Tobias Berstrup, Polygon Lover
Extending the feminist agenda, new media theorists and practitioners began to consider how language and ethnicity shape the experience of technology and their impact on offline relations. In the 'global' world of the internet we can see that the dominance of English is quickly being contested by the increasing appearance of Chinese, Spanish, Japanese and Korean sites. The 'local' is contesting an homogenised ideal of globalisation. Negotiating the local—establishing co-presences, virtual and actual—is particularly prevalent in online gaming communities in what TL Taylor dubs "play between worlds" (Play Between Worlds: Exploring Online Game Culture, MIT Press, 2006).
So how can we think of gendered ideas of technology in a period where gender is but one of many complex and competing factors influencing our relationship to technology? With this question in mind I ventured along to Teknikunst. Curated by dynamic duo Kristen Condon and Lynsey Hagen, this year's exhibition took as its title Condon's neologism, "GenderTopia."
The impressive line up of artists included Josephine Starrs (co-founder of VNS Matrix), Melinda Rackham, Linda Dement, Cynthia Verspaget (in collaboration with Adam Fiannaca), Rosie X, Michelle Siciliano, Oliver Ressler (Vienna), Jose Carlos Casado (New York) and Tobias Bernstrup (Sweden). Whilst some of the individual works were compelling, others sat together uncomfortably, like two people shouting (in different languages) over each other. Moreover, some of the works were not great examples of the artist's oeuvre. In Josephine Starrs' video, Pocket Calculator, the artist innanely sings a karaoke-style version of a Kraftwerk song accompanied by stereotypical images of Tokyo. Any lo-tech vs hi-tech irony in the work was overshadowed by a suggestion of techno-orientalism (the Asian city exoticised as techno-centre) highlighting a notable lack of Asian new media artists in the exhibition.
In Armour, Rosie X (with Técha Noble, Laura Jordan and Wade Marynowsky) presents us with a series of scenarios navigated by a protagonist geekgirl. The intentionally naff flash animation explores the paranoia around the Y2K millennium hype (remember that?). But as one visitor proclaimed, "wow, that's sooooo last century", the problem was that this work—made in 2000—was not aptly contextualised as a comment on an historical moment. It just looked dated. The effect was exaggerated by its being placed next to a sociological, documentary style video work, Die Rote Zora, by Oliver Ressler. Made in 1998, this work documented the militant women's group, Rote Zora's 20 attacks against "patriarchical orders" such as the companies of Bayer, Schering and Siemens. The disparate themes and styles of the two works made their conjunction beneath the gender and technology banner unrevealing.

Jose Carlos Casado, Inside V.O4
Other exhibits added weight and currency to each other. Two 3D animations, Polygon Lover by Tobias Berstrup and Inside V.04 by Jose Carlos Casado, worked well together in their exploration of and play with body politics. Berstrup has the SiN game female character Elexis masturbating. Evocative of the style of game artist Brody Condon, Berstrup's work suggests that gaming is still very much in need of feminist interrogation. Neighbouring this explicit work we find its inverse in Casado's sublime metamorphosis of androgynous heads as they fuse, blur and transform into abstract forms. This poetic account of the ambiguities of identity and indivisibility is kin to the work of Chris Cunningham (particularly his music videos for Bjork's All Is Full Of Love).
Morphing is also used in Claudia Hart's beautiful Machinia. Based loosely on Titian's Venus this beautiful nude isn't a still life. She moves and she looks, slowly inverting the tradition of the male gaze. The title is a play on the growing genre of "machimina" (a neology encompassing machine and cinema) whereby game artists make self-reflexive and hyper-conscious mini-films of games that question ideas of interactivity, digital storytelling, game play and the politics of simulation. Machinia succinctly demonstrates how such disciplines as gaming owe much to cinema and the visual arts, but in other ways are emerging as media with their own specificities. In this way, Hart's work is not only in dialogue with Casado's fusion of the real and the reel, realism and abstraction, but also elaborates on Berstrup's deconstruction of gender gaming stereotypes.
GenderTopia was an undulating ride, from wonderfully poetic and compelling works to questionable selections of exhibits without contextualisation. Works exploring issues around gaming and online-offline co-presence were the most compelling in respect of the theme. But why were there no artists from Asia given the plentitude in the region exploring Teknikunst's theme? Beyond this oversight, GenderTopia highlighted gender and technology issues as ever pervasive, and reminded us that realms such as gaming are still in need of critique. Game on, feminist? Wii, Wii (Nintendo).
Teknikunst 06, GenderTopia group exhibition, Meat Market Main Hall, Melbourne, Dec 9-17, 2006; www.teknikunst.com
RealTime issue #77 Feb-March 2007 pg.
© Larissa Hjorth; for permission to reproduce apply to realtime@realtimearts.net