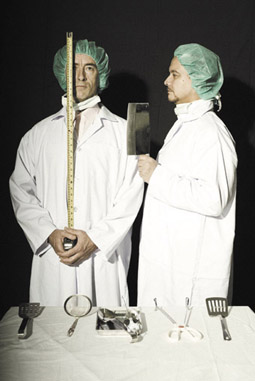 Matt Crosby, Majid Shakor, Know No Cure
IMMERSED WITHIN A PLASTIC DOME, CYBER CONSULTS SURGEON USING A MAELSTROM OF TEXTUAL METAPHOR. HE CANNOT UNDERSTAND WHY HE IS SADDENED BY THE DEATH OF HIS SELF. NO SHORT ANSWER EXISTS, SO CYBER PERSISTS WITH HIS POETIC ASSAULT. IN RESPONSE, HIS SURGEON DELIVERS A RETORT THAT IS EQUALLY INCOMPREHENSIBLE, AND IT BECOMES CLEAR THAT THE AFFLICTION WITHOUT CURE IN THIS PLAY, IS LANGUAGE. ADAM BROINOWSKI'S SCRIPT IS A PERTINENT EXAMPLE OF THIS TENSION BETWEEN OLD MODES OF EXPRESSION AND NEW IDEAS. ALTHOUGH NOT AN ENTIRELY SUCCESSFUL PRODUCTION, KNOW NO CURE IS AN ADVENTUROUS WORK. ONE CONSISTENT WITH ITS CONTEMPORARY CONCERNS ABOUT UNRELIABLE PERCEPTION, POSTCOLONIALISM, GLOBAL HOMOGENEITY AND THE HUMAN QUEST FOR A VIRTUAL SELF.
Obligatory convulsions on the Surgeon's operating table complete, the space is transformed. Cyber disembarks an aircraft and checks in at an airport terminal. He finds himself in an imaginary country named Jaya, succinctly suggested by actor Majid Shakor's shift from Surgeon to a female wearing an Islamic head scarf. Here, the poetic interrogation continues between two characters, but is relieved by a video projection. The images are various, some are indecipherable, but two thematic strands of Broinowski's script emerge. Cyber's journey has overtones of myth, but it is really a trip into an interior world exemplified by the plastic dome and its images as representative of the human brain. In the other, stock footage of figures riding camels, followed by devolutionary fractal patterns, hint at the desert as place of spiritual insight, and the late 20th century world view of Chaotic Order present in Donna Haraway's early theoretical writing. Once again, the tension in this play is between what was, what is and what might be…but this possibility is not elaborated in any depth or with clarity. Intensely poetic dialogue has its limits—regardless of how stimulating its ideas—audience reception is dulled, then defeated.
The space transforms yet again, from airport terminal to the foyer of a strange hotel. Shakor, now wearing dark glasses and playing the role of concierge, invites Cyber to partake of wonders that never materialise. Rather, Cyber shares a bottle of whisky with his unreliable guide, then practices his golf swing. Easily dismissed as an eccentricity, golf becomes critical to understanding the postcolonial concerns of Know No Cure. Amidst Broinowski's verbal barrage, it is one of few actions in the play that allows the audience space to breathe. Moderate Islam's acceptance of Western values, along with Cyber's refusal to discard colonial forms of recreation and assumed cultural superiority, begin to resonate beyond this highly insular world. Golf also indicates Cyber's futile quest to recapture the vigorous joys of physical exercise; joys that have become the programmed streams of electronic data of his cybernetic self. Between flesh, blood, and the data stream, Know No Cure makes an ambitious attempt to explore concerns usually encountered in new media art. In doing so, the pathos of Cyber's predicament is almost palpable, as are references to a troubled Islam and the present war in Iraq. But a dated theatricality that has more in common with the simple two-hander strips Know No Cure of its contemporary concerns.
As the lights fade to rustic hues, a blue silence settles upon the performance. No longer a protective shield, or the trim adorning a 21st century hotel, the plastic dome now presents as a detached view of the earth that we might see if we, the audience, were standing on the Moon. Connecting the various strands of this performance, that is, the incendiary collision between the West and Islam, and the human quest for a perfect self, the show now asks us to consider the consequences of global homogeneity. As Cyber, actor Matt Crosby sustains a compelling awareness of his character's trajectory throughout the play; no easy feat for a performer confronted by such adventurous writing. And so it is Cyber's voice that fades with the dimming lights, until a lone projection upon the plastic dome, one of Earth spinning on its axis, positions the audience as ultimate observer. In a show emphasising unreliable perception, the audience itself is suddenly objectified. As creators, or even as purveyors of Beckett's cruel joke, our alienation is complete. Out here, the inconsequential dance of life is sensed, but never understood. With nothing left to do and no-one left to do it for, we simply dance on…
Know No Cure, writer, director Adam Broinowski, performers Matt Crosby, Majid Shakor, lighting: John Dutton, set design Adam Gardnir, video Nazim Esa, Lisa Roet; Theatreworks, Melbourne, June 20-July 1
RealTime issue #80 Aug-Sept 2007 pg. web
© Tony Reck; for permission to reproduce apply to realtime@realtimearts.net