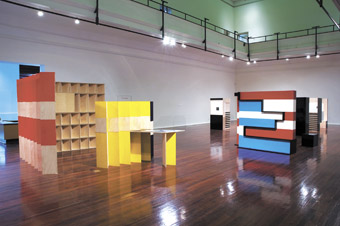 Gail Hastings, Sculptural Situations, 2008, installation view at the Perth Institute of Contemporary Arts
TWO KEY TERMS IN GAIL HASTINGS' VOCABULARY ARE 'SCULPTURAL SITUATIONS' AND 'ENCYCLOPAEDIA.' HER INSTALLATION AT PICA, TITLED SCULPTURAL SITUATIONS, CONSISTS OF WOODEN PANELS, SHELVES AND CHAIRS (OR LACQUERED CHAIR-LIKE OBJECTS) ARRANGED IN A FIRM BUT UNBALANCED GRID. UNDRESSED TIMBER AND COMPOSITE BOARD ALTERNATES WITH BLOCKS OF PRIMARY COLOURS AND GLOSS BLACKS AND WHITES, AS WELL AS LEATHER OVERLAYS.
There are strong allusions to furniture—chairs, tables, and especially bookcases for shelving encyclopaedias, or other modular information housings—but also deformations of these. Cubic masses rise to horizontals for a seat, before rectilinear overhangs vex such potentials. At points, these taut minimal forms and surfaces are interlaid with glass panels over text and sketched plans.
Entitled "Encyclopaedias", these texts cite (possibly apocryphal) conversations between the designers of Canberra—high modernist architects, and sometime Anthroposophists, Marion and Walter Burley Griffin—and their clients. Characterised by clipped dialogue and debates about where art should hang on the library walls, or if a block of colour presented to the viewer is art, the influence of Jorge Luis Borges' writings on the inaccessible labyrinth of the totalising library is notable. Like the sculptural forms which surround these panels, the texts circle around an absence at the centre of knowledge, art and modernism; a utopian impossibility which nevertheless appeals today.
It is here that Hastings' art historical references come into play. A pair of leather covered boxes displaying mono-colored squares-within-squares recapitulate the style of Kazimir Malevich (who concluded the square was the ultimate iconic sign of God and purified spiritual essence), while the tonality of red grids alternating with black borders or glistening blocks of red, white and blue incarnates Constructivism and the aesthetic of Piet Mondrian. Like the Griffins, these artists envisaged their work as part of a spiritual and political revolution reshaping society around a purified aesthetic. That the Griffins' plan for a library on Canberra's hill was unrealised (the largely hidden structure of new Parliament House occupies the space where it was to be) highlights this failure at the heart of modernism. The Soviet Revolution—which the Constructivists rallied around—proved a nightmare, while the esoteric spiritual concerns of Malevich and the Griffins became the subject of ridicule and absurd conspiracies. Hastings' work replays the attraction of these radical ideals, yet also their incomplete and impossible conceits.
In place of revolution, Hastings offers "the haptic"—also championed by modernists like Albert Tucker—a profoundly sensorial approach to art which transcends meaning (or at least rational meaning). It is particularly here that Hastings' model of "the sculptural situation" comes to the fore. Viewers inhabit the same space as the work, while its gorgeous, partially-finished, yet allusive and attractive surfaces encourage one to run one's hands across them. However it is precisely this which the "sculptural situation" under consideration denies one the ability to satisfy such impulses—the fact that this is "Art!", as one tetchy museum curator reminded me, not mundane furnishings. Here too is an absence, or a denial. The desire to touch is elicited but prohibited. However one reads Sculptural Situations, this is an installation within whose interstices one imaginatively luxuriates.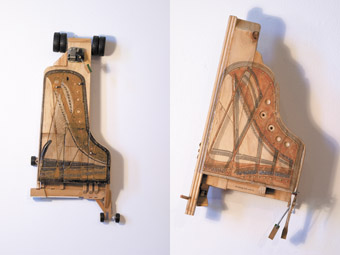 photo Bewley Shaylor
Alwin Reamillo, Mang Emo + Mag-himo Grand Piano Project
Alwin Reamillo's installation at the Fremantle Arts Centre is more welcoming, with Reamillo acting as congenial host during much of the exhibition. It is the product of a residency conducted at the decrepit Manila piano factory of his father, Decimo, which bore the suitably hybrid name of Javincello and Company, and which produced instruments post-WWII under the brand name Wittemberg—a corruption of Martin Luther's hometown in Germany. Reamillo collaborated with local craftsmen and family to produce two pianos—an upright and a grand—the latter displayed in the gallery. As Ros Bolleter has demonstrated, Australia had a particularly high uptake of German and Philippine pianos as signs of civilisation within the nation's "empty heart", while Reamillo discovered that the only remaining caster of piano frames is Watanabe in Japan. With Reamillo's own transit to Australia, the project traces a history of exchanges which explode simple dichotomies of east versus west, centre versus periphery, Wittemberg pianos having been internationally prized in their day.
The grand itself is an exquisite object, its handcrafted qualities displayed in rich detailing. The panels are a treasure trove of hidden inlays and references. The whale, for example, is a potent symbol in Reamillo's iconography, its oceanic voyages echoing his own movement between the Philippines and West Australia, while a Pinocchio theme—the wooden automaton animated through his filiation to a paternal Geppetto—also resonates. Appliquéd engravings of these graceful beasts spume and flow across the richly varnished surfaces, as do elusive images of Decimo, that other oceanic visitor to the coastlines of Australia and the Philippines, Captain Cook, matches—which the young Alwin dangerously played with in the old factory—and maps and compasses.
The walls of the gallery document the piano's construction. The curious mix of industry—the modern piano is a product of sophisticated metallurgy and standardised tuning—and handicrafts appears repeatedly. Reamillo explains that the tuning was particularly vexatious; the grand now adheres to international standards, but given that many of the skills involved in building the Wittemberg design have been lost, the precise coordination of string lengths and pedal actions was devised partly through laborious trial and error. Also on display is an incredible bench turned into a marvellous tangle of tubes and fused matter by years of termites; a testament to the chaotic conditions which Reamillo initially confronted, and which, indeed, attracted him. If one has any doubts regarding the technological sophistication of Philippine craftsmen, Alwin Reamillo also displays Decimo's patent and mechanism for the Wittemberg "harpitone", which could be played both as a piano (strings are struck) and harpsichord (strings are plucked).
It is this mass of detailing, allusion, repetition and miniaturisation—both in the illustrations on the grand, as well as within the venue as a whole—that truly enchants. Toy pianos and car-like trolleys with stamped and burned piano-string designs across their backs, small piles of screws, dislocated hammers, keys and dampers, boxed advertising pamphlets and other exquisite cameos of the re-imagining of this world, disperse and multiply throughout the space in associated mini-displays. Even in the absence of live performance (represented by a recording in one corner and a one-off improvisation event), the detritus of the ages sings across the oceans like a whale's evocative, water-borne cries.
Sculptural Situations, Gail Hastings, PICA, Perth, Feb 7-March 30; Mang Emo + Mag-himo Grand Piano Project by Alwin Reamillo with craftsmen Jaime Pastorfide, Tranquilino Tosio Jr, Sabas Rabino Jr, Fremantle Arts Centre, Dec 8, 2007–Jan 27, 2008
RealTime issue #84 April-May 2008 pg. 44
© Jonathan Marshall; for permission to reproduce apply to realtime@realtimearts.net