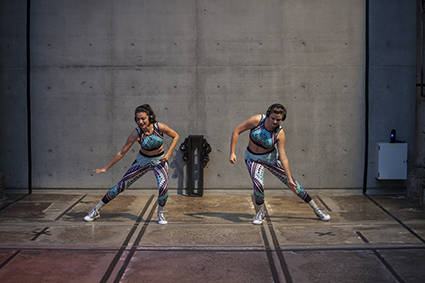 photo Alex Davies
zin, Each Other
Making fun art calls for serious motivation. Like Hissy Fit's I might blow up someday, zin's Each Other crossed from the world of performance art to the world of music. Clad spectacularly in neon Lycra and silver Converse wedges, artists Roslyn Helper and Harriet Gillies bust choreographed moves to music only they hear on noise-cancelling headphones. This starts a guessing game—are they listening to Michael Jackson? Beyonce? After a while, zin venture out from their dance floor, offering headphones to the crowd and dragging punters into the music zone. The new players learn zin's dance moves on-the-go, in what we see as a silent disco world, until the song wraps, the tiny dance floor is evacuated and the game starts afresh.
This hybrid space—not quite live art, but experimental work between definitive genres—is a dangerous arena for artists to explore but the cliff-like risk of failure is what can make a work exciting. As with Hissy Fit's I might blow up someday, Each Other showed that inhibitions can only be lost in a large crowd and that it's intrinsically hard to turn art-goers into participants. The issue for zin became one of scale and mass: forgetting yourself and embracing your inner dancing queen as a pair or in a posse of just six dancers is a tough call. In some vital way, Each Other was less captivating than the things it naturally referenced—flash mobs, silent discos, the No Lights No Lycra one-hour pitch-black dance parties—because of the small number of participants. Rather than allowing people to break free and lose themselves in the rhythm, the fact that audience members were on show rather than immersed in a crowd and a space [Carriageworks foyer] much larger than themselves created a self-conscious spotlight.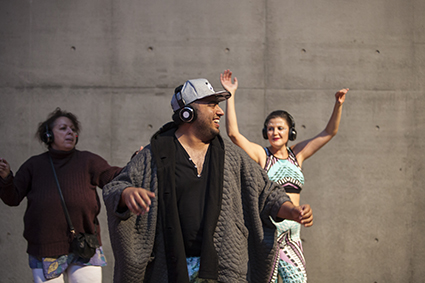 photo Alex Davies
zin, Each Other
I didn't understand Each Other until I dived into it. For a couple of hours I watched zin pull reluctant audience members from the crowd—including a number of shy performance artists. When I finally relented, donned the headphones and joined the team, I found that they'd created a genuinely fun and interesting art project. The music turned out to be Mirrors by Justin Timberlake, a shimmery work of shamelessly feel-good pop—a pretty perfect choice, particularly given the fact that Gillies and Helper were mirroring each others' moves. A graduate of 90s boy band N*Sync, Timberlake is the kind of pop artist whose work embraces pure danceability at the expense of any self-examination. However Each Other is less interesting to watch because, objectively, most people are terrible dancers, despite the accessible nature of Caroline Garcia's modest choreography.
Watching zin perform the same moves for almost three hours did induce admiration (the duo were residents in Marina Abramovic's Kaldor Public Project earlier in the year). But the real act of endurance turned out to be waiting for audience members to down enough drinks and summon the courage to join in. The experience didn't appear to be happiness itself or the heroin euphoria of a 2am dancefloor; rather, Each Other engaged as it intended, to create fun.
Performance Space, Liveworks Festival of Experimental Art, zin, Each Other, artists Harriet Gillies, Roslyn Helper, choreographer Caroline Garcia, Carriageworks, Sydney, 22-31 Oct
RealTime issue #130 Dec-Jan 2015 pg. 18
© Lauren Carroll Harris; for permission to reproduce apply to realtime@realtimearts.net