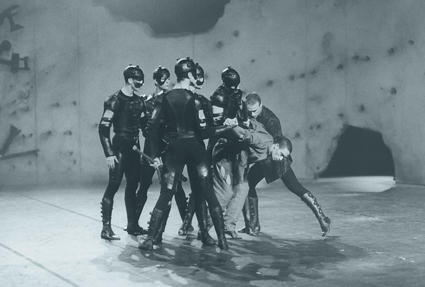 photo Laurent Philippe
Romeo et Juliette
We are not just here, we are before, and after.
We are not just now, we are once and future time.
Touch me on the skin, backwards, touch only in the now, and I will shrink with you into the smaller time I so crave to be out of. Touch me
small, and I will gripe, I will
harbour and wallow, call me
small, and I will tell you something's
wrong. Call me
large, into the fullest of extension, and I will
dance with you over that tightrope that casts itself into the ocean, and love you for being a
small part of the largeness' calling.
Remind me I am small. Preljocaj's beautiful bodies, glossy linen boys, nipple-silk girls, leathered Capulet thugs with biceps from a Darlinghurst gym. They push and shove like starlets do: with a makeup lady's grimace, fakely, thinly, we've seen this before. Oh, not that touch. Please, not that touch. This Bad Boy of Ballet, Il epate les bourgeois, non? Melbourne's monsieurs et desmoiselles fail to clap at peak moments, and I think it's not their fault. Tho' Juliet is vulnerably stunning, Romeo thrusts his body over her like a street-scum rapist in a play by Edward Bond. Those so-close-to-erectile tissues that we are meant to think sex. We are meant to think, stylish grunge. Not only do this ballet's moves and turns repeat themselves on old corps de ballet gridlines, but the borrowings are thick (and therefore thin). This is bonking ballet, Aaron Spelling does Bernstein with Miami Vice thrown in. Two weeks later on ABC TV, I see Michael Bogdanov's London housing estate cast (Shakespeare on the Estate) render Lady Macbeth churning with ambition to escape her ruins, Caliban sipping beer, charting the loss of his hopes, his island dreams, a black Juliet accepting the clumsy whiteboy's proposal in the pub and her dad going apeshit at her in their crowded flat. Outside, he prunes the rose bush as if it was her life. The fierceness of their disappointments and wiry loves. Preljocaj's touch has no love—in fact, no hate. Capulet = Montague. The "let's walk" dance during Prokofiev's strident masked ball segment becomes an Easter hat parade. Shakespeare is larger than this because we are larger (and not the other way round).
Oh, there is a nice, a beautiful swing, where Juliet leaps into Romeo's twirling arms. They go so fast, so fast, that their turning smashes the air, the smell of roses breaks, it's a long time before they slow. This captures the once and future time that happens in that awesome moment of love before family clips your edges and you break down. The heavens may smile with lovers, but the earth's crust shrinks when a cliché assaults you. Did I actually hate this show? Perhaps. Perhaps that night, this life, I can't bear to be smalled down.
This is to the point, to talk of consummation, the feared-or-revered instance of being subsumed. But consummation, perhaps, reawakens the accompaniment always about your skin. (When one hand claps, the other silent fingers also drum.)
When you sing, in tune, more than one voice sings in you. When you growl (as Caliban does on his rocky shores), the landscape also growls. There is not just a clarinet, not just a saxophone: even in a solo work, a single note (as when Rosman played Formosa's Domino, in Elision's second concert), there is an ensemble playing.
And in All About (Manca's 1996 trio dedicated to Mark Rothko), there is not one piccolo, one clarinet, one violin, not these only, or the relationships between each (this is visible, obvious), but each has its own otherness: its about-to-be and what-has-been; its being-in- and out-of-time. A note, a song, slips in from all time (if the note is true). These dimensions are held within a weaving, adjusting tensions, teasing at edges like insects in a web. The tangible geometry of it. This is why I can't agree with someone in the audience (Elision, A Matter of Breath), complaining Elision should be playing Perezzani's joke to us. He wants histrionics, a little, light show. I don't think that's the point: the joke is in the music, the colour is already in the sound. (Remember Synergy in Matsuri Mark II in Sydney, where sophisticated slides of the earth's globe turning killed the magnanimous, multitudinous, at times more delicate associations of the sound.) Rather, the matter with the Breath concert to me lies elsewhere.
Each piece is progressively less focused on the amassing of statements than on lipping the edges (skin to wood/brass/string; thought to breath) from where sound comes. But such focus perhaps needs more physical intimacy than the Iwaki Auditorium allows. Elision's previous installation works in derelict buildings, old churches, railway yards (Lim/de Clario's Bar-do'i-thos-grol; Barrett/Crow's Opening of the Mouth) stretched our receptors to sound—mid-night, pre-dawn, brick kiln, underground, making us listen blind, listen tired. Although Breath's pieces asked me to receive small timbres, textures, virtuosities (inherent in even the largest works I've heard Elision play), the podium feels more and more aloof, the lights keep bowing in and out as if the musicians are actors awkwardly teasing us with bows.
It is not my problem with Sunday's Into The Volcano at all. From the opening note, solo and ensemble work have consistent hold. The young guest composer Giorgio Netti's note all'Empedocle is a modestly magnificent piece by a composer whose knowing marks him as much older. Again and again the ear is led back into a work of quietly astonishing structure, tracking instruments that move through each other as the eye and hand takes in a piece of crystal. Meticulous yet liberating: somehow, suddenly, you are placed half-way down the volcano. Within the complexity lies an intimacy of inclusion. Shape has a pulse, and span-in-time. At one point, Elizabeth Drake and I find our hands conducting in synch, as if we share an arm. These players, strangers, are as close as my breathing allows.
Liza Lim's The Heart's Ear stretches and flattens the tuning of notes in a way that slices historical time: windows of different tenses slide in and out over the length of a bar. A sure touch in instrumental combinations, valves pumping and speeding, mellifluous strings with rasping winds. And then, 4 chambers pulse. How is this achieved? A 6 year old in the audience is on the edge of her seat, conducting, eyes agleam. This concert understands something of the geometry of our listening, being.
I am touched, because touching meets my ear. I can listen (like Keats to the thrush) with full-throated ease. Perhaps this respect is all I ask for the effort of my listening.
Ballet Preljocaj, Romeo et Juliette, State Theatre, October 3; A Matter of Breath, soloists of Elision Ensemble, Iwaki Auditorium, ABC, Southbank, October 31; Elision Ensemble, Into The Volcano, conductor Sandro Gorli, Iwaki Auditorium, November 1
RealTime issue #28 Dec-Jan 1998 pg. 6
© Zsuzsanna Soboslay; for permission to reproduce apply to realtime@realtimearts.net