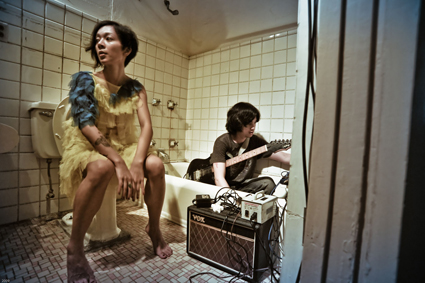 photo Sam Kiyoumarsi
Donna Miranda, Pow Martinez, Of Course Not, This is a Bathtub
AFTER A HIATUS DUE TO HER SECOND PREGNANCY, CONTEMPORARY DANCE ARTIST DONNA MIRANDA LOOKS FORWARD TO A BACK-TO-BACK THREE-WEEK RESIDENCY AND 10-DAY WORKSHOP IN AUSTRALIA. SHE IS ESPECIALLY INTERESTED IN WORKING WITH SYDNEY-BASED DANCERS AT THE CAMPBELLTOWN ARTS CENTRE, WHERE THEY EXPECT TO EXPLORE COLLABORATIVE INCLINATIONS AND RELATIONSHIPS BETWEEN INDEPENDENT ARTISTS.
Miranda helped combust the independent contemporary dance movement in the Philippines, with platforms such as the Anatomy Projects and the Contemporary Dance Map. In 2005, duos and small groups performed out of their studios and tiny art galleries to audiences sitting on the floor or standing against a wall, with minimal lights and costumes: nothing to distract from the movement on the demarcated performing space. The now-biannual WiFi Body Independent Contemporary Dance Festival is a landmark of the successful establishment of the current burgeoning scene.
It was during a 10-week touring residency in 2005 bringing together eight artists from different parts of the world that Miranda was thrust into collaborative work. The Chasing the Whale project was independently organised and funded, involving young artists mainly from the Asia-Europe Foundation's (ASEF) Pointe to Point Forum. "We were constantly in the 'creating' zone and never managed to finish a work," she remembers and chuckles, "Hippies."
The residency occurred in four cities: Bangkok-Manila-Kyoto-Tokyo, where the audiences were "mostly confused. The 'performances' were actually open studios; they were about four to six hours long. So, we had certain sections that were set and some that were improvised without time limit. We were confused too, because we still couldn't let go of 'performing' and not just working as [we were] already working." She also learned to "appreciate constraints as well as deal with not knowing what to do." The experience resulted in Beneath Polka-dotted Skies, which won the Jury Prize at the 2007 Yokohama Dance Collection R Solo x Duo + and has been performed in the Philippines, Japan and Indonesia.
Miranda's early experience with the touring residency also generated the creation of another work, Summer Begins and Ends as You Wish, which was first performed at the 2006 WiFi Body Festival. Subtitled as a deconstruction of Vaslav Nijinsky's L'Apres Midi D'un Faune, the work was first performed in a converted conference room, where Miranda was tied with a red ribbon to a bench. Criticised for being too arrogant and/or lazy to create any real 'dancing,' Donna Miranda was disappointed that the creative efforts of her collaborators had gone unnoticed. "That was when I really got into problematising the collaborative condition," she shares. "What does a collaborative work result in?"
Summer Begins…found Miranda working with artists from other disciplines and resulted in a multimedia work where the 'dancing' was projected on the wall behind her as she sat on the bench, smoking. Maria Taniguchi was her visual director, "but you can barely see any of her mark. In fact she was with me throughout the process, while I constructed the solo; she advised me on 'poses' that worked and those that did not. All the artistic decisions including taking photos of the solo and re-animating them as a video were collaboratively made."
The goal was to make one seamless work, instead of an obvious mix put together by several people and Miranda acknowledges that it's still obvious in Summer Begins…that the sound was coming from somewhere else. Given that, "I'd say that was the beginning." Noteworthy collaborations followed, including the most ambitious, Of Course Not, This is a Bathtub, where she and sound artist Pow Martinez performedx inside an actual bathroom, with a camera set up inside and hooked to a television in the apartment's living room, where the audience sat to view the 'performance.'
Although there's no definite agenda planned for the Campbelltown residency, Donna Miranda is planning to explore performance scoring in this collaboration. "I've been very much interested in writing performance scores, reading scores, making the text in dance more obvious," she recounts. "About a month or two ago I stumbled on Francisca Reyes-Aquino's Dance for All Occasions and then it started to dawn on me that 'Hey, Francisca Reyes-Aquino started it all…' or that we have a wealth of textual material that just begs for attention." Aquino is the first National Artist of Dance in the Philippines, acknowledged for creating a notation archive of folk dances from all over the country.
"I want to get to the heart of the matter that contemporariness has in no way anything to do with style," Miranda expounds. "I choose to work with material that has been tagged as 'traditional' but really it's not. I think Francisca Reyes-Aquino was far ahead of her time and contemporary in the sense that she created text out of the ephemerality of dance. To deal with the materiality of dance, that's very contemporary. And as someone who is in contemporary practice, there are varied ways to work with 'traditional' or 'folk' material without having to fuse them together, or even call attention to their 'Filipino-ness.'
Another project she's planning is to organise a social dance gathering: "In this work I'm interested in pushing choreography as a practice in organisation and building relationships of bodies, bodies in space, bodies to music, music to space, etc, etc. In this sense, choreography is a practice of building a community and not just putting steps together. In fact in this work I'm not making any steps, any dance steps but merely framing the situation and signing it. Like appropriating." In Filipino, she says that she was thinking why should she create dance when dance is already there? "Like how inventive in movement vocabulary can one be?"
Laughing, she admits that she may be getting older and is taking stock of her work. "Of course, while I'm saying that I will restrain myself from making dances in the sense of creating a unique vocabulary or voice, that process of appropriation is also in itself 'a way of making'."
Donna Miranda is scheduled to visit Australia for a three-week residency at the Campbelltown Arts Centre from October 10. Opportunely, she was also invited by the Goethe Institut to participate in a 10-day Critical Path group residency at Bundanon in regional New South Wales in the second week of November. The workshop will be attended by other choreographers from the region and moderated by Singaporean creative producer, dramaturg and critic Tang Fu Kuen.
Donna Miranda residency with independent Australian dance artists, Dean Walsh, Nikki Heywood, Matt Day, Sam Chester and Alexandra Harrison; performance October 29, 8pm Campbelltown Arts Centre, Sydney, www.campbelltown.nsw.gov.au
RealTime issue #105 Oct-Nov 2011 pg. 12
© Joelle Jacinto; for permission to reproduce apply to realtime@realtimearts.net