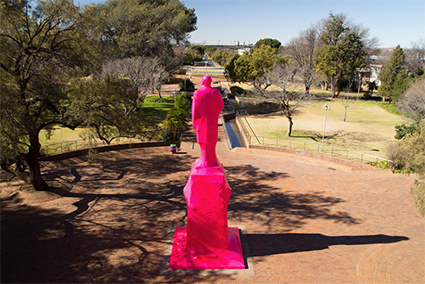 Cigdem Aydemir, documentation of Plastic Presidents at Vryfees in South Africa
Put out to tender, the Australia Council's Art in Festivals strategic initiative has been twice secured by Hobart's Salamanca Arts Centre which created the SITUATE model. Melbourne-based freelance curator Kelli Alred started work as Executive Director of the second SITUATE in January this year. Her background is in commissioning new work with a focus on temporal and spatial practices in the UK for 12 years before returning to Australia. RealTime asked Alred to describe precisely how SITUATE operates and in what ways it has been successful.
Alred says, "Situate facilitates an experience, a residential multidisciplinary Arts Lab, so that artists can create works that are bespoke to the festivals. So we have a focus on partner festivals specifically and part of the concept of the Arts Lab is to bring the curators and directors of those festivals together with the artists." For 2015-16 the partner festivals are Dark MOFO, MONA FOMA (TAS), Darwin Festival, FRINGE WORLD (WA), WOMADelaide and Vryfees (South Africa).
"The artists not only learn from the mentoring process with provocateurs about the development of larger scale concepts or working in the festival environment. They also learn about specific festivals and their proposals are then focused on them."
One artist has completed her commission, two are about to and a fourth is moving towards being commissioned. Cigdem Aydemir is a Sydney-based artist who delivered a project for Bloemfontein's 2014 Vryfees Festival. "The work looked at the tradition of the monument in the context of Apartheid South Africa. There are statues of past presidents of South Africa spread across the University of the Free State. Cigdem wanted to, let's say, 're-imagine' and appropriate the notion of the monument in the socio-political context." The work, titled Plastic Histories, comprises pink shrink-wrapped statues of presidents: the colour represents the women of post-Apartheid South Africa and the wrapping the plasticity of attitudes across generations.
Tyrone Sheather will show his work in the Hobart Botanical Gardens as part of the 2015 Dark MOFO. "He's a young Indigenous man from Bellingen in the Coffs Harbour area of NSW. There's been communication between the Gumbaynggirr mob in Bellingen and the Hobart mob. Tyrone's work looks at cultural references from the Bellingen area. The Hobart mob will stage a welcome to country ceremony to solidify the gift of that site." Alred describes the rites of passage work as a series of large fibreglass and steel "sky being" sculptures encrusted with traditional ochres, LED lights responsive to audience movement and "a mix of sounds specific to locations in Tasmania and Bellingen."
Dark MOFO Creative Director Leigh Carmichael writes, "When Dark MOFO partnered with Situate Art in Festivals in 2013, I didn't know quite what to expect—either from the artists, or of the festival itself. The proposals coming out of the Situate Arts Lab were very strong. I was interested in four proposals in particular, all challenging and risk-taking in different ways. Tyrone Sheather's Giidanyba came through because of the melding of ancient mythology with high-tech, and his community's commitment to sharing culture."
A third SITUATE graduate, Jess Olivieri of Parachutes for Ladies, will present a large-scale public participatory performance-based project at the 2015 Vryfees Festival. Artistic director Ricardo Peach writes, "The partnership with SITUATE has been incredibly important in facilitating experimental new work that explores the pressing social and political inequalities still in place in South Africa. Aydemir's Plastic Histories allowed for a nuanced intervention into a previous dominant history to raise awareness of alternate histories—especially of women from all races, sexual orientation and languages. As a result the festival garnered national attention and opened up its doors to previous marginalised community groups who may not have known that they were welcome at the event."
Artist Michaela Gleave recently attended her first WOMADelaide in March to see how the site worked when in full swing. Her project has progressed through the R&D phase towards commissioning. WOMADelaide, SITUATE and the artist are investigating financial contribution options for the making of the work.
SITUATE evolves in structured stages, says Alred. "In the first instance, artists submit an application to the Arts Laboratory, committing to engage in a residential interdisciplinary laboratory and to be guided by a group of experienced creative practitioners as provocateurs in order to learn about risks and developing ideas, scaling up, festival audiences and the difficulties and the logistics of working in large-scale festival environments. A national curatorium ensures a rigorous process of assessment. Then we announce the selected artists who'll be invited to come to Tasmania and have a transformative experience. At the end of this process, artists are expected to pin down up to three ideas to pitch to each of the festival partners. Then we go into the mentoring phase."
"We'll have people appropriate to the task of guiding the artists in refining and developing their concept, in writing a proposal and ensuring it's structured, formatted and has all the information required. How to communicate their ideas to the festival directors is part of that mentoring process to develop and fully refine a proposal. Those proposals go to the festival directors and they come back with an expression of interest in one or more of the projects."
Subsequently, says Alred, "a less formal mentoring process continues through fundraising initiatives and assisting the artists by looking at how they might access funds to support development of the work. Then there are the contractual negotiations. We also have an experienced production manager and fabricator who costs projects and looks at feasibility. He has been working very closely with Tyrone Sheather. They've just been to China to source materials. All of this ensures that these proposals go through to the festival directors with everyone feeling confident that projects are viable."
The commissioning process asks festival directors "to commit to R&D funding, a small-scale commitment in the first instance. And that's where the production manager really comes in. They nut out the finer details of the logistics, including travel to the site if necessary and picking of a specific location. Then there'll be negotiations with the directors over what support and financial commitment they might offer. The budget might need to be scaled up or down depending on how negotiations go." And then there's everything SITUATE is finally about: the thrills of the making, installing and being seen. RT
SITUATE Arts Lab, A Salamanca Arts Centre Project. Submissions 18 May-20 July 2015; SITUATE Arts Lab, Tasmania, 11-22 Jan, 2016
RealTime issue #126 April-May 2015 pg. 45
© RT ; for permission to reproduce apply to realtime@realtimearts.net