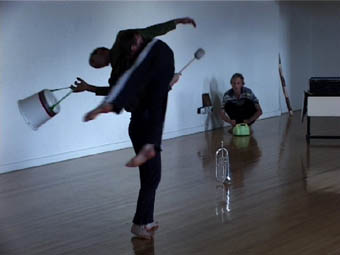 State of Flux, Diane Reid (Hip Sync)
An instigation, an investigation, a tool, a practice, a performance, a form in itself, a community—any of these terms can describe improvisation. Referring to a dance as 'improvised' merely suggests what it might be—some prefer not to use the word to describe their work because of its lack of specificity. Nevertheless, perhaps because of its impulsive and mysterious qualities, in Melbourne this year we've seen prolific use of improvisation by performers making it their own.
Adding to the diverse range of regular and one-off improvised performances available in Melbourne, the Cracking It Open series (informal showings at Dancehouse in April, July and October this year) presented solos mostly from the dance community. In its attempt to show and discuss, the series fell between performance and forum. Improvisers offered a short performance then variously pondered, acknowledged and opened up about their use of improvisation. The series highlighted an abundance of approaches and a rich display of dance aesthetics.
Peter Trotman's improvisation moved very quickly from the simplicity of a man with a chair in an empty space to a persona colliding and converging with an unseen world. Like the protagonist of a suspense story, he held poignant stillnesses within interweaving narratives of movement, made tangential references to a catastrophic event and played with the patterning of movement and gesture. His responses were sometimes mercurial, sometimes skittish and unexpected. I enjoyed the irony of his prop—the chair that might have been responsible for the apparition but by the end provided a perverse safety. Trotman describes his improvisation as often dreamlike in its behaviour—visual not vision, an attempt to find the dance's heart within emotional, aesthetic, compositional and structural layers. Inside this complexity he finds opportunities for deeper moments and rich detail, "…holding back and layering, rather than always looking for something new…takes you to places you don't expect."
Lynne Santos suggested the natural environment by exploring the qualities of animal movements. Interested in creating a sense of the animal rather than its pantomime, she offered a mesmerising combination of the lyrical and propulsive. In not mimicking any particular animal but surrendering to the more amorphous qualities of movement, she created a watchful mood and a 'bodily state' of vulnerability with instinctive physical power. This creation of a sense, a state or mood within the improvisation enables radical possibilities in performance.
Simon Ellis' improvisational score was also concerned with bodily states. By isolating body parts and exploring their movement possibilities and patterns, he implied disembodiment and dislocation. Ellis chose not to impose a compositional structure, instead treating the improvisation as an investigation into movement. From this a larger picture can be produced and framed in different contexts. Once the 'seeds' of the improvisation are derived, collaborations with sound, text or video are used to inform a larger body of work. The improvisation's spontaneity—the changeable 'here and now' quality—creates a fluid dialogue between the dance and its supporting media.
Ros Warby's participation in Cracking It Open might also contribute to a larger body of work. In her "spontaneous composition", Warby corrupted familiar dance motifs—the ballet 5th position for example—with decisive shapes and a swift dynamic. She contrasted the clean lines and broad inclusiveness of classical movement with a tightly focussed centering. Warby's current practice is informed by years of dance experience and a profound education in improvisation (with Helen Herbertson, Russell Dumas, Deborah Hay and others). Dance's primary drive—once considered simply (unconscious) instinct and impulse—is now more objectively viewed in terms of its intellectual, physical, emotional and psychological layers. Methodically combining, building and accumulating these layers with rigorous training moves the dance beyond a draft to a more consciously crafted work capable of pushing the form.
Also notable in Cracking It Open were performances by Tim Davey, Sally Smith and Suzanne Hurley. Davey's pensive and articulate series of scores were interrupted by bursts of energetic, swinging and contorted movements. These included a range of movement motifs and progressions that were repeatedly revealed, then discarded. A film soundtrack (mainly in French) instigated movement possibilities and directions rather than driving the performance.
Smith staged an hilarious flirtation with her character—an opera singer/dancer straight from German Tanztheater. She swept about in a Baroque dress, spoke in gibberish German and led us through the hills and dales of 'serious' opera. She fluffed her moves and then, with true German grimness, reclaimed them. The inspiration for her improvisation came from the dress she wore, memories of her time in Germany and from playing with the idiosyncrasies of the language.
In the first showing of the series, Suzanne Hurley's dance oscillated between the abstract and gestural. She punctuated smooth, coordinated and grounded movements with discordant gestures. Dancing in silence, Hurley experimented with the way movement through time creates musicality and rhythm. That the performance is the practice is central to her approach. "I haven't sat for 6 months and considered what I'm about to do…I've practiced for 6 months in a performance arena…I expect people to be open, receptive and supportive of [my] choices…and what I appear to be…There is a fantastic sense of support within the community…[which] comes from the fact, I believe, that people are up there doing it as well."
Building a community around improvisation in order to explore the form has been the focus for State of Flux (Martin Hughes, Janice Florence, Wendy Smith, Jacob Lehrer and David Corbet). United by the desire to make contact improvisation performable, they ask: how do you maintain a deeply embodied internal focus in dance while performing contact improvisation? How can you do this and relate to the audience? Their interest in meshing theatricality and choreography within contact improvisation prompts their experiments with states of movement—pedestrian, abstract, narrative—and gives their work an epic flavour. With Five Square Metres, they formed Conundrum 7 years ago to provide monthly performance opportunities for the improvisation community. Something of a legacy from Al Wunder's substantial contribution, Conundrum hosts international practitioners and provides workshops, classes and jams and has diversified the dance community.
The Cracking It Open organisers also see the importance of building community—particularly for performers who use dance as their primary expression. In this spirit, they're planning to continue the series next year.
For more on improvisation see Eleanor Brickill's national survey in RT45 (p11, 2001) and Zsuzsanna Soboslay's review of the final program in Precipice at the Choreographic Centre, Canberra in the online edition of RT51.
Cracking It Open, Peter Trotman, Lynne Santos, Simon Ellis, Ros Warby, Tim Davey, Sally Smith, Suzanne Hurley, Dancehouse, Melbourne, April, July, October.
RealTime issue #52 Dec-Jan 2002 pg. 27
© Christina Shepard; for permission to reproduce apply to realtime@realtimearts.net