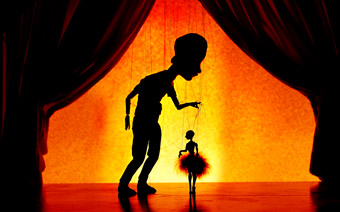 photo Trudie Lee
Billy Twinkle, Requiem for a Golden Boy
COMPARED WITH RONNIE BURKETT'S LAST TWO WORKS—THE TENDER AND RESTRAINED TEN DAYS ON EARTH (ON TOUR, INCLUDING AUSTRALIA 2005-06) AND THE BRUTAL, BROODING PROVENANCE (ON TOUR 2003-05)—THE PUPPETEER AND WRITER'S LATEST WORK IS FULL OF BUSTLE AND GLITZ. THE PLOT FOR BILLY TWINKLE, REQUIEM FOR A GOLDEN BOY, DEMANDS IT: BILLY IS A CRUISE SHIP ENTERTAINER WHO HAS JUST BEEN FIRED FOR INSULTING PASSENGERS DURING HIS CABARET ACT PUPPET SHOWS. VAIN, MIDDLE-AGED AND FULL OF SELF-LOATHING, THE MAN IN THE DINNER JACKET NEEDS A REASON TO CARRY ON.
Self-loathing often comes from self-absorption. Much has been said about the 'infantilisation' of attention spans due to our increasing use of social media and mobile devices (think Twitter, cell phones and other hand-held devices). This January, in a post-performance interview at the PuSh International Festival of Performing Arts in Vancouver, Ronnie Burkett said that exploring self-absorption helped him make sense of Billy. "I didn't want Billy to be a hack; but it was difficult marrying that miserable adult with his sweetness as a child. I mean, he doesn't even like his dog!", Burkett says. "But then I figured out that he's self-absorbed. The whole world is self-absorbed at this time —does everyone have to be on the phone all the time? Once I found Billy's self-absorption I was okay—I understood what he represented."
Burkett creates powerful adult-themed puppet shows that blend his masterful puppetry skills with acting (in this case he is the middle-aged Billy). As Billy heads to the prow of the cruise ship (an environment that certainly promotes self-absorption) he is distracted from contemplating suicide by a rabbit-eared old-man hand puppet who mocks Billy with Hamlet's "to be or not to be" soliloquy. It's Sid Diamond, Billy's sarcastic, brilliant mentor who died before Billy could apologise for their decade-long fight.
From here, Sid prods Billy to re-enact the most important moments in his trajectory from precociously talented teen puppeteer to cynical cruise ship performer. As Sid and Billy argue their way through the decades, it seems almost impossible that Sid, tugging Burkett's hair or slapping his face, is simply a glove puppet fitted over Burkett's own hand—Sid hauls Burkett-as-Billy up and down both staircases on the heart-shaped stage. Burkett's puppetry and writing are so good, his focus so precise, the manipulations convince.
The show's structure allows for a wide range of vignettes, some bawdy, some intellectual. The drunken socialite Biddy Bantam leans back against Burkett's leg and bats her eyelashes to sing her "most impressive" aria, a series of lewd double entendres. Benjy, a snotty-nosed peer at the early puppet festivals with Billy, becomes a punked-out installation artist who argues art theory. A Jesus freak sings heartily, off-key, an extremely rough rap song about salvation. Rusty Knockers performs a burlesque striptease, Burkett here reviving an almost-forgotten trick that nightclub puppeteers used to perform on the road in the 1920s in the United States.
Most magical are the scenes where marionettes perform with even tinier marionettes. One of Billy's teenage training grounds was performing "Stars in Miniature", a series of nightclub numbers, at a truck-stop bar in a remote Canadian Prairie town. Marionette-Billy easily handles a minute jazz singer in her sparkles and feathers, further evidence of Burkett's worshipful obsession with making and manipulating marionettes since he was seven years old. Her 'fallen woman' songs provide a sweetness soon to be lanced by bitter reality. When the jazz singer rests on the piano, an older man comes over to explain that he finds Billy very, very pretty. (Interestingly, Burkett does not include the erotic scene onstage, leaving its emotional tone ambiguous—"I was curious!", Billy insists to Sid—a contrast to the much-discussed, lengthy rape scene in Provenance that left people stunned.)
Self-absorption might lead to fragmented conversations, but it's also spawning a multiplicity of blogs, videos and performances devoted to creative expressions that do connect us, as can puppetry. As Burkett observes: "I honestly think all this online stuff, this digital and wired age which is powerful, is going to make theatre stronger. People who are are always on cell phones and instant-messaging on their Blackberry, they're coming back to theatre because they just want someone to tell a story in a real voice." In Billy Twinkle, Burkett delivers tender friendships, blunt questions and raw emotion—real voices that reconnect cynical characters with their earliest passions.
PuSh International Festival of Performing Arts: Billy Twinkle, Requiem for a Golden Boy, written, created & performed by Ronnie Burkett, music John Alcorn, lighting design Kevin Humphrey; Waterfront Theatre, Vancouver, Jan 20-Feb 8
Billy Twinkle, Requiem for a Golden Boy will tour Australia August-October this year.
RealTime issue #90 April-May 2009 pg. 5
© Meg Walker; for permission to reproduce apply to realtime@realtimearts.net