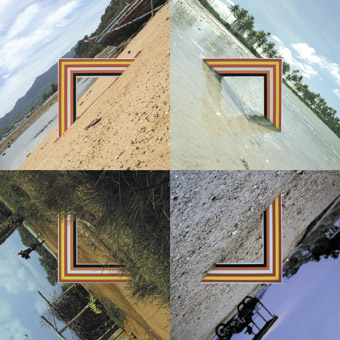 James Geurts, 90 Degrees Equatorial Project. Lightboxes 1 and 2 of 4
JAMES GEURTS' COMMITMENT TO ABSTRACTION BEGAN WITH A DECISION TO VISIT FOUR CORNERS OF THE GLOBE. DEVELOPING HIS 90° EQUATORIAL PROJECT, GEURTS DREW A SQUARE AND PLACED IT OVER A GLOBE, PINPOINTING FOUR LOCATIONS AT ABSOLUTE 0° LATITUDE, EXACTLY 90° FROM EACH OTHER ALONG THE EQUATOR. THE DESTINATIONS HE SETTLED ON WERE DECIDED ARBITRARILY, HIS ONLY PRECONDITION BEING TO FIND FOUR COORDINATES THAT WOULD STRIKE DRY LAND, IN ORDER TO POSITION AND PHOTOGRAPH A SCULPTURE FIXED AT RIGHT-ANGLES TO THE HORIZON. BY ALIGNING ALL FOUR PHOTOGRAPHIC HORIZONS, THE ANGLED SCULPTURES WOULD FORM A PERFECT SQUARE, OR AS GEURTS' PUTS IT IN HIS SYNOPSIS: A "CIRCLE-FRAME INTEGRATED."
Finding four equidistant points on dry land proved to be a significant obstacle. At one location the artist considered building a pontoon. With help from a local friend, Geurts finally fixed on an atoll in the Pacific Ocean that would provide him with a short window to photograph the installation. The coordinates he finally settled upon have a bearing of 100° East (Koto Padang, Sumatra, Indonesia), 10° East (Kango, Gabon, Africa), 80° West (Pedernales, Ecuador, South America) and 170° East (Kiritimati Atoll, Pacific Ocean).
For an imaginary line measuring the equidistant point between the two poles, the Equator has affected some superstitious behaviour. Ancient mariners and modern sailors alike have performed bizarre and often brutal crossing-of-the-line ceremonies, including ritualised beatings, electrocution, walking on hands and knees whilst being pelted with rotten fruit, having one's head shaved into checker-board patterns, and kissing babies' bellies covered in axel grease. Off the map, this 'great circle' enthralled modern romantic novelists and over time has collected its share of popular myths casting it as a virtual realm in which compasses spin, adventures begin, lost civilisations are discovered, and wash basins drain in the opposite direction.
Whilst Geurts experienced no shortage of adventures negotiating unfamiliar geographical and cultural terrain, the resulting series of photographic sculptures, printed works, and in-camera drawings say nothing of these encounters, showing instead a remarkable dedication to formalist aesthetics and a steadfast resistance to pictorial travelogue. The triangular fabrications Geurts brought to each location are coloured with bold stripes, fashioned after iconic works of abstract minimalism. They are lit from the inside and as such appear to be surreally self-contained: fascinating objects in stark contrast with indifferent and relatively mundane situations. Aesthetically and conceptually, the presence of these objects reveals a unity of purpose, although the reason for their existence remains completely inscrutable. In a less portentous way, their presence reminds me of Stanley Kubrick's infamous monolith in 2001: A Space Odyssey, compelling as nodes on a route-map of a psychological journey, superimposed upon a geographical one.
The documentation of these temporary installations has been made into photographic light-boxes that float across the floor of the Experimental Art Foundation Gallery in a series of pontoons. Hovering above, from a god-like perspective, an imaginary equator is depicted along with an imaginary 'frame.' It is difficult to asses how independently the aesthetic potency of these images within 90° Equatorial Project stands against the extraordinary nature of the process, discussed in detail in an artist talk Geurts presented at the gallery.
At each location the artist committed a series of drawings to paper as abstract impressions of place. A continuum of these was printed into a long foldout artist's book titled LAT. 0°`0`0. This assembly of mark-making, collaged paper and photographic imagery is an intimately expressive accompaniment to the resolute objectiveness of Geurts' light-box pieces. A four-panelled video work, Continuum #1, #2, #3, #4, was produced by videoing a non-representational photograph taken at each location and then manipulating the circuit board within the camera during the live-feed. The result is a subtle abstract-impressionist piece that in a minimal sense is suggestive of tidal forces and shifting horizon lines. Continuum isn't a stand-alone piece but contributes a necessary dynamic quality to the exhibition. There is no such thing as a fixed coordinate in physical space since nature and perception are always in motion.
Other works within the exhibition were engaging but seemed somewhat peripheral, possibly due to their placement in the gallery out of visual range of the other pieces. Equatorial Slide Show is a carousel of contemplative drawings, photographs and digitised abstract images marking the perception of time with each slide. The content here is a little incongruous and seems to belong to another show, although the tempo of the slide projector and the hum of the video installation is delicately drawn together by an over-arching sound work for the exhibition, developed in conjunction with Michael Yuen. This piece, along with a vaporously fine blank square on the back wall of the gallery, provides a subliminal unity to a potentially fragmented display of works.
James Guerts, 90° Equatorial Project, Experimental Art Foundation, Adelaide, April 19-May 19
RealTime issue #79 June-July 2007 pg. 44
© Samara Mitchell; for permission to reproduce apply to realtime@realtimearts.net