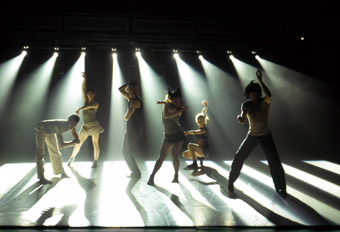 Quick Brown Fox, Leigh Warren & William Forsythe
William Forsythe presented 2 works at this year's Melbourne Festival. One, Quick Brown Fox, was made in collaboration with Adelaide's Leigh Warren and Dancers, the other, Eidos: Telos, was performed by his own company, Ballett Frankfurt. Quick Brown Fox was inspired by the typist's motto, which uses each letter in the alphabet at least once. Philosophers have long recognised that, on the one hand, language consists of a finite number of words and, on the other, that these words can be combined in an infinite number of ways. Thus, the open ended nature of language. Similarly Forsythe's work is built upon classical ballet with its finite lexicon of movement. Yet he too manages to combine finitude in order to create.
Vacillating between movement and stillness, Quick Brown Fox replicates the syntactic challenge of its namesake. All dancers are assigned their own phrase material. Upon a spoken command—one of 26—the dancers adapt their movements, mainly in relation to the presence of other bodies, to form a composite body. Frozen for a moment, they then resume their individual dance. Kinaesthetically, the movement is ballet based; clearly shaped, with its characteristic pelvis, head held high. Yet, many deformations of ballet also occur. While it's clear that everyone has their own moves—moves that seem to suit each body—they also combine in complex ways with the others, sharing weight, weaving in and out, making room.
Quick Brown Fox is a relentless series of formations, deformations, solos and duets. The score is a deconstructed collage of simple musics, in and out of tempo. Some people complain that one hour straight is hard going. I find it totally absorbing and thoroughly stimulating. The dancers are so clear to watch. It's not that the movement as such is so interesting but the flow, the combinations, the complexity, the abstract permutations make the work compelling. The cool jazz of Quick Brown Fox brings forth something I haven't noticed in previous works by Warren.
Eidos: Telos is a much more difficult piece to write about. Harder to grasp, harder to recount. In 3 parts, Part I presents a piece (Self Meant to Govern) made the year before Eidos: Telos. Clocks tick backwards, time is scrambled, muscular bodies move, forming permutations and combinations. A violinist plays amidst the action. It is fast. There are moments when whatever order has been achieved drops a notch. Not that the execution is any less controlled, more that a certain disorder is represented. The edges of the tarquet floor are peeled back, creating an inexplicable sense of horror that a boundary is now permeable, vulnerable. Part II pokes a finger into that hole, plumbing its depths, emerging to examine the contents. One performer (Dana Casperson), bare breasted in an orange skirt, screeches as a spider, speaking of her time below and above the earth, evoking the mythical personae of Persephone, Kore and Demeter. Her voice sounds like fingernails on a blackboard. After Casperson's solo, the company enters, bare breasted men and women, in flowing skirts: Velasquez' Las Meninas. Waltzing, curving through space, occasionally one performer speaks, challenging the audience with aggressive remarks. A mixture of beauty and mortal despair.
Part III suggests a return to Part I, refracted through the memory and sensibilities of the performers. There is a palpable sense of the dancers recreating in movement something from dances past—Proust lives. At one point giant strings stretch across the stage, their twanged reverberations effecting gross changes of mood and texture.
There are many occasions when a great deal is happening, decentering any sense that there is one line of action to follow, one line of thought. Difficult, dark, beautiful, suggestive, puzzling. I'm not very good with myth but I can tell you that death has something to do with it. And life.
For the record, some of you may have heard about nudity and obscenity. Casperson had no undies on under her floor length skirt. It was comparable to Sharon Stone's apocryphal flash in Basic Instinct. My mother missed it altogether. And the obscenities? Some words spoken in anger. Unfortunately, I've heard them before from fellow drivers.
Quick Brown Fox, choreography Leigh Warren & William Forsythe with the ensemble (Peter Furness, Kim Hales-McCarthur, Deon Hastie, Rachel Jenson, Glen McCurley, Aidan Kane Munn, Jo Roads), Leigh Warren and Dancers, The Merlyn, C.U.B. Malthouse, Oct 11-13; Eidos:Telos, choreography William Forsythe, text Dana Casperson, Ballett Frankfurt, State Theatre, Victorian Arts Centre, Melbourne International Festival of Arts, Oct 17-21
RealTime issue #46 Dec-Jan 2001 pg. 8
© Philipa Rothfield; for permission to reproduce apply to realtime@realtimearts.net