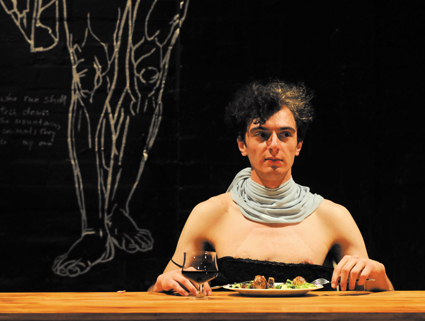 photo Heidrun Löhr 2007
Sacha Cohen, The Three Minute Bacchae and other Extreme Acts, 2008, PACT
For 50 years Sydney's PACT has been a seedbed for artists of all kinds, most recently those engaging with contemporary performance and live art. In the late 60s and early 70s it was a vital hub for folk music, adventurous theatre (a multi-site production of Ibsen's Peer Gynt) and happenings. In following decades it focused on youth theatre.
Nowadays titled PACT Centre for Emerging Artists, the organisation "supports, produces and presents interdisciplinary and experimental performance work by emerging artists from diverse backgrounds…providing a space (its home theatre in Erskinville in Sydney's inner West) for artists, where all aspects of experimental performance can converge in a vibrant and holistic community."
Originally housed on the edge of the Sydney CBD, near Darling Harbour, PACT was founded by a group led by Robert Allnutt, Jack Mannix and Patrick Milligan in response to the Federal Government's Vincent Committee Report that "highlighted the dire state of Australia's performing arts, film and television industries." This was at a time when the arts landscape was thinly populated, largely prior to the emergence of state and independent theatre and dance companies in the late 60s and into the 70s and of an incipient film industry. PACT (Producers, Authors, Composers and Talent, and later Producers, Artists, Curators, Technicians) aimed to develop a range of practitioners who would enrich Australian culture.
Alumni include a kaleidoscope of significant names in Australian arts and entertainment including Peter Weir, Graham Bond, Zoe Carides, Lara Thoms, Matt Prest, Mish Grigor, Natalie Rose and Zoe Coombs Marr (post), Malcolm Whittaker, Alison Richardson, Augusta Supple, Sally Lewry, Ashley Dyer, Nick Atkins, Natalie Randall, Daniel Prypchan, Jane Grimley, Caroline Wake, Amity Yore and Ling Zhao. PACT has yielded directors, performers, writers, curators, choreographers, filmmakers, digital media artists, sound, lighting, set and costume designers, technicians, artistic directors, cultural producers and marketing managers.
As the cultural landscape transformed over 50 years, so too did PACT, focusing in recent decades on young and then specifically emerging artists—ranging from late teens well into their 20s, eager to learn, collaborate and engage directly with the public while on the cusp of their careers.
The PACT IS FIFTY birthday audience will be addressed by Lord Mayor of Sydney, Clover Moore, and entertained by past and present PACT artists and artistic directors (who have included Caitlin Newton Broad, Anna Mesariti, Cat Jones, Julie Vulcan and now Katrina Douglas). There'll also be screenings of rare archival footage and the launch of PACT's 2015 program.
In RealTime 124 we'll report on the celebrations and take a close look at PACT's distinctive history and the breadth and depth of its sense of community. A visit to the Previous Events pages of PACT's website offers a glimpse of a decade of engagement with young artists, arts organisations, festivals and communities. An extra 40 years adds up to a remarkable achievement.
PACT IS FIFTY, PACT, 107 Railway Parade, Erskineville, Sydney Saturday 18 Oct 6-9pm
RealTime issue #123 Oct-Nov 2014 pg. 32
© RealTime ; for permission to reproduce apply to realtime@realtimearts.net