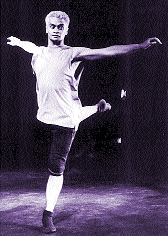 photo Stephen Smith
Setefano Tele in Untitled Solo for Male Dancer
In the context of 'theatre', dance and movement-based performance have typically been understood, and often practiced, as anti-intellectual and under-theorised. Similarly, dancers have been seen as bodies without minds, having a sort of animal vitality, having a certain commodity value in the market place, but incapable of intellectual rigour or analytical discussion and oblivious to the shifts in interrogative thought in other art forms which may or may not have implications for their own practice.
Hence Dancers are space eaters: directions in independent dance, a three week program which sought to create a context in which information could be shared, 'intelligence gathered', the theatrical deployed and the hierarchy between dance and other body-centred practices examined. Week 1 presented the touring program, 4 on the Floor curated by The Performance Space, Sydney. Week 2 comprised four movement workshops focussing on differing approaches to performance. Week 3 consisted of forums, performances, papers and screenings, bringing together self-producing artists from Perth, Melbourne and Sydney.
Generally speaking, what the final week demonstrated was the vitality of so-called 'independent' artists—a much debated and closely interrogated term—whose practice would seem to offer not only new physical but also new intellectual challenges; and to suggest just how far the term 'dance' might be stretched to encompass myriad practices and concerns.
Beginning this final week was the forum, Don't Stop at Movement, Part One. Tony Osborne reflected on definitions of independent dance, government policies and funding priorities—don't stop at movement; don't stop movement. Nikki Heywood spoke to the issues of performing inside a body that is aging, decaying, that recognises its own mortality. Chris Ryan's extraordinary video, Get over it; get on with it; get fucked and accompanying paper addressed many issues pertaining to performance, sexuality and gender, censorship and life with intelligence, poignancy and compassion.
Following this were Jon Burtt's witty choreography performed by Setefano Tele, which moved from self parody to an hilarious (embodied) commentary on the naff earnestness of much contact and release based dance; the muscular grace of Richard Talonga's That Woman; Sue Peacock's choreography for live performance and video; and Chris Ryan and Dean Walsh demonstrating, as is their wont, Theatrical Abuse and Other Cheap Tricks.
Another session devoted to performance encompassed the sparse postmodernism of Shelley Lasica and Sandra Parker, Rakini's classical Indian dance—mutating into a cross cultural hybrid—and the elasticity of Olivia Miller's Wax.
In her paper, Smart Moves & Dumb Shifts, Jane Goodall invited dancers to stop going somewhere and just flounder. The body is understood, she says, as a series of networks renegotiating movement as a process of intelligence gathering, dance that moves away from species specificity to that of the hybrid.
Lullaby by Alice Cummins is a lament of return sharpened by protuberant bones and the welcoming of internal movements of yearning, a body that showed its familiarity to stillness and yielded to the pulse of its need for location.
Bizircus performed Where There's Smoke : fire caressing arms, fire in motion, wheeling in darkness, juggling fire and spinning flames, smoke and the intoxicating smell of kerosene. The body became monstrous, spawning three headed hydras, with a woman, a human torch on top, spinning a flaming hoola hoop against her naked midriff.
In Jean/Lucretia by Nikki Heywood, the silhouette of gnarled branches preceded the performer's entry into the shadowy space, anticipating the knotting of the grandmother's body. A limb is twisted, the trunk bends and in the crushing defeat a gardener's soul is broken. Heywood's bitter sweet singing of The Rape of Lucretia became an elegy for the thwarted growth and neglect of an ordinary woman.
In We'd, performed by Chris Ryan and Dean Walsh, a virtuous woman enacted her sad parody of drag, naked in white heels or sheathed in solemn dress but begging for attention. Her whoring was underscored by the litany of voices from the labels offered in silence from a seated and blindfolded performer. He lifted cards from the table to complete words, all of which began with 're'—'reinterpret' or perhaps 'reindeer'. The one removed the other bodily from the space.
The program note for Tricia … case study by Bill Handley read, "After 18 years of confinement within a concrete enclosure, Tricia the elephant had to learn how to walk again". This work is a dancer's parable with disintegrating wheelchair. His patient observation of the dynamics of flex, boot, ball, broken frame and wheel revealed a tender love of the banal, and the awkward angle of the head and the little rhythms of the feet touched a nerve.
Tony Osborne arrived gruesomely with stockinged head only to become a glittering cabaret entertainer who told racist and sexist jokes that caught out the unwary while others squirmed. His interventions with the audience's displeasure were unexpected and provocative.
In Closet: Paul Schembri's attention to a channel of light marked the closet in the space. The stretch of the leg and gentle pull and reverberation of the arm against the body were container and refuge but also exit and escape.
Don't Stop at Movement, Part 2 exhilaratingly broke through the isolation of dancers and encouraged them to reflect beyond their experience in order to talk about wider issues in performance. Shelley Lasica reflected, "My memory erupts through the holes in my body" so that for her, dancing is a template. Jim Hughes, wondering where movement comes from, said, "Don't stop at movement; don't start at movement". Alice Cummins spoke of working in ways that feel related, responsible and relevant. "My body is familiar to me. Is my body familiar to you?" Jon Burtt, on the rebound from the vertical structures of dance companies, questioned the silent space of the dancer in which one person making the work does all the talking and the person doing all the work does all the steps.
The final forum rather stuck on the politics of the audience, the breaking down of barriers between different groups of dancers, and the necessity for more talk. And why weren't there any members of the existing dance companies there, the students or graduating students of the dance institutions, or the more general public? But then in any city in Australia, a crowd of thirty on a Sunday afternoon after a glut of fine performances, debating the future of dance would be a good wrap up.
Dancers are space eaters, Perth Institute of Contemporary Arts, November 22-26, 1995, curated by Sarah Miller.
RealTime issue #11 Feb-March 1996 pg. 40
© Rachel Fensham & Sarah Miller; for permission to reproduce apply to realtime@realtimearts.net