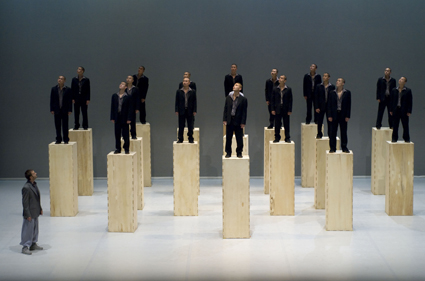 photo Andree Lanthier
Sutra, Sidi Larbi Cherkaoui and Warrior Monks of the Shaolin Temple, Brisbane Festival
NOEL STAUNTON EXPRESSES SOME NERVOUSNESS, IF WITH A CONFIDENT IRISH LILT, ABOUT HIS FIRST BRISBANE FESTIVAL. HE'S ONLY BEEN IN THE POSITION SINCE LATE 2009 AND IS STILL GETTING TO KNOW THE CITY: "I THINK THE PEOPLE OF BRISBANE WANT SOMETHING THEY CAN CALL THEIR OWN. IT'S NOT ABOUT SHOPPING DOWN AT THE ART SUPERMARKET; WE CAN ALL DO THAT. THAT'S WHY WE'RE DOING THE ROAD SHOW ARE WE THERE YET?, CIRCA HAS A SHOW FOR KIDS, WE'RE BUILDING A NEW FESTIVAL THEATRE SPACE AND WE'RE DOING STALKER'S SHANGHAI LADY KILLER WITH CO-PRESENTERS. HOPEFULLY IT'LL DO SOMETHING AND I'LL NOT BE RUN OUT OF TOWN."
Formerly Executive Director of the Sydney Dance Company, Noel Staunton has worked in the arts for 30 years: as Technical Director of the English National Opera and Opera Australia, as Executive Director of Baz Lurhmann's company, Baz Live, and Executive Producer of the 2004 South Australian Opera production of Wagner's The Ring Cycle. An arts festival should come easy.
a new festival venue
When we meet in Sydney to discuss his 2010 program, Staunton commences by describing an initiative of which he's clearly proud. "When I first visited the Brisbane Powerhouse and saw on approach the huge flat facade, I asked had anyone thought of building an amphitheatre here." Which is exactly what he's doing—creating an open air 600-seater called QUT Festival Theatre, ideal for Brisbane Spring when the festival plays. He sees the new venue as providing a base for exciting local work (CIRCA, Raw Dance, Topology, Queensland Theatre Company) and "extending the box office, which in the past was not major. If you pay for it, you'll respect it, while of course there have to be events that are free. I'm experimenting in terms of the genres I'm putting in this space—circus, theatre, dance, music and opening with a production of Shakespeare's Macbeth. It's the first time Marcus Graham has played the role and Michael Gow is directing. It's trimmed down and it's all about the language and there's no set—the wall is the set, it's the scenery." Opposite the amphitheatre is "the Milk Crate Lounge, where audience and artists can relax after the show."
Staunton's impressed by some of the young Australian talent he's programmed—better known overseas than here—like percussion-based Raw Dance. Also in the QUT Festival Theatre program are Edinburgh Fringe, hit Melbourne's Dark Party—"they're like the Marx Brothers and staple things to their bodies." In Bounce, Topology and their audience will actually bounce balls off the wall and floor of the theatre to provide patterns to which they'll play. The ensemble are reworking the UK's Aphex Twin's "epic 1997 study in the rhythms of collision, Bucephalus Bouncing Ball, made from the sounds of bouncing ping pong balls" (Press Release).
circa & circa zoo
Also in the QUT Festival Theatre are Brisbane's Circa Zoo, directed by Ben Knapton, presenting Strange Familiar Angel for children in the afternoon while globe-trotting Circa and artistic director Yaron Lifschitz are staging Wunderkammer, "a cabaret of the senses," at night for adults. "Wunderkammer is created especially for the space," says Staunton. The program also includes the music of Brisbane's Robert Forster. Staunton adds, "What works and doesn't work will help me plan 2011."
are we there yet?
Of the 10 free events programmed for the festival, Staunton is particularly exicted by Are We There Yet?, a music theatre road show about people moving to Brisbane from interstate. It will play from a caravan in nine Brisbane suburban parks. Scripted by Scott Witt, it's another opportunity, Staunton declares, to invest in local artists. It's a three-year project, while another public series, Backyards (performed in actual backyards), inherited from previous Brisbane Festival artistic director Lyndon Terracini, will have its final outing this year.
stalker, shanghai lady killer
Shanghai Lady Killer from Sydney's Stalker is eagerly anticipated. Staunton describes it as "a cross between a melodrama and Crouching Tiger, Hidden Dragon and a lot of fun." Director Rachael Swain and the show's writer, filmmaker Tony Ayres, have fashioned a contemporary onstage film noir "in the Chinatown of a futuristic Australian city [with] multi-media landscapes, acrobatics, parkour, trampoline, dance, circus and martial arts." The production promises to explore "the Australian fascination with and fear of China" (Press Release). A leading Chinese martial arts film star, Wang Fei plays the lead role. The original musical score is by lain Grandage, design by Stephen Curtis and choreography by Gavin Webber (ex-Dancenorth) and Wu Shu Master, Alice Dong Pei, with stunts directed by Keir Beck.
angus cerini, wretch
Another Australian work in the program is Melbourne writer-performer Angus Cerini's Wretch, performed with Susie Dee. John Bailey wrote in RealTime, "Wretch feels like the culmination of all of Cerini's work so far, as well as connoting a stellar leap in his ability as a writer. The piece follows a young man in prison visited by his mother, detailing the hopelessness and failures each have experienced and which have led to his senseless crimes…Cerini serves up these lives with words that move from ocker realism to Byronic splendour to impenetrable gutterisms in a single breath" (RT 90.p40).
beckett, first love
"I have to have my bit of Beckett," admits Staunton. "When you hear Conor Lovett speak, the Irish language is just absolutely beautiful—you could listen all day." The Irish-French company Gare St Lazare Players are presenting First Love: "A young man, expelled from the family home…meets a woman who takes him home, with comically disastrous consequences." It's an account of an early Samuel Beckett short story indicative of what was to come. (Lovett is performing adaptations of Beckett's three novels for the Melbourne International Arts Festival, p16.)
sidi larbi cherkaoui, sutra
I was impressed by Sidi Larbi Cherkaoui's distinctive dancing and engaging presence in Zero Degrees, a collaboration with Akram Khan seen at the 2007 Sydney Festival. Staunton had hoped to attract the artist to work with the Sydney Dance Company but managed instead to secure him for the festival with Sutra, a work based on the rituals and traditions of Buddhist Shaolin monks. Staunton advises the wary, "You don't have to worry if you're frightened of contemporary dance. Sutra's a perfect mix of acrobatics, martial arts and the spiritual…it's a crowd pleaser." The work comprises "a stark, evolving stage design of wooden boxes, which is manipulated…by 17 Warrior Monks of the Shaolin Temple and Sidi Larbi Cherkaoui" (Press Release). The set design is by UK sculptor Anthony Gormley.
new dance from indonesia
Having just returned from the 10th Indonesian International Dance Festival (see RT feature) I was excited to hear that Staunton has collaborated with Andrew Ross, director of Brisbane Powerhouse, to bring contemporary Indonesian dance to the festival. The featured choreographers in the New Dance from Indonesia program are Hartati (Di Dalam/Di Luar) and Ery Mefri (a double bill, SangHawa and Rantau Berbisik or the Nan Jombang Dance Company). Both are from the culturally rich and choreographically influential Minangkabau region in the coastal highlands of West Sumatra.
shaun parker, happy as larry
As well as Shanghai Lady Killer, with its dance and martial arts, there are two other Australian dance works in the program, by Shaun Parker and Meryl Tankard. Parker's Happy as Larry premiered in the 2009 Sydney Festival. I wrote at the time. "Happy as Larry has a satisfying consistency built around a chalk board artist whose impressionistic documentation of his own state of mind and others' movements [from balletic to hip hop] begins to build into a major artistic creation…Parker's subtly memorable work is full of invention, vivid detail, characterful solos and duets and, in the end a smiling ensemble, their happiness well earned" (RT95, p14).
meryl tankard, oracle
Meryl Tankard's Oracle is a co-creation with dancer Paul White and projection artist Regis Lansic. If suffering from visual and symbolic overload and structural weaknesses, Oracle, performed to Stravinsky's The Rite of Spring, still manages to impress with White's performance: "He dances to utter exhaustion. And we applaud him for it, and for the skill and passion with which this torment, this journey to being merely human… is so cruelly dramatised and endured" (RT94, 38). Oracle won Best Performance by a Male Dancer for White and Outstanding Achievement in Choreography for Tankard and White at the 2010 Australian Dance Awards.
cuban contemporary dance & ballet
At the top of Staunton's dance program is Danza Contemporánea de Cuba (introduced to him by Sydney Dance Company's Rafael Bonachela whose work and others' the Cubans will perform): "I have to say these people are hot. Seeing we were bring the Ballet Nacional de Cuba out with QPAC I thought bring them as well. It's the first time they've appeared together outside Havana. They have enormous technique," usually described as a fusion of Afro-Caribbean, classical ballet and American modernism. Ballet Nacional de Cuba will perform Alicia Alonso's account of Don Quixote.
under the radar
Staunton also has his eye on the future in the Under the Radar program, the festival's in-built fringe, "with a smaller number of shows this year and a bit more mainstream." There are many new names and new works among the some 25 shows listed, so previewing is not easy. Jeff Stein and Frank Mainoo from Sydney will chat with the audience about Hitchcock, birds and planes in The Raven Project; The Forces of Darkness present a de-motivational lecture in Leon Ewing's the Problem with Evil; Side Pony from Perth play at being lions in The Pride; primal dreams proliferate in Skye Gelmann (Scattered Tacks) and Naomi Francis' new circus show, Mothlight; Matt O'Neill, Kieran Law and Ron Seeto roll together dance, sound art and physical performance in Nostalgia; identity dissolves in Saskia Falls from Adelaide's Vitalstatistix; the audience call the shots with new technologies in The Last Man to Die; and in The Bathers a transparent sauna becomes a theatre as Estonian traditional sauna customs are practised by Art Container. Look out for a bogan street ballet from Sydney's youMove or risk Weeping Scab Players' schlock horror in Cousin Love.
works in progress
With another eye on the future, Staunton is developing two works. These are not only for the benefit of artists but also for audiences: "You buy your ticket this year and see half or three quarters or whatever of the work and the completed work in the next year. You'll see Natalie Weir's First Ritual, the first half with her company, Expressions. Then she goes to China and works with a Chinese contemporary dance company on it and next year we bring them here and do the complete work. I also approached Perth director Matt Lutton who wants to do a version of Schubert's Die Wintereisse. This year he'll work on the theatre (writer Tom Holloway) and dance (choreographer Chrissie Parrott) elements and next year we add in the music. Audiences love to be involved—it gives them a way to dialogue with the artists. I'll invite two more artists next year—no application forms, just me and them."
–
Brisbane Festival, Sept 4-25, www.brisbanefestival.com.au
RealTime issue #98 Aug-Sept 2010 pg. 18
© Keith Gallasch; for permission to reproduce apply to realtime@realtimearts.net