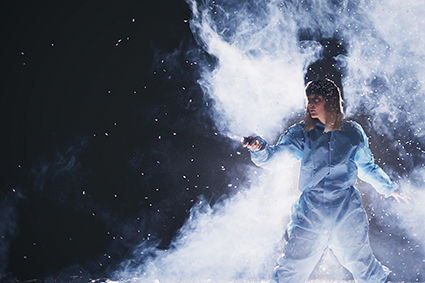 photo Jarrad Seng
Adriane Daff in Falling Through Clouds
SPECTACULAR PUPPETRY, INNOVATIVE VIDEO AND HAUNTING MUSIC IN THE LAST GREAT HUNT'S FALLING THROUGH CLOUDS CONVEY A TALE OF IMPOSSIBLE DREAMS. ONE HUNDRED YEARS AFTER BIRDS HAVE DISAPPEARED, DR MARY MILLER HAS FOUND A WAY TO BRING THEM BACK AND HAS BEEN GIVEN A YEAR TO HAVE THEM FLYING. FROM HER OPENING DREAM OF FLIGHT, THE DEVOTED DOCTOR'S DELIGHT GRADUALLY TURNS TO STRESS AND OBSESSION.
In a dream-infused narrative, a research facility is established, eggs are fertilised, incubated and hatched. Mary monitors the growth and development of Henry and Jenny as they grow into their long necks, bills and legs. Teaching them to fly is frustrating, but the joys of interacting with Henry's mischief and Jenny's affection seem worth the worry, until deadline day. In a nightmarish sequence, Jenny is taken to the top of a cliff and sent over the edge—she panics, twitches her wings and plummets to her death. Mary's instructions to end the failed project include specific directions to destroy all biological specimens herself, leading to a memorable chase scene with Henry and a beautiful sequence leading to the titular notion of Falling Through Clouds.
Adriane Daff (Dr Mary Miller) is a joy to watch. Her face conveys emotion intensely, amplified by combined techniques of theatre and hand-held camera working to produce a sense of real-time documentary. She rises to the acting challenges presented by film and stage, simultaneously, particularly in her dream sequences and also at the magical moment featuring a bird's eye view of her from the interior of an eggshell breaking open.
As with previous works by this team, truly wonderful puppetry emerges, even when using balls of shredded paper. From the first tiny hatchling wing shivers to the clack clack of the feet of growing birds and their inquisitive and mischievous head and neck movements, close behavioural observation and dedicated puppetry technique bring birds to life with as much excitement as if they really were the first avian life in a century.
The set constantly changes, a particular highlight being the creation of the research facility using sheets of paper. It features a micro set of the island on the dark expanse of the stage, with hot air balloons flying above, changing our perspective, and fans that create the winds also clearing the 'set' once done. This sequence epitomises the careful simplicity sustained through the performance.
Thoughtful technical work sees simple projection used with low-tech 'screens' to create dreams of flying birds and a beautiful night sky. Use of simultaneous projection with the hand-held camera is particularly effective in Jenny's failed flight attempt and wonderful when tracking Henry's curious roaming around the closing facility. Classic puppetry provides elegant presentations of flight and weightlessness, contrasting with the chillingly creepy use of a moulded mask of Daff's sleeping face. Henry's escape is a beautiful collection of visual techniques, smoothly transitioning from live video streaming to a theatrical depiction of overhead lights, a simple exterior shot and then a sweet animation clearly telling his tale without any text distracting from the scene's magical whimsy.
Integral to the performance, the sparse use of text is made possible by Ash Gibson Greig's sound design and song selection, featuring poignantly weighted lyrical timing.
A visually beautiful work, accompanied by beguiling sound design and a mesmerisingly sweet narrative, Falling Through Clouds celebrates the considerable talents and achievements of its creative partnership.
Falling Through Clouds features in the 2015 Sydney Festival's About an Hour program; Seymour Centre 16-18 Jan
PICA & The Last Great Hunt, Falling Through Clouds, initiating artist, co-creator, performer Tim Watts, co-creator, performer Adriane Daff, co-creator, performer Arielle Gray, co-creator, performer Chris Isaacs, composition, sound design Ash Gibson Greig, PICA, Perth Cultural Centre 22 Sept–11 Oct
RealTime issue #124 Dec-Jan 2014 pg. 45
© Nerida Dickinson; for permission to reproduce apply to realtime@realtimearts.net