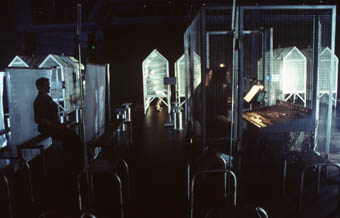 photo Andrea Higgins
Elision, Dark Matter
It seems obvious, if there are 17 million people in Australia and 500 million in the UK, the proportion of culture vultures in Europe must represent audiences that Australian ensembles working exclusively in Australia can only dream of. Demand is there, talent is here. The only thing standing in the way is the price of an airline ticket. What are you waiting for? Get out your credit card, pack your bags, let's go on tour!
But while everyone's doing it, for some arts organisations international touring is an intrinsic part of their strategy for survival. Take for example 4 classical music organisations, the Australian Chamber Orchestra, The Song Company, Synergy Percussion and Elision. Their artistic agendas and audiences differ, but touring is a key part of all their annual programs.
The ACO and The Song Company
The Australian Chamber Orchestra calls itself "Australia's most travelled cultural organisation." Since its inception in 1975 it has toured frequently throughout Europe, Asia, North and South America and the Pacific. In 2002, as a result of the Nugent report, the orchestra was reclassified, along with Circus Oz and Sydney Dance Company, as an 'international' touring organisation. With this new categorisation came kudos, funding and strings: the company was to present no less than 20% of all performances overseas.
For General Manager of the ACO, Bill Gillespie, that quota has been quite a challenge. On a practical level, the company is committed to limiting the amount of time players spend away from home to 3 weeks at a time. However, the fixed costs of getting the orchestra to Europe means they need to pack as much as possible into those 3 weeks to make it worth leaving home. Simultaneously, they must balance overseas work with their domestic commitments; namely a loyal subscription base in 9 population centres across Australia.
The new funding classification has also driven an expansion of the subscription series across the Tasman. "New Zealand counts as an overseas destination, which helps our quota," says Gillespie. The orchestra is trialing concerts in Auckland, Wellington and Christchurch for 2 of their subscription concerts.
Gillespie sees many advantages to the touring model, not least for the musicians: "The players love it. It makes life more interesting. It is intrinsic to the company." More importantly, a company operating at the level of the ACO must travel, "not just to compare against the best in the world, but to participate."
This view is echoed by Roland Peelman, Artistic Director of The Song Company. "Simply put, audiences [outside Australia] are larger—there's more room for diversity. The alternative [to international touring] is you become complacent, bored or stale."
So, international touring brings kudos, artistic challenge and boosts musicians' morale. Gillespie and Peelman say it also makes financial sense. Both ensembles employ their musicians full-time, so artists' fees are already covered in annual running costs. If the flights and accommodation can be covered, the rest is gravy. Peelman says, "A tour that breaks even is not really good enough. Bringing money home—that is what we strive for."
Both ensembles perform repertoire that qualifies them for some mainstream and therefore well-paid classical music gigs. Invitations from the Wigmore Hall or Amsterdam Concertgebouw generate healthy fees, which make it economically viable for the groups to be represented by an agent. It's no guarantee of work, but it all helps overcome the huge barriers Australians face in organising tours 10,000 miles from home.
The bottom line for both The Song Company and the ACO is that Australia is not big enough to support the scale of their organisations. While both Peelman and Gillespie emphasise the sheer hard work of international touring, they also conclude that it is indispensable. Peelman says, "The reality is we are a fulltime ensemble. There are not enough concerts we can do in Sydney to stay alive." And Gillespie says, "There's not enough audience in any one area. Even Sydney and Melbourne are not sufficient."
International touring spreads the burden of the fixed costs and, hopefully, generates additional revenue through substantial fees and government funding.
Synergy
But what of the part-time, non-mainstream groups, the new music ensembles that do not fit the Wigmore Hall mould? Can the same strategic model apply to ensembles that struggle to fill a concert hall 3 times a year in Australia?
Synergy Percussion and Elision, like the ACO and The Song Company, have received significant funding to develop their international touring strategy. Both are critically acclaimed ensembles with strong artistic agendas, and heavily committed to overseas touring. But they are also playing to niche audiences and offering their core group of players work on a project-by-project basis.
For Greg Johns, Manager of Synergy, the primary motivation for international tours is not financial, but personal: "It's the interaction, meeting others who are struggling to keep the flame alive. It's always a struggle, so it's good for morale to meet with others and artistically very inspirational…the motivation for touring is more to do with getting the unique Australian voice out into the international market, and getting Australian composers out there. It essentially doesn't make money. It's more to do with proactive interaction with international community."
Like everyone I spoke to, Johns emphasises 2 keys to building an international touring strategy: being good, and being there. Synergy, he explains, sits comfortably among European ensembles in terms of artistic excellence, with a unique sound not found there. "Everyone says what Synergy does is really different. It's the concept of ensemble playing…not just muscular technique."
The ensemble finds most of its opportunities at specialist festivals—percussion and/or new music—and these are the best places to network for future opportunities. "Percussionists are pretty unique in that they like to gather together as a unified body…They have a lot of percussion festivals—there's a community aspect, a tremendous camaraderie," Johns says. The process of securing gigs sounds less like a strategy than an organic development.
Elision
Daryl Buckley, founder and Artistic Director of Elision, calls the process "serendipity…I liken it to throwing stones into water—the ripples interact in a completely unpredictable way." However, it's clear that for Elision, unlike Synergy, serendipity is a highly strategic process.
The Elision Ensemble was founded in Melbourne in 1989 and is now based at the Judith Wright Arts Centre in Brisbane. But geographies are irrelevant because the ensemble performs regularly all over the world. In 2002 they staged concerts in Perth, Brisbane and Paris and also presented Liza Lim's opera, Yue Ling Jie in Berlin, Zurich and Saitama, Japan. For a part-time new music ensemble with one full-time artistic director/administrator, the scope of its activity is huge.
Of the ensembles I surveyed, Elision is the only one that makes no distinction between its domestic and international agenda. Not even the "international touring organisation", ACO, operates with such blatant and cheerful disregard for political boundaries.
Buckley says, "Art doesn't recognise geographical borders. Why impose them?…In order for Australian performing ensembles to reach the standards of highly funded European ensembles, with access to rich cultural resources, the only way to compete is to focus work on aesthetics, to have a consistent artistic direction and look at dissolving the notion of domestic and international as 2 separate things."
Extending that logic, the notion of distinguishing between 'Australian' and 'foreign' artists and creators is equally irrelevant. Hence Buckley's decision, early on, not to seek funding from the Australia Council alone, but to concentrate instead on developing relationships with overseas artists, audiences and agencies. "Even before Elision toured we had a strong presence in Italy and particularly Milan. We commissioned 15-16 major Italian composers. We accessed strong assistance for frequent international travel from the Arts Council of Canada, Arts Council of Great Britain and other international agencies supportive of work by their nationals in Australia."
In effect they turned the mercantile model on its head by investing in partnerships with overseas artists rather than imposing an existing Australian product on an unenlightened Europe. Buckley says, "Integral to this was to produce high quality performances, which could then be broadcast on classical radio stations. When people went back to various festivals and lectures, it was a recording of Elision being played. With the publishers, Elision was being mentioned frequently."
So while Elision was not in a position to fly a representative around the world to generate gigs, it was already making its presence felt through impressive recordings and creative partnerships. Partnerships are key, not only for financial and administrative security, but for long term benefits, Buckley says. "Co-production is a principal strategy. You have a virtual office in Europe, access to funding and forward planning. You can be part of other people's histories."
But, support from within Australia is equally critical. Buckley says, "The Audience and Market Development unit of the Australia Council has been absolutely pivotal to recent Elision sucesses in Europe and North-East Asia. Their support has enabled crucial and direct face to face negotiations on major contracts and the international realisation of Elision activity in highly competitive and constantly changing environments."
Elision is just back from Berlin, giving concerts with the Norwegian ensemble, Cikada, and presenting Dark Matter, a major work/installation by UK composer Richard Barrett and Norwegian artist Per Inge Bjørlo [premiered Brisbane 2001]. But even as the notes ring out, Buckley is throwing more stones and watching more ripples develop. Has this Australian artist cracked the tyranny of distance once and for all?
One suspects Buckley's visionary strategy would not work for everyone. "It's mad, constant production," he says, with a crazy glint in his eye. "Insane. We are the Australian new music group." Such conviction is infectious, but also rare. And while the group is increasingly in demand, will its expansion be limited by the stamina of its artistic director?
This is the second of RealTime's reports on the international marketing of Australia's performing arts. The first can be found in RT 53, Feb-March 2003. Our next report in the series will survey the work of Australia's performing arts producers.
RealTime issue #54 April-May 2003 pg. 12
© Harriet Cunningham; for permission to reproduce apply to realtime@realtimearts.net