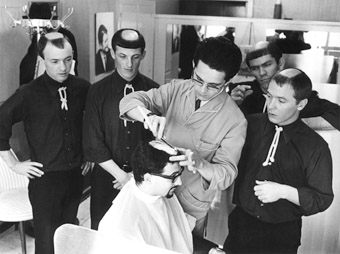 Monks – Transatlantic Feedback
ONE OF THE MUST-SEES AT THIS YEAR'S FESTIVAL OF GERMAN FILM HOSTED BY THE GOETHE INSTITUT WILL BE THE MUSIC DOCUMENTARY, MONKS-THE TRANSATLANTIC FEEDBACK, WHICH CHARTS THE HISTORY OF THE MONKS, THE AVANT-GARDE ANTI-WAR ROCK GROUP FOUNDED BY FIVE WORKING CLASS AMERICAN FORMER SOLDIERS STATIONED IN COLD WAR GERMANY.
The Monks released their first album, Black Monk Time in 1966, appearing onstage wearing black cassocks, their heads appropriately shaved. Filmmaker Dietmar Post who worked with co-director Lucia Palacios for eight years on the film which was released this year combines rare archival footage of the band's live performances on the popular German TV music show Beat-Club with contemporary interviews with band members and music commentators. "The footage from Beat-Club shows confused audiences standing around while the Monks smilingly sing 'People cry, people die for you/People kill, people will for you.' It's the strangest thing I've ever seen", Post admits. The documentary traces the evolution of a combo determined to expand the frontiers of popular music. What emerges is a picture of German-American cross-cultural experience, and a tribute to genuine rock and roll pioneers. The Monks reformed recently, releasing a tribute album in 2006. The group performed their first show in Germany in 40 years and went on to play London and Zurich. The filmmakers will be in Sydney for the festival.
The festival also offers the opportunity to see some of Germany's other up and coming cinema talent. Opening the festival is Marcus H Rosenmuller's satire of the heimat genre, Grave Decisions. Writing in Goethe Institut's Kultur magazine, Oliver Rahayel talks about the word "heimat" as untranslatable, describing "unique feelings and attitudes." Nevertheless, German Film Festival regulars are familiar with the genre. "Since the early 80s", says Rahayel, "filmmakers have increasingly avoided the bitter tone of left wing heimat films, increasingly trying to reconcile social criticism with lighter, more playful treatments of the genre's stylistic elements, often in combination with autobiographical approaches." Rosenmuller, whose Heavyweights is also showing at the festival, counters: "I think every movie is a heimat film in some way. In mine, it's just more obvious because of the dialect (Bavarian). Apart from that, Grave Decisions is about sin and forgiveness."
Emma's Bliss is a comedy/drama about a "pigwhisperer" from Sven Taddicken, one of Germany's idiosyncratic young directing talents. There's the psychological thriller on the theme of male friendship, A Friend of Mine, made by Tom Tykwer protégé, Sebastian Schipper. Valerie is the debut feature from Birgit Möller who graduated from dffb film school in Berlin in 2006 and who credits her first film's success to Agata Buzek who plays the title role, Valerie, a model stranded penniless at the Hotel Hyatt in Berlin on Christmas Eve. Moller will attend the festival in Sydney. Best actress at Berlin Film Festival last year went to Nina Hoss for her performance in Christian Petzold's Yella, which also screens. In a fresh spin on the theme of German reunification, Hoss plays a put-upon woman who develops a taste for the ruthless business world. Chris Klaus's Four Minutes has an intriguing premise that brings together a savage young woman (Hannah Herzsprung), in prison for a brutal murder she may not have committed, and an 80 year old (Monica Bleibtren) who has taught piano in prison for years and believes she has discovered a prodigious talent. Herzsprung is a festival guest. Eden, by Michael Hofmann, tracks a failing relationship revived by gourmet food and jealousy, while Matthias Luthardt's Pingpong observes a 16 year-old boy moving in with his emotionally detached relatives after his father's suicide and focusing his sexual drive on his aunt.
The "controversial" film is WUT by Züli Aladag recounting the escalation of a conflict between a young self-confident Turk and a liberal teacher at a Berlin school, using an actual case to show the difficulties of an inter-cultural dialogue between two people whose worlds hardly ever come into contact. Summer 04, about a German family on a sailing holiday on the Schlei, an inlet of the Baltic Sea, is described by The Guardian's film writer, Peter Bradshaw, as reviving the spirit of Polanski's Knife in Water. "Summer 04 has a confrontational, forthright clarity, and an edge of cold steel. (It's) a very distinctive kind of movie: sexually candid, scary, playful in a sadistic sort of way, yet not ironic or romantic. It is a style which does not exist in our Anglophone cinema, on either side of the Atlantic." If we needed an excuse for another film festival, there we have it—they offer us a chance to see films we're unlikely to see on the commercial circuit, to map trends of thought and styles of presentation that might otherwise escape our view.
Festival of German Films: Sydney, April 19-29, Melbourne 19-29, Brisbane 26-29, and Perth 26-29. For updates and complete program: www.goethe.de/ozfilmfest
RealTime issue #78 April-May 2007 pg. 22
© RealTime ; for permission to reproduce apply to realtime@realtimearts.net