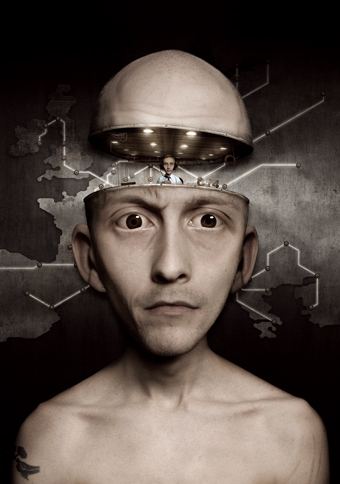 Metropia
IN ITS 13TH YEAR, PERTH'S REVELATION FILM FESTIVAL HAS COME A LONG WAY FROM ITS EARLY DAYS IN THE BASEMENT OF THE GREENWICH CLUB. WELCOMING BACK ITS LOYAL FILM-LOVING FANATICS, REV TURNED THE HEADS OF A WHOLE NEW GROUP OF FILMGOERS WITH A 40% BIGGER AUDIENCE THAN THE PREVIOUS YEAR. SETTING OUT TO BRING WEST AUSTRALIANS A SELECTION OF FILMS THAT CONTAIN A LITTLE SOMETHING PROGRAM DIRECTOR JACK SARGEANT LIKES TO CALL 'ATTITUDE', REV SHOWCASED FEATURES, DOCUMENTARIES, SHORTS, ANIMATED FLICKS AND 30 NATIONAL PREMIERES ALL PACKED INTO A SNUG 10-DAY PROGRAM.
With subjects such as an outlaw American comic, through to a pint-sized 13-year-old paparazzo, by far some of the most intriguing films on this year's program are documentaries. Reporter follows the work of Pulitzer Prize winning journalist of the New York Times Nicholas Kristof as he endeavours to raise awareness of developing world tragedies. Battling shrinking news organisations and newspaper readership as well as humankind's numbing to mass tragedy, Kristof sets off into the Congo alongside two young American bloggers, seeking out the most tragic stories for his readers. Directed by Eric Daniel Metzgar the film captures the courage and determination of journalists like Kristof, who face those who act with impunity and translate stories of incredible injustice for their readers in the hope of change. With the 20 million Pakistanis displaced by recent floods, Reporter reminds us of a world outside our own that desperately needs our compassion.
Music fans had plenty to inspire them with rockumentaries—The Night of the Triffids, When You're Strange and Wheedles Groove—which drew huge crowds. The Family Jams took its audience on tour with a unique look at life on the road. The film opens in summer 2004, with an introduction to director Kevin Barker's family at his grandmother's 100th birthday celebration in Hawaii. Crossing the ocean Barker sets out to capture a different type of family, that of Joanna Newsom, Devendra Banhart and Vetiver, three San Francisco-based musicians about to make it big on a tour Antony Hegarty believes is a "significant moment for culture." Hampered by a car accident, an awkward father-son reunion and personal tragedy, the travelling group manages to pull together, sharing experiences of writing, performing and their deep connections to music. The Family Jams offers viewers an incredibly honest look into the world of those with a love and a talent for music, and the family-like bonds that can form over a tune.
A highlight of the Late Shows, The House of the Devil captured the true spirit of the fright flick. Set in the 1980s, Director Ti West's 16mm film follows Samantha, a cash-poor student desperate to move out of her college dorm. Finding her dream lodging, Samantha takes an out-of-town babysitting job to pay her security deposit, only to realise her employers are not exactly kosher. With a genuine selection of 80s sets, costumes, cinematography and lingo, The House of the Devil's slow-building tension plays true to such horror classics as Rosemary's Baby and When A Stranger Calls.
One of the many premieres at Revelation this year was popular animated feature Metropia, directed by Egyptian-Swedish animator and producer Tarik Saleh. Set in Europe in 2024, Metropia depicts a bleak world where natural resources are depleted and global financial markets have collapsed, leaving people to labour in their ruin. Underground tunnels connect most of Europe, yet conspiracy theorist Roger feels something's amiss. Battling inner voices he sets out alongside a mysteriously familiar stranger to uncover a bizarre scheme. Voiced by Vincent Gallo and Juliette Lewis, the film echoes the building isolation and paranoia of today's world. With incredible attention to detail and use of photomontage Metropia appeals to animation enthusiasts as well as those not yet fans of the genre.
Continuing with the dystopian theme, One Hundred Mornings took its audience to a not-so-distant post-apocalyptic world. Setting out to create a film that captures the director's worst fears, Conor Horgan's feature explores the consequences of a societal breakdown and the conflicts that arise between "groundless optimism and pessimistic realism." Following an unknown catastrophic event, two couples occupy a cabin hidden away within an Irish mountain village, fighting off hungry wanderers, corrupt police, infidelity and boredom. Drawing on the chaotic social unrest of post-Hurricane Katrina New Orleans, Horgan sets building animosity and silent conflicts against minimal dialogue and beautiful cinematography—a nod to the director's formal training in photography. One Hundred Mornings depicts an uncomfortable reality we all face should our fragile existence take a turn for the worse.
No doubt a crucial training ground for WA talent, Get Your Shorts On! showcased a number of short films from Western Australian filmmakers. Among the impressive line-up, the Corrie Jones-directed film Water follows the struggles of eight year-old Toby, wanting a normal life that his mentally-disabled father cannot provide. Set in a seaside community, Water quietly exposes some of the untold difficulties families and carers of the disabled face, delivering an emotional punch usually hard to capture in short-length cinema.
Denise Groves' short doco, My Nan & the Yandi, tells the story of how a small piece of metal, the 'yandi', saw the filmmaker's grandmother and hundreds of Aboriginal people through the decade-long Pilbara strike of 1946. In separating tantalite, tin and gold from the soil, the yandi offered an alternative income for jobless families fighting for wages instead of just rations. Filmed in Western Australia's Marble Bar, Groves' delightful short captures the resourcefulness and resilience of the Roy Hill Njarparlies, as told by 'Nan' herself.
A Special Event highlight in the 2010 program, the Best of Domefest, sampled a number of international films created over the last seven years for the 180-degrees 'fulldome' environment. Traditionally an Albuquerque (US) festival, Domefest screened here at the Horizon Planetarium, featuring snippets of large-format film that journeyed beyond the typical space-themed content to include immersive art and storytelling works that explore the surround experience. Australian Network for Art and Technology's Program Manager of Art Science, Vicki Sowry, opened the event, presenting a number of exciting ideas for the format including a fulldome horror flick—sure to leave audiences with nowhere to turn short of closing their eyes. The night's schedule included a number of trippy audio-visual pieces, some leaving the audience slightly woozy. Two Black Hole excerpts unravelled some of the fascinating mysteries of the space phenomenon but left viewers wanting a little more, while Seeds of Spring ditched space altogether, following a time-lapse of a quirky, bearded farmer planting and raising a crop from greenhouse to field.
Emerging in the 1990s, fulldome video technology has come far, offering a wonderful opportunity for filmmakers to engage audiences in a whole new way—an approach the festival truly champions.
Revelation eschews big budget blockbusters and celebrities that most people mistake for cinema, instead applauding innovation. From low-budget Mumblecore experiments and off-beat documentaries through to the RevCon conferences on cinema and screen culture, the festival's films are no mere time-kills; they take you places. One of Australia's most idiosyncratic film festivals, Revelation rebelliously celebrates the true spirit of cinema. Some of the best films in this year's line-up were not first choices, so my tip for future audiences is, challenge yourself.
Revelation Perth International Film Festival, director Jack Sargeant, Perth, July 8-18
RealTime issue #99 Oct-Nov 2010 pg. 23
© Claudia Cukrov; for permission to reproduce apply to realtime@realtimearts.net