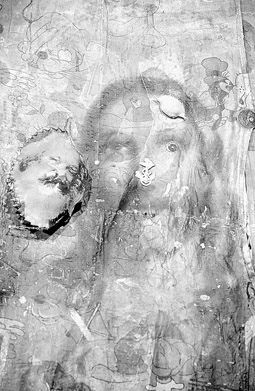 Alwin Reamillo, Semena Santa Cruxtations, 2001 (detail)
Semena Santa: Castillian Holy Week/ semen-seamen
Crux: Latin term for the Southern Cross
Cruxtations: crux + stations/marine class of invertebrates including crabs
Semena Santa Cruxtations is a multiplicitous, mimetic, contradictory, carnivalesque, neo-Baroque, semi-collaborative installation/event by Perth-based Manila-born artist Alwin Raemillo. The work is at present journeying from Manila to Hong Kong to Darwin to Melbourne to Fremantle. It involves large quantities of local crabs and beach sand, a collection of small horns made from film strips and various other exotic items of Filipino kitsch, and Mickey Mouse printed bed sheets with photocopy transfers of images of The Last Supper and Ronald McDonald. Coming from the densely hybrid society of the Philippines, Raemillo displays a mischievous contempt for the hypocrisies of the Catholic church and the greed of globalised business interests. International fast food chains are a favourite target. Ronald McDonald, with crown of thorns and spattered with blood, is portrayed as a modern day Christ, Mickey Mouse stands guard over a herd of sheep and cattle ready for slaughter, and The Last Supper is stabbed with fondue forks.
On the opening night, a relaxed and gently anarchic event which encouraged impromptu audience intervention in the site, Raemillo read from and burned copies of the Bible translated into Bahasa Indonesian and a creole for Indigenous Australians. The crabs, caught or bought locally, cooked and eaten in a Filipino style feast, were cleaned and printed with photocopy emulsion transfers of maps, money, food packaging logos and various icons of Australiana, wired to the gallery walls and embedded in the sand that covered the floor in diminutive hills. They became a multilayered metaphor: for the cancerous spread of globalised business, the liminal realm between 2 environments/cultures and the nonlinear, nonprogressive movement of social change. In the modern world radical differences are clustered together, constructing irresolvable contradictions. An ethics embracing cultural diversity becomes a necessity.
Tropical Darwin, on the edge, where the complex and brutal consequences of colonisation are daily confronted and a migrant sensibility seems the norm (everyone here is in some sense displaced) was a perfect site for Raemillo's project. It was offered and received warmly and generously and we hope to see him back.
In a sense, his postmodern strategies of appropriation and conflation served as a supportive framework for the rituals of shared labour, dialogue and festivity that were the real life of the project. Sure the artist brought his agenda and props with him and the rules of participation were his. He also created an inclusive, nonprecious and pleasurable environment for creative practice that was consistent with his notions of local revolution and acceptance of the realities of cultural difference. His communication skills are an intrinsic component of his work; he is a keen advocate of collaborative practice (he has done several projects with his partner, Juliet Lee) and a thoughtful pedagogue. Semena Santa Cruxtations was not only an installation: it was fishing, feasting, discussing, performing and socialising. The crabs got caught, the weather was perfect for the dinner, a positive sense of artistic
camaraderie evolved.
We have just held our first post-Semena Santa Cruxtations dinner on the art school lawn. We intend to make them a regular event.
Semena Santa Cruxtations, Alwin Reamillo, 24HR Art, Darwin, August 17-September 1
RealTime issue #45 Oct-Nov 2001 pg. 25
© Anne Ooms; for permission to reproduce apply to realtime@realtimearts.net