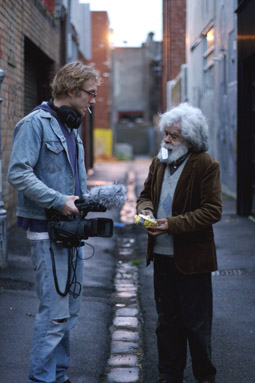 photo Adam Arkapaw
director Amiel Courtin-Wilson and Jack Charles, Bastardy
WHEN TOM ZUBRYCKI TOOK TO THE STAGE AT THE AUSTRALIAN INTERNATIONAL DOCUMENTARY CONFERENCE EARLIER THIS YEAR, TO ACCEPT THE STANLEY HAWES AWARD FOR HIS CONTRIBUTION TO THE AUSTRALIAN DOCUMENTARY SECTOR, HE DID SO WITH HIS CROSSHAIRS TRAINED ON TWO OF THE SECTOR'S BIGGEST GAME.
"At the ABC and SBS," Zubrycki warned in his acceptance speech, "documentary slots are becoming more prescribed and rigid. Programs are tending to be format-driven and lighter in content. The range of subjects, viewpoints and ideas hitting our screens is narrowing."
An independent filmmaker for over 25 years, Zubrycki accused the public broadcasters of exerting too much influence on the style and substance of the documentaries being made in Australia, as well as making programming decisions that ultimately stymied emerging filmmakers at the expense of those already established. "Don't get me wrong," he said. "We are pleased public broadcasters are commissioning our ideas. But is this concentration of decision-making good for the industry? For diversity?"
For many—filmmakers, critics and bureaucrats alike—the answer is an emphatic no. Zubrycki's comments come at a time when, for all the critical acclaim and popular success enjoyed by certain high-profile documentaries and their makers, the vast majority of non-fiction films made in this country reek of a paint-by-numbers sameness. This tends to be the case regardless of whether a film is intended for theatrical release or broadcast: with important exceptions—Anna Broinowski's Forbidden Lie$, Gillian Armstrong's Unfolding Florence, and so on—most films choose not to experiment with visual language or create cinematic forms unique and relevant to their content, limiting themselves instead to a handful of only the most anaemic televisual tropes. All but a few devote the balance of their attention to individual psychology at the expense of social and cultural phenomena, or else tend towards the inoffensive genres of history and the natural sciences.
"There is a certain rigidity creeping in at the level of both form and content," Zubrycki says. "Character and narrative-based documentaries are getting rarer and rarer. Of course, this is ironic because those are exactly the sorts of films that distributors around the world are crying out for."
Much of the problem, he says, can be traced to the disappearance of half-hour and feature-length documentary slots from the public broadcasters' line-ups, with high-concept documentary series taking precedence where once stand-alone films, by both emerging and established filmmakers, were the norm.
"The 30-minute documentary slot on SBS, Inside Australia, which was canned two years ago, was very important," Zubrycki says. "Admittedly, the quality varied, but the series also produced some very good programs, which secured the broadcasters good ratings and gave emerging filmmakers an opportunity to give vent to their creativity on a project that was often original and unique.
"It's too much to ask a filmmaker to have a four-part series of half-hour episodes as their first substantial documentary project. The risk of failure is too high. I wouldn't be surprised if SBS follows the ABC in future by reducing its risk-taking and commissioning almost solely from established filmmakers."
"What happens to emerging filmmakers then?" he asks. "It's back to do-it-yourself filmmaking, which is fine if you're making your first film, but hard if you want to begin establishing a career."
Not that the public broadcasters, with their increasingly intransigent frameworks, are necessarily the best place for an established filmmaker, either. "I think what Amiel Courtin-Wilson is doing in Melbourne is really interesting," Zubrycki says. "He tends to work with his protagonists for years, as he did with Jack Charles on Bastardy, and often has several films on the go at any one time. Then there's John Hughes, who's evolved his own masterly and unique style of essay film and whose new doco, Indonesia Calling, is playing at the Sydney Film Festival…But we have very few documentary auteurs in this country, which is mainly due to the dominance of the television-biased funding model."
Zubrycki admits that alternatives do exist for filmmakers whose work does not tick the usual boxes. He believes that Screen Australia's Special Documentary Fund, which has no market attachment requirements and has been set up to benefit those who wish to work independently of the broadcasters, needs to be expanded, noting with irony the fact that a number of films made possible through the scheme have since been sold back to channels that originally turned them down. He is also interested in the role that philanthropy could come to play in the sector over the course of the next 10 years. "In countries like the United States and Britain there are philanthropic institutions that actively support documentaries," he says. "While that has been slow to take off in Australia, the Documentary Australia Foundation has been doing some great work in the area. It's also very encouraging that some of the country's film festivals are supporting documentaries."
A recent alternative has emerged: the South Australian Film Corporation's new Documentary Innovation Fund, which seeks to fund those projects that fall outside the funding and programming requirements of the public broadcasters.
"The ABC and SBS have for a long time been the agenda setters for documentary," SAFC CEO Richard Harris says, "mainly because the commercial networks have always assumed there is no mass audience for docos." (A curiously ironic view, he notes, given the commercial networks' "ravenous" appetite for reality-based hospital, police and surf-lifesaving programs.)
"It is a fact that the ABC and SBS have recently moved away from their interest in one-offs and are more interested in series. I also think it is safe to say that they have generally become more risk-averse and more audience-driven in their approach. The public broadcasters have become more devoted to developing schedules and timeslots, where people know what to expect at a certain time, which is interesting in and of itself given that this is in fact a time in which audiences are starting to uncouple themselves from the idea of 'appointment viewing'."
"As a result," he says, "I do feel that the balance has tipped and that there appears to be little room for programs that do not fit what have become more rigid schedule dictates. I think that this is unfortunate."
The Documentary Innovation Fund, which closed its first round of applications in May, was born of what Harris describes as the funding body's commitment to diversity. "There needed to be somewhere where the broadcasters were not the key gatekeepers," he says. "While the broadcasters are major players—and thank god they are—they shouldn't be the only ones. And this is particularly the case in South Australia where, with a few exceptions, we have a somewhat nascent documentary sector that doesn't yet have the runs on the board."
As for the question of where certain documentaries belong—on the big screen or the small one—Harris is convinced it will become less and less relevant as convergence and crossover become more and more prevalent.
"The line between cinema and television is such a vexed issue," he says. "I do think it's interesting that Bastardy, which was made with almost no budget, ultimately screened both theatrically and on the ABC. Perhaps that serves as an example of the new convergent world we are living in. If the boundaries are expanding, it's because there's no longer the same distinction between what should be seen on the theatrical screen and what should be seen on television or even on the net. I can't help but feel that's a good thing."
Harris's reference to the internet here does not quite convey the level of importance he ascribes to digital technologies and their potential uses. Indeed, both he and Zubrycki believe the future of innovative documentary filmmaking is ultimately to be written in binary, with the low-budget, self-distribution paradigm that digital video and the internet have made possible set to play an ever more crucial role.
"Digital distribution, both online and on theatrical screens, is going to offer exciting opportunities to those who are positioned to take advantage of them," Harris says. "This will be the space for those filmmakers who have a true authorial voice. I think that form and subject matter will actually become more interesting in this space and that the influence of the broadcasters on these documentaries will become less and less."
Zubrycki agrees. "The production system has changed almost beyond recognition in the last 10 years," he says, "and that in turn has expanded documentary language." And we can expect to see a similar evolution over the course of the next 10. "Faster download speeds are going to open up new horizons for distribution and should provide a new and useful income stream for producers," he says.
For the most part, though, Zubrycki can't see his big-game targets going down any time soon. "I think the current state of affairs will continue for a while for the simple reason that the industry wouldn't survive were it not for television," he says. "Television—both terrestrial and increasingly pay—will remain the main source of funding for documentaries."
But Harris, who readily describes himself as an optimist, is not so sure. The big-game may be lumbering along as ever, he suggests, but with new and exotic mammals on the horizon, perhaps some much-needed change is already underway. "It's a bit of mixed bag really," he says. "With the conventional players vacating the space, I actually think the future options for documentary filmmakers are going to be quite exciting."
For Tom Zubrycki's Stanley Hawes Award address, go to www.tomzubrycki.com/read/2481982295.html. Applications for the current round of the South Australian Documentary Innovation Fund closed on May 17, but you can read about it on the Programs page at www.safilm.com.au.
RealTime issue #97 June-July 2010 pg. 17
© Matthew Clayfield; for permission to reproduce apply to realtime@realtimearts.net