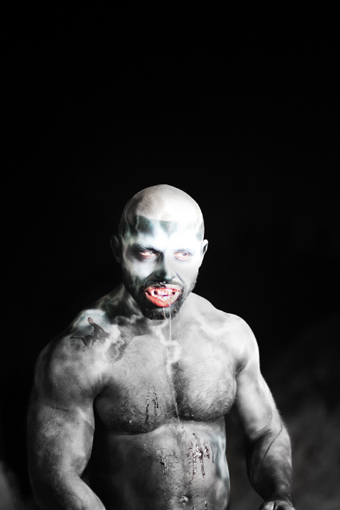 photo Arno Roca
François Sagat, LA Zombie
AS MARKETING SPIELS GO, MELBOURNE INTERNATIONAL FILM FESTIVAL'S DESCRIPTION OF BRUCE LABRUCE'S LA ZOMBIE CERTAINLY PIQUED INTEREST WITH ITS CLAIM THAT THE FILM FEATURED "PLENTY OF WOUND-SHAGGING AND MORE PENISES THAN YOU CAN SHAKE A STICK AT" (MIFF). EVIDENTLY IT GARNERED ATTENTION FROM THE FILM CLASSIFICATION BOARD, WHICH REQUESTED THAT THE FILM BE SUBMITTED FOR REVIEW AND SUBSEQUENTLY REFUSED TO GRANT CLASSIFICATION EXEMPTION, EFFECTIVELY STYMIEING MIFF'S SCREENING.
Film festivals are normally exempt from the need for certification for the movies they program, as most are unlikely to be released in the domestic market and many will only screen at special events. In recent years it has been rare for a film to be deemed unsuitable even for a festival screening (the last instance was Larry Clark's Ken Park in 2003, see RT56).
MIFF decided not to contest the decision as the cost of an appeal was prohibitively expensive for the festival (a not-for-profit organisation) and they were advised that any appeal was unlikely to be successful. Further, events happened so close to the festival's commencement that time factors precluded any appeals process. Technically the film was not banned; rather it was not granted a festival exemption, meaning that it could still be screened if formally classified. Of course the classification process depends on a distributor acquiring the rights, submitting the film for classification and then releasing the film accordingly (with a certificate and perhaps in a cut version)—an expensive, commercial process beyond the financial reach or cultural remit of most film festivals.
The media who readily supported MIFF in 2009, when controversy reigned over the repeated hacking of the festival's website following its programming of The 10 Conditions of Love, appeared remarkably quiet about the censorship of LA Zombie, dutifully reporting the story and then, apparently letting it die. In the contemporary digital economy it appears to be a given that those interested would probably download the film to watch it. Noticeably, however, the Sex Party's Fiona Patten drew attention to the censorship of the film as part of a longer ongoing commentary on the issue of censorship in Australia (see press release here).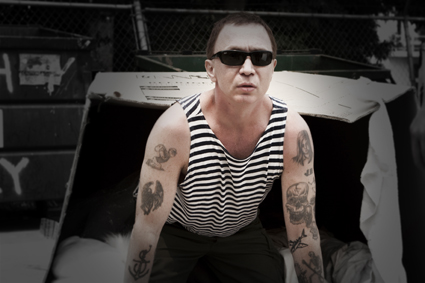 photo Arno Roca
Bruce LaBruce
FFor those unfamiliar with the director, Bruce LaBruce is an independent filmmaker who emerged from the queer punk scene. His films would no doubt be considered confrontational by those unfamiliar with the radical cinema culture that flourishes beyond the confines of the multiplex screen. His work often depicts sex and has been described as 'porn,' although such a description belies its aesthetic velocity and its numerous references to film history and wider radical culture. LA Zombie ups the ante by playing with the horror genre, a form already considered by many as 'low' culture. But perhaps the real issue is that the film is 'gay'. The notion of a same sex zombie 'porn' movie is apparently too much for many.
Enter Richard Wolstencroft, the perennial troublemaker of Australian cinema who founded the Melbourne Underground Film Festival when his own work was rejected by MIFF. Since 2000, MUFF has screened cult, genre and underground works, while Wolstencroft himself has frequently railed against the local industry's more conservative aesthetic and cultural trends. He has authored numerous screeds against what he portrays as the dull and clichéd national cinema in favour of an industry that produces low budget genre movies and radical art house works. Somewhat notorious for his confrontational attitude and his occasionally infuriating pronouncements, Wolstencroft is one of a dedicated handful of curator/commentators anxious to shake up the complacency of many, including their apparent tolerance of censorship. Amongst numerous other 'infamous' works, MUFF has programmed Pier Paolo Pasolini's Salo (1975) and Tony Comstock's indie lesbian movie Ashley And Kisha: Finding the Right Fit (2007), both of which had been banned.
LaBruce was a festival guest at MUFF in 2004 with his film Raspberry Reich. In the same week that LA Zombie was pulled from MIFF's program, Wolstencroft announced he would organise a civil disobedience screening in Melbourne with LaBruce's blessing. While nobody was sure what the police would do, the day before the screening the MUFF director hinted in a Facebook post that he believed the event would go ahead unimpeded, and in the end it did. Ostensibly an addition to this year's MUFF closing night, the screening took place on Sunday August 29 to a packed house. While MIFF had been unable to fight in this manner, MUFF had publicly declared their decision to stare down the censor.
While rudimentary classification may help uninformed audiences make decisions, censorship is always an ugly beast and should be rigorously fought for reasons of both aesthetic choice and free speech. MUFF rightly challenged the ban. But it did more than this—in beating the ban MUFF has raised some fundamental questions about the way in which films are seen in Australia. Like the low budget genre films that Wolstencroft so often champions, it is the smaller players within Australian film culture that are answering to the challenges of contemporary cinema, the underground and genre festivals, the independent curators and programmers. It is these smaller organisations and individuals that posses the mutability that enables them to respond to events in a manner and at a speed difficult for larger festivals.
Festivals such as MUFF have long fought for freedom of screen culture and should be applauded for their ongoing defiance. More importantly, in screening LA Zombie to an appreciative audience, MUFF has challenged the hegemony of current screen culture. Simply put, if the little guys can fight censorship, then all those who seek an active, lively cinema in Australia should now pick up the challenge and fight to truly free the cinema.
LA Zombie, writer, director Bruce LaBruce, producer Owen Hawk
This article was first published online Sept 20, 2010
RealTime issue #99 Oct-Nov 2010 pg. 26
© Jack Sargeant; for permission to reproduce apply to realtime@realtimearts.net