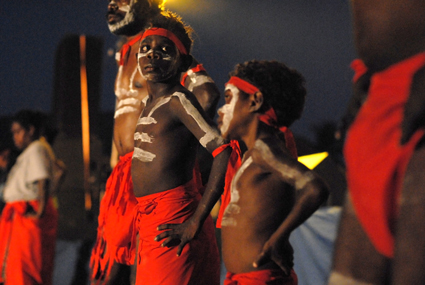 photo Dominic O'Brien
Groote Eylandt Dancers, Mahbilil Festival
IT'S THE GOLDEN HOUR BY THE SHORES OF LAKE JABIRU, 300KM FROM DARWIN, AT KAKADU IN THE NORTHERN TERRITORY. AS THE MAHBILIL FESTIVAL SEGUES FROM AN AFTERNOON OF DODGEM CARS AND EXHIBITIONS INTO AN EVENING PROGRAM OF LIVE MUSIC AND DANCE, A GENTLE BREEZE ARRIVES. THIS IS THE 'MAHBILIL' FROM WHICH THIS LOCAL COMMUNITY FESTIVAL GETS ITS NAME, AND FITTINGLY, AS IT HITS THE GRASSY GREEN SHORES OF THE TOWN'S MANMADE LAKE, SO DO THE CROWDS.
The local miners and their families, the Bininj and Mirrar people who are the traditional custodians of Kakadu, the park rangers and outback tour operators who have been manning stalls throughout the hot afternoon, all gather before the Mahbilil Festival stage to enjoy the entertainment and to party on into the night.
In this, his third festival, producer Andrish Saint-Claire has managed to combine a smorgasbord of arts and activities where there is indeed something for everyone. From dodgem cars and waterslides to demonstrations of traditional Indigenous arts and crafts and Magpie Goose cooking competitions, variety is the order of the day.
The festival began at midday, as a family afternoon of stalls, fun rides and a showcase of performances and exhibitions by local children from all the workshops produced by the Kakadu Youth Centre through the Jabiru Area School. The atmosphere is reminiscent of the local markets for which Darwin is renowned—friendly, familiar, laid back. This is the time to sample buffalo stew and barbecued magpie goose cooked up by tour operators Andy Ralph and his wife Jen from the Kakadu Culture Camp; to chat with Kakadu rangers about killer crocs (if one ever bites your leg, punch it in the eye); and to sit with the local Bininj women as they weave their baskets out of pandanus painstakingly plucked from the bush and stripped, split and boiled up in ochre dyes over the camp fire. A casual attitude belies the deft artistry of these traditional women—and they have a canny knack, too, of always managing to find the coolest spot, anywhere, to spread out their tarp and pass the afternoon.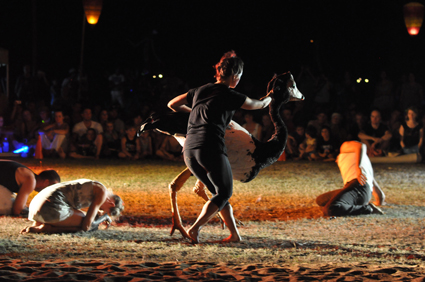 photo Dominic O'Brien
Goose Lagoon, Mahbilil Festival
Dance was a feature of this year's Mahbilil Festival, and again, the program was diverse. Balinese dance group Tunas Mekar, based in Darwin, brought a touch of Asia to a captivated bush audience and excerpts from Gary Lang's Darwin Festival hit Goose Lagoon added a contemporary flavour to the program. The Bunggul—the traditional Indigenous performances that are part of any Top End Festival on Country—was led by the Groote Eylandt Dancers and Band. Displaying a great capacity for invention, these Groote Eylandt songmen were backed up by a rock'n'roll outfit with electric guitar, which added a foot-tapping beat to their mesmerising droning tones. They were definitely a crowd favourite, followed closely by the contemporary New Zealand 'Maori Poi' dance, which was taught and led by a local Maori teacher at the Jabiru Area School and performed with luminous 'pois.'
Adding further spice to the multicultural mix was a Congolese dance troupe that appeared later in the program: such a confluence of cultures and influences has never been seen in Jabiru.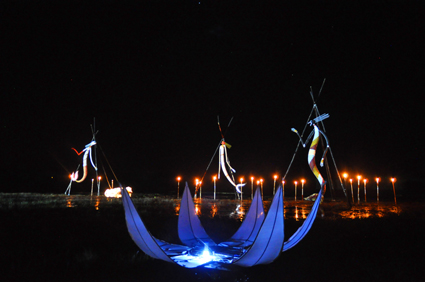 photo Dominic O'Brien
Techy Masero, Connor Fox and collaborators, Mahbilil Festival
For all of this action and activity, the artistic highlight of the Mahbilil Festival was not by the lake but on it: a stunning installation of three giant traditional Indigenous figures, surrounded by giant floating lotus flowers, that stood sentry over the proceedings. Created by Darwin artist Techy Masero and a group of Territory artists who regularly work in Jabiru, the sculptures represented yawk yawks—the half-human half-fish mythological creatures, which, according to Indigenous cosmology, inhabit waterholes around the Top End.
Further artistic innovation was to be seen in the giant 'turtle' installation that formed part of the children's parade. The turtle was both a canvas for a sequence of beautiful media projections and an interactive 'set' for the children of Jabiru, who emerged from the turtle's mouth at twilight.
Mahbilil came to a close at midnight, with the rocking sounds of the Sunrize Band from Maningrida. The promise of something for everyone was met: this was an event that one could wander into and around at leisure, dipping into events and activities here and there, or, alternatively, settling onto a picnic blanket to watch the parade pass by—clowns, puppeteers and stilt walkers weaving their way through the crowd.
Staging any event in a remote area is a challenge, to say the least. And in Jabiru, which is a mining town, a regional hub, a gateway to a national park, there are entirely different 'types' if you like, living lives that never intersect. Yet with Mahbilil, Saint-Claire—a Darwin-based arts worker with extensive experience in remote Northern Territory communities—and his team have succeeded in bringing the community together for 12 hours by the shores of their manmade lake.
This is the strength of community arts. This is why, in this age of instant entertainment and constant distraction, they survive. Indeed Festivals on Country in the remote Northern Territory are thriving: they're a live, visceral, dusty counterpoint to cyberspace, and combine contemporary culture with traditions and customs stretching back thousands of years.
As a relatively young venture, Mahbilil is still finding its way. It is certainly a festival to watch. The strong arts component—particularly the twilight art installations—set it apart from other regional festivals and has great potential to develop even further. With the strong support of the people, artists and sponsors, the festival looks set to become a feature of the Top End's already flourishing Dry Season Calendar.
Mahbilil Festival, Jabiru Lake, Jabiru, Northern Territory, Sept 11
RealTime issue #99 Oct-Nov 2010 pg. web
© Jane Hampson; for permission to reproduce apply to realtime@realtimearts.net