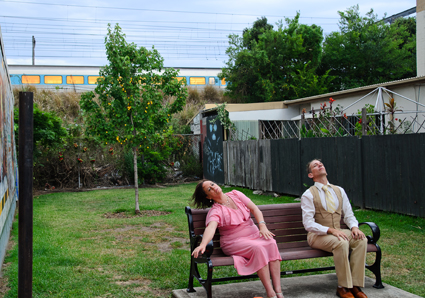 photo Lucy Parakhina
Julie-Anne Long and Martin del Amo, Benched, Micro Parks 2013, presented by Performance Space in Association with Sydney Festival 2013
BEGINNING AT CARRIAGEWORKS, WE PICKED UP A MAP AND STARTED THE SELF-GUIDED TREK THROUGH NEWTOWN AND ERSKINEVILLE TO MINIATURE PARKS IN BLANK LOTS AND TRIANGULAR CORNER BLOCKS FOR MICRO PARKS, A COLLECTION OF FOUR FREE PERFORMANCE WORKS PRESENTED BY PERFORMANCE SPACE AND SYDNEY FESTIVAL.
Benched, Julie-Anne Long and Martin Del Amo's dance piece, was performed in a wee plot wedged between two houses. The space was charmingly long and skinny with one graffitied wall, one lone central tree, one sunny park bench beyond the reach of the tree's shade, a partially vine-covered chicken wire back fence and a whole lot of grass. A backdrop of trains pulling into Erskineville Station complemented the dancers' slow motion entrance and framed the entire performance as serene and other-worldly. Serenity, à la The Castle, played into the performers' Italian-holiday themed exploration of sitting postures lifted from courtroom drama, sporting matches and talk shows. 'Marty' and 'Julie' each assumed a sequence of seated stances as solos—individuals cohabiting the bench. Then the two swapped performances, lending new perspectives on the ways certain shapes are gendered and enculturated, changing the stories of these two solitary characters amid an imaginary, crowded grandstand. Props, including a fluoro orange esky filled with colourful drinks melded the performance with the park setting.
Perched on little stools, the audience grew. Kids scrambled in front of us to laze on the grass. Dogs too. Most of us were sitting in full sun on a 35 degree day, so we had great sympathy for the dancers who were glaring back at the sun in a "you won't break us" stand-off. Long and Del Amo won and the sky opened up late afternoon Sunday, closing the third day of performances two hours early.
Those attendees who would complain about the elements complained about the elements. "First it was too hot, and then it rained." Unless audiences adopt a Zen-like mindset and accept that impending rain and possible cancellation are part of the art—the fragility that makes an event like this special—disappointment is inevitable. The organisers had tried to provide shade and refreshments, knowing that walking between mini parks would tire some visitors. At Benched an array of fruit, Italian soft drinks and amaretto cookies were silver-plattered around after the half-hour performance.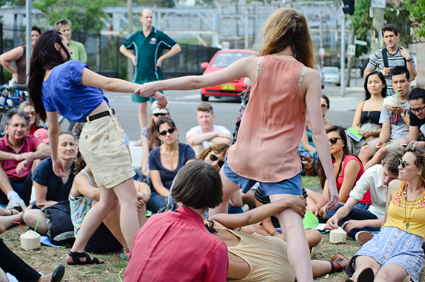 photo Lucy Parakhina
I am an Island, Jess Olivieri with the Parachutes for Ladies, Micro Parks 2013, presented by Performance Space in Association with Sydney Festival 2013
At I am an Island, a short opera by Jess Olivieri and her performance group Parachutes for Ladies, whole coconuts were drilled and cleaved for those willing to sit through 20 minutes of high F# soprano musings on loneliness in an urban environment. I'm not sure this opera was about the music, as no composer was mentioned in the literature. The singers, unemotionally intoning about sexy Swedish tourists and the contents of travel brochures, made me want to leave these characters to their static suffering. But baffled, along with a small crowd, I stayed to delight in the responses of unsuspecting passers-by. Train commuters' and drivers' heads turned, often in panic that someone was being hurt, and then their faces softened to general befuddlement at the sight of people congregating in an underused public park.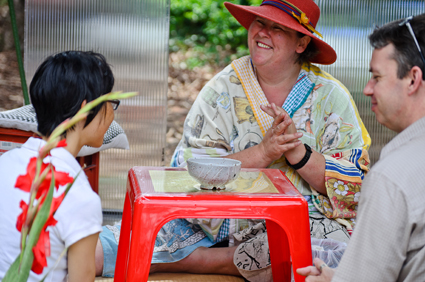 photo Lucy Parakhina
Wabi-Sabi Afternoon Tea, Sarah Goffman, Micro Parks 2013, presented by Performance Space in Association with Sydney Festival 2013
Black billy tea and Iced VoVos topped with whipped cream from a spray can were the special treat at Sarah Goffman's Wabi-Sabi Afternoon Tea. The Japanese aesthetic concept of wabi-sabi celebrates beauty in impermanence and imperfection. It nurtures that which is authentic by acknowledging three simple realities: nothing lasts, nothing is finished and nothing is perfect. Plonked down on a makeshift milk-crate pouffe, a sort of Aussie farmer's wife dressed in a kimono made of Australiana tea-towels, conversed with afternoon tea guests. After waiting for a good 35 minutes in the rain for my turn, I took off my shoes and ascended to the mini tatami podium for an intimate chat with the tea master. The jolly matron explained that her tea-house-pagoda was specially made for Micro Parks and that it would be torn down again after the three days of performance because we couldn't have local kids hurting themselves by climbing something with corners.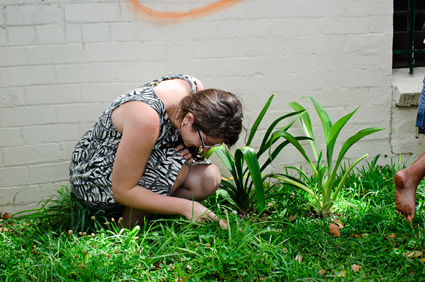 photo Lucy Parakhina
Some Extra Luck, Kate Mitchell, Micro Parks 2013, presented by Performance Space in Association with Sydney Festival 2013
The fourth contribution to Micro Parks— relocated from its spot on the event map and missed by many—was a sort of treasure hunt conceived by artist Kate Mitchell. The lucky audience became performers as they leafed through grass to find a special breed of planted four-leaf clovers.
With any luck, we'll see more of these sorts of events in Sydney's Inner West where the public are reclaiming public space. Reclaim the Lanes carried the torch into February. Where to next?
Performance Space and Sydney Festival, Micro Parks: Kate Mitchell, Sarah Goffman, Jess Olivieri with the Parachutes for Ladies, Julie-Anne Long and Martin Del Amo, various locations in Newtown and Erskineville, Sydney, Jan 11-13
RealTime issue #113 Feb-March 2013 pg. 30
© Felicity Clark; for permission to reproduce apply to realtime@realtimearts.net