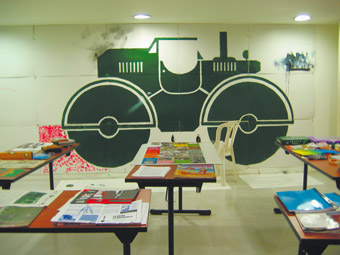 photo Caitlin Newton-Broad
Festival de Performance, Cali
Claudia Patricia Sarria, one of 5 artists of the collective Helena Producciones, meets me at Cali Airport, Colombia. She guides me onto a bus and we talk in the velvetine seats—me in my shuddering Spanish and she in her interpretive English. She draws the curtains back to reveal the sugar cane fields, the sustaining industry in this city.
In the extraordinary artist-run Festival de Performance, artists working in Central and South America bring their collective energy to a small city, made semi-legendary by sugar, salsa and 80s cocaine. The VI Festival de Performance in Cali runs on its own timetable, when it can raise resources through a generous network of local and international sponsors.
The festival is born of a small group of artists who create work internationally but are bound (by choice or the exigencies of nationhood) to live in Colombia. The predominant aesthetic is of 'direct action' and collaboration along with direct participation by the public. Helena Producciones invite a range of experienced artists and theorists to attend the festival and also place an open call throughout Colombia for proposals for live works. The young artists who respond always yield new worlds, keeping the festival risky and playful. The 5-day festival's scale is modest, the work raw and immediate and this year drew more than 70 artists from Mexico, Brazil, Venezuela, Cuba, Spain, Australia, England, France and from all over Colombia.
I arrived as a low-key ambassador for Australian works, intending to explore the possibility of exchange with this inventive artist-run group, to learn from their resourcefulness, conceptual clarity and the pleasure they generate. I also wanted to meet the others who support the festival.
Each day there were workshops, street interventions and talks held in various cultural centres, an artist-run space, plazas and disused buildings. The flavour of the festival was infused with the politics of participation, underscored by the workshop program.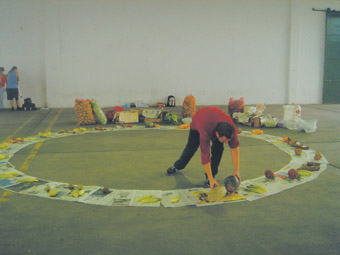 photo Caitlin Newton-Broad
Festival de Performance, Cali
Frederico Gúzman, a Spanish artist from Cevilla, ran a workshop in Cali's main cultural centre, next to the city library. Gúzman lived in Colombia for some years during the 90s and was a key member of El Cambalache based in Bogotá. For 2006, he created an open workshop called Copilandia, a space to play with ideas of free intellectual copyright, trade, barter, hybrids, thievery and sharing. This lead to an 'action' that trained a lens on the Free Trade Agreement Colombia is about to sign with the USA.
Gúzman encouraged participants, mostly local artists, to use tactile tools (stencil, ink block, photocopy and web-design) to recast materials and make new meanings. In the background people contributed to a large mural of a steamroller, covering it with graffiti and stencils, peopling it with miniature soldiers, pineapples, texts from lovers, statistics about the distribution of wealth and an array of colour against the bald propaganda image of the green machine itself.
This work resulted in an action on the final day of the festival. The artists from Helena Producciones hired an old industrial steamroller and purchased a mountain of the most luscious Colombian fruits. Gúzman and his workshop participants laid the fruits out in a huge circle. At midday, with crowds gathered, the machine headed towards the mound of fruit. People laughed and yelled at the driver, looking like a toy proletarian or gringo stooge replete with paper hat. The steamroller headed mercilessly for the fruit as the people chanted and squealed for it to stop right at the edge of the cornucopia. With a great cry and immediate chaos, the crowd in a display of pleasure, greed and necessity seized the fruit. This action had an incredible lightness and ambivalence that resonated, with people sharing pineapples and passionfruit into the evening.
La Escuela de Esgrima de Los Machetes was a workshop hosted by masters in the art of machete fighting. The old men and masters of the form, mostly in their 70s, demonstrated and taught this art of jousting to young people for 4 hours each day. Using wooden poles rather than large knives, they spoke about the history of this dance-art form, handed down from over 400 years of black slavery to liberation in Colombia. These men were as nimble as children and laughed as knives glistened around their heads. The technique is based on a hybrid of Spanish sword fighting from the 1600s and cane fieldwork. As they danced to the slapping of machetes, discussions were lead by Abelardo Miranda, a criminal lawyer who talked about the current justice system (a judge-only system), the history of colonisation and living conditions in the city of Cali. Using this loose and eloquent format, the workshop became a history lesson in a hybrid meld of cultures and performance forms.
Throughout the festival a guerilla TV station, El Vicio TV, invited passers-by into a disused bazaar to perform their skills for the camera. In this rich temporary zone people offered up everything from master cocktail juggling to examples of still life painting, creating an atlas of Cali to be screened on national television later this year.
The culmination of the festival was at La Licorera, a defunct alcohol depot comprising 3 massive warehouses located on the edge of the city. From 10am until late into the night there were consecutive performances from over 70 artists, a skating display, murals, DJs and bands. All the elements of this smart, beautiful arts event were activated by the audience.
For my talk, I brought with me documentation of 5 Australian works, showing extracts from Divide by John Gillies, Back Home by Urban Theatre Projects, Wilcannia Mob, a collective music project by Shopfront Theatre, Small Metal Objects from Back to Back theatre and Victoria Hunt and Brian Fuata's Day of Invigilation.
My selection of works was grounded in their use of public space and intervention and the exploration of the 'colonial encounter.' The audience bopped to the "Down River" hiphop sounds created by the Willcannia Mob and reeled at the violence in Back Home, confused by language and wondering about Pacific realities. The response to this small selection of Australian work got knotty amid the translation of language and context and caused a wave of debate.
The main questions that arose were around the means of production, the imprint of 'funding' on ideology, content and choice of representation, and the role or ability to translate local realisms, ironies and allegories. Although I offered a context for an Australian experience of colonialism as seen through some of the works, our deeply different histories of war, religion and economics means issues that Australians take seriously are not on the table in a place like Colombia. Attending this festival, I had the chance to engage with artists who grapple with ossified government and the explicit recklessness of capitalism, writ large in the pleasures and chaos of everyday life in Cali.
The home base for talk during the festival was an artspace established privately by the artist Oscar Muñoz and his partner Sally Muñoz. El Lugar a Dudas ("Place of Doubts" or "Room for Doubt") is a gallery/talk/library space used by young artists for screenings, building, filming and networking. It has a twin flat out the back for artist residencies and the best of the collection of international art books in Spanish and English that the Muñoz' have collected on their travels. Over lunches at El Lugar a Dudas I tuned in with my meagre Spanish to debates about state supervision of aesthetics and the paradox of funding and control. The Muñoz' response to this has been to create a micro-hub that can surf zones of uncertainty without scrutiny and can transcend the local means of production for art through international exchange.
Another fascinating organisation that came to my attention during this festival was The Triangle Arts Trust, established in London through the philanthropic support of Robert Loder. Alessio Antoniolli is the Director of Gasworks in London and is also the key organiser for the Triangle Arts Trust, established to initiate and facilitate an international network of artist-led workshops and residencies. Alessio travels the world to meet with artist collectives who want to extend and consolidate their regional connections with other artists. The VI Performance Festival de Cali was in part supported by the Triangle Arts Trust and Alessio's presence at the festival had knock-on effects, harnessing energy and support for the next wave of actions, artworks and conversation.
VI Festival de Performance-Cali, Colombia, April 25-29. Helena Producciones:
www.helenaproducciones.org; Triangle Arts Trust: www.trianglearts.org
RealTime issue #74 Aug-Sept 2006 pg. 40
© Caitlin Newton-Broad; for permission to reproduce apply to realtime@realtimearts.net