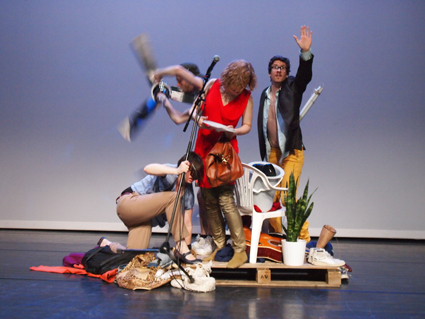 photo Mette van der Sijs
Cadavre Exquis, Kassys
"What do you make of the Sydney Festival this year?" "What's it all about?" "What should I see?" "Have you heard of any of these shows?" "Are they worth the price of a ticket?" These are questions directed at RealTime staff each year by festival-goers increasingly anxious about the level of hit and miss financial investment in ticket purchasing.
Fantasyland
In a fantasy land where you had ample cash for airfares, accommodation and tickets you could afford a mix and match festival of your own to compensate for the thin dance and music offerings in the Sydney Festival. It would include Perth Festival's dance program (Israel Galvan, Beijing Dance Theatre, Batsheva Dance Company and the WA Ballet) and Adelaide Festival's very distinctive, epic contemporary music program (a feast of overseas and Australian talent, see article). Perth also has Robert Wilson performing Krapp's Last Tape and the Nalaga'at Theatre Ensemble of blind, deaf and deaf-blind performers (see article). For more epic experience you could add Adelaide's six hour Roman Tragedies by Shakespeare from Holland's Toneelgroep Amsterdam, the five hour Matthew Barney film, River of Fundament, Robert Lepage's classic Needles and Opium, and Stone/Castro's Blackout (Australia/Portugal).
Risk is often the raison d'être for a good festival. Here are some Sydney Festival shows we thought might warrant your attention in a festival in which diversity is everything. No guarantees.
Possibilities
The festival's topliner, Sasha Waltz and Guests' version of Purcell's opera Dido and Aeneas, performed in part underwater, comes trailing clouds of critical glory, while the prominently promoted Black Diggers (writer Tom Wright, director Wesley Enoch), a new play about Indigenous Australian soldiers in World War I, is a world premiere with all the risk-taking that entails and which festivals sometimes, if less often these days, ask of their audiences. Malthouse's The Shadow King, a version of King Lear by Michael Kantor and Tom E Lewis with an Indigenous cast was greatly admired in the Melbourne International Arts Festival and is on its way too to the Adelaide and Perth Festivals. For more of the bard you might also be attracted to Othello: The Remix in which the play is "rapped" by the Chicago Shakespeare Theater featuring hip-hoppers the Q Brothers.
Other Australian works in the program include post's Oedipus Schmoedipus (see p16) at Belvoir and The Serpent's Table, by Griffin Theatre Company featuring stories and cooks—Adam Liaw and Pauline Liaw—presiding over an Australian-Asian feast. Sydney choreographer Shaun Parker's new work, Am I, features Nick Wales as composer and ex-Pina Bausch dancer Shantala Shivalingappa, among others, asking "Am I my genetic blueprint? Am I a random cosmological consequence?"
For further modern readings of the classics, Toneelgroep from Holland will present Jean Cocteau "self-destructive" monologue La Vox Humaine (1927) and Ireland's Pan Pan Theatre will stage an immersive rendition of Samuel Beckett's All That Fall where you'll sit "in a rocking chair, bathed in light and surrounded by voices," doubtless finding yourself more absurd than ever.
One of the festival's more unusual concerts will feature Tyondai Braxton's HIVE (USA), "a live multimedia performance that is part installation, part band." On the same program 100 Million Lights is the creation of Aboriginal painter Daniel Boyd working with three-panel video projection to which electronic duo Canyons respond. In the Circus Rinaldo tent, distinctive American circular breathing saxophonist Colin Stetson will create aural magic in a physically vigorous and equally hypnotic performance.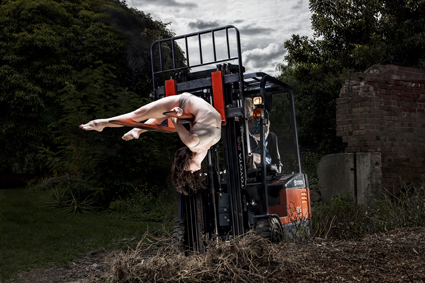 photo Justin Bernhaut
Amy Macpherson, Forklift, KAGE
About an Hour
For the cash-conscious but adventurous festival-goer there's the enormously popular and relatively inexpensive About An Hour at Carriageworks. Melbourne's KAGE "combine choreography, contortion and aerial acrobatics on and around a 2.5 tonne forklift" in Forklift, an interplay of machines—metal and flesh—performed by three women "in an industrial wasteland." (See John Bailey's interview with artistic directors Kate Denborough and Gerard Van Dyck, RT108, on the occasion of the company's 15th birthday.)
Definitely not to be missed, Marrugeku's Gudirr Gudirr focuses on dancer (and Marrugeku co-director) Dalisa Pigram and her Broome community. Directed and co-choreographed with Pigram by Koen Augustijnen from Les ballets c de la b, it's a powerful work of many moods, sad, funny and passionate; for example, Virginia Baxter at Dance Massive wrote "Disoriented movement matches angry verbiage as Pigram proselytises from the stage about the pressing need for action on Indigenous issues and follows up with a funny and expletive filled outburst, complete with waving arms, head-banging and huge projected FUCKEN text!, in sheer frustration at the time it's taking for justice and fairness to prevail" ( RT114). You can also see an interview with Pigram in our 2013 Dance Massive coverage.
Two adventurous 20th century short works, …pas à pas—nulle parte… (1993-98), a song setting by Gyorgy Kurtag (after poems by Beckett), and Into the Little Hill (2008) by George Benjamin with a libretto by leading English playwright Martin Crimp, will be staged by Sydney Chamber Opera, guaranteeing that justice will be done to two bracing works in their His Music Burns program.
One of the highlights of the 2011 Sydney Festival was Dutch company Kassys' Good Cop Bad Cop. Keith Gallasch wrote at the time, "it's a gentle fable-cum-soap opera about the lives and loves of domestic animals, acutely observed, cleverly avoiding standard mimicry (the actors dropping in and out of animality) and complemented with an onscreen commentary from the characters in a more human vein, but never too complicated so that the human-animal divide is constantly erased" (RT101). For the 2014 festival Kassys is performing Cadavre Exquis, pieces created by Kassys itself, Nature Theater of Oklahoma, Tim Crouch and Nicole Beutler, each section connected by having only seen 60 seconds of the other's work. Crouch himself is appearing in the much praised I Malvolio (RT115).
Also in the About an Hour program, in association with Performance Space, UK live artist Richard DeDomenici in The Redux Project enacts and shoots lo-fi recreations of famous movies, remaking for Sydney Mad Max Beyond Thunderdome, The Matrix and Priscilla Queen of the Desert. Also from the UK, The Arches and Rob Drummond recreate a show in which, among other tricks, a magician attempted to catch a bullet with his teeth (the same trick killed William Wonder 100 years ago).
The ever-inventive My Darling Patricia (Africa, Posts in the Paddock) are making The Piper, a show for children—with some of them incorporated into the action amid this company's puppetry and multimedia.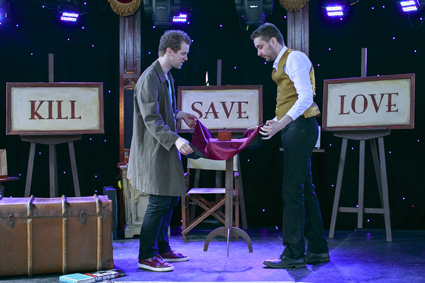 photo Victor Frankowski
Bullet Catch
Other worlds
In Woolloomooloo, Alex Davies will recreate his much admired experiential work The Very Near Future, seen at Carriageworks during ISEA this year in which you find yourself in a film set where doors keep opening onto unpredictable crime scenarios. Urszula Dawkins wrote: "It's a risky work, demanding the visitor's naïvety and sleuthing in equal parts. It capitalises on curiosity and, oddly but tellingly, reflects a digital world where we accept both constant surveillance and continuous psychological manipulation—as players, consumers, citizens." Davies is interviewed about the work by Gail Priest as part of our online ISEA feature.
Out in suburban Bidwill, near Mt Druitt, something even more out of the ordinary: artist and director Karen Therese and community members will occupy a vacant shopping centre, offering tea along with interactive cinema, political rock opera and hula-hooping in FUNPARK. RT
Sydney Festival, 2014, 9-26 Jan
RealTime issue #118 Dec-Jan 2013 pg. 17
© RealTime ; for permission to reproduce apply to realtime@realtimearts.net