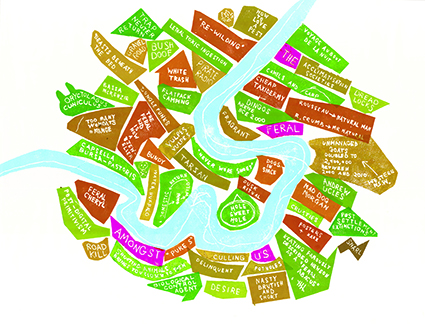 Lucas Ihlein, Siteworks 2015
The Feral Amongst Us
Perched high on a bend of the snaking Shoalhaven River, the stunning grounds of Bundanon Trust's Riversdale site will be the location for SITEWORKS 2015. The annual 'welcoming of Spring' gathering will host a range of artists, academics, environmentalists and horticulturalists for a one-day exploration of the theme and/or provocation "the feral amongst us."
Chief Programs Officer John Baylis (founding member of the Sydney Front, dramaturg, executive producer, former Australia Council Theatre Board Manager and arts advocate) took up the post in 2014 after moving from Sydney. He directs this year's event, having assembled a diverse set of artists and speakers to deepen the conversation on the ideas and situated realities of the feral.
In our phone conversation Baylis tells me that beside its literal meanings, 'the feral' provokes questions about "what is authentic, or inauthentic?" "What should, or shouldn't be there?" This tension is obviously expressed in the landscape. Bundanon is a "living farm" carpeted with invasive plant species like lantana and fireweed. The external edges of the farm are a visible mausoleum dotted with impressive tabernacles of 'land managed' lantana bushes exposed to their bone. Removing lantana, Baylis explains, "can lead to new monocultures," implying a precarious balance to maintain from both nature's standpoint and how human beings decide to intervene.
The feral also introduces tension between what is universally "desirable and undesirable," says Baylis, stretching the theme as a trope for those welcome and not welcome within our borders—not to mention our city limits and affluent neighbourhoods. Notwithstanding where the discussion could go, artists have been given the freedom to respond to the theme in-situ, transplanting themselves into "an inappropriate place" as alien-other (Rakini Devi's U.F.O. Unidentified Female Object) or "being where they should not be" in the deeper bodily investigations of one's moving skin (Rosalind Crisp's Blast scum cull me dead in a body borrowed).
Others will deviantly strip the existing built environment via anti-context strategies: what emerges that is new? (Sarah Breen Lovett and UTS design and architecture students); or animate prehistoric beasts and the wilds of the imagination: what is lurking out there? (Erth's Dinosaur and Beast). Some will invade with foreign or wayward emergent structures (Alan Schacher collaborating with NIDA stage design students and Amanda Parer with her large illuminated rabbits, cute and pestilent in her sculpture titled Intrude) or project onto derelict white goods for a mini bush-doof-cum-disco with Zender Bender.
The feral has given rise to an incongruent filmic collage of mammals who really do not belong together (directors Jamie and Aspasia Leonarder) and a filmic moment of male mammalians that do—with a fair bit of twisted gladwrap in between (Branch Nebula's Whelping Box). There is the invitation to temporarily assemble and inhabit a pocket of bush with the bare and exhausted minimum (Brogan Bunt's Flat Pack Feral) or enter and immerse oneself in the tiny Babylonian sonic spaces of Nigel Helyer (of floating biopod fame, Siteworks 2014) scattered high on the hilly lawn. Beyond the pasture into the plants, Diego Bonetto will lead others on a journey to fossick for the feral. Team Mess will be in 'radio' residence, speaking with performers, experts and punters, provoking conversation and gathering up all the discursive bits—performatively so.
When asked about the significance of the annual SITEWORKS for Bundanon's program, Baylis answers that it is the "fundamental" moment in the calendar when "all the strands come together" in this, their "signature event." SITEWORKS draws from the unique national artist-in-residence program where many come year after year—a gift from the Boyds: "a gift from artist to artist". It also connects with the surrounding community of the Shoalhaven area, including the Wodi Wodi people of the Yuin Nation. This year Branch Nebula (Lee Wilson and Mirabelle Wouters) will be working with local community young people in Nowra on a parkour piece to take place in the bush during the event. Fences, concrete facades, lampposts and garbage bins give way to branches, logs and stumps. In the aftermath, Wilson and Wouters will hit the skate park in Nowra to collaborate with local talent. The outreach of the single day event lives on.
Since inception SITEWORKS has been a nexus of artists, scientists, horticulturalists and environmentalists coming together through research, presentation and conversation to address the future of the environment and the human race. This year, in a "non-deliberate shift" from the usual heavy program of star-studded scientists, the feral is calling on the expertise of well-known artistic director of large events: Robyn Archer; Professor Adrian Franklin, sociologist and prolific author of many books on the human, animals and nature; Dr Fiona Probyn Rapsey, specialist on race, species and gender; Richard Goodwin, architect, artist and theorist, known for his parasitic formations and interventions; and Clarence Slockee, a dancer, musician and Mindjingbal man of the Bundgalung tribe who will talk feral plants. The feral too calls out to biologist Tim Low, author of Feral Future and New Nature. These books offer a unique perspective on how invasive and native creatures co-create conservation problems in their antagonism: a collision and collusion well worth considering.
According to Aristotle those who live outside of society must be either a beast or a god. By the time we get to Hobbes' and Rousseau's diagnoses of human nature we are no better than beasts, and certainly nowhere near being gods. But we are tidily contracted with clear lines of civility and saved from our "brutish" selves as Lucas Ihlein so clearly "mind maps" with his handmade print The Feral amongst Us (pictured). Whether human, beast, native or invader, whether within society or on the margins, the feral is among us, reviled and celebrated; and in exaggerated measure this coming 26 September.
—
Read Jodie McNeilly's response to the 2014 SITEWORKS.
Bundanon, SITEWORKS 2015, Riversdale Property, 170 Riversdale Road, Illaroo, NSW, Free, 12-10pm, 26 Sept
https://bundanon.com.au/whats-on/siteworks-2015/
RealTime issue #128 Aug-Sept 2015 pg. web only
© Jodie McNeilly; for permission to reproduce apply to realtime@realtimearts.net