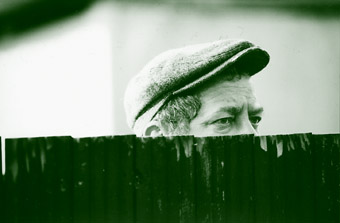 photo Michelle Freccero
Leonid Dobrinscki, The Third Note
Hidden away in the glorious RMIT Capitol Theatre and screening for one night only, FedFest combined a mish-mash of historical features with the 5 winners of the national Federation Film Festival: Kullifoot (directed by Brendan Fletcher) Warm Strangers (Ivan Sen), Jubulj (Wayne Blair), The Third Note (Catriona McKenzie) and Conflict (Michael Riley).
Curated by Scott Murray, the festival aimed to explore "the relationships between Indigenous and white Australians", and in the main it succeeded. The inclusion of historical work gave viewers a brief insight into the different ways Aboriginal culture has been represented in film, although the selection seemed overly cautious, geared to only positive representations. Balanced against this, the 5 new films swung from the inspiring and heartfelt to the dull, a situation compounded by the order in which the films were presented.
The evening opened with the ponderous 1981 mini-feature My Country, Djarrakpi, then swung across to the least successful of the 5 new films in Jubulj, before dealing up the challenging and cryptic video installation Conflict. Perhaps My Country, Djarrakpi was meant to give the audience a sense of place, centring as it did on physical space and artistic interpretations of it, but it felt cold, distant. Jubulj had its heart in the right place. The idea of a fair skinned Aboriginal woman confronting both her heritage and the people around her was a good one, but the story was handled in a simplistic fashion and seemed to skate across the issues it was attempting to explore. Michael Riley's Conflict was fantastic, a series of still images juxtaposing various interpretations of Aboriginal settlements and white occupation, binding them together with a voiceover. It succeeded as a mini-portrait of the festival's most positive elements, allowing the audience to make its own judgements, never dwelling too long on any image and presenting a wide range of interpretations.
The brightest moments came after intermission with 2 great short films which were original, satisfying and complete (a difficult feat in 15 and 11 minutes respectively). The Third Note gave us a few minutes in the relationship between 2 neighbours, a blind Aboriginal woman and an elderly immigrant man, and their struggles with place and history. The performance of Deborah Mailman was particularly strong.
Kullifoot focused on football, place and family, and managed to run parallel stories inside its quarter hour. Trevor is leaving his community in Broome to play footy for the Sydney Swans, while his cousin Cragie watches on TV. The disparate stories are woven together, running Cragie's development inside his community alongside Trevor's success on the field.
Also worth mentioning is the mini-documentary Amy (1976) which followed a young Aboriginal girl in her quest to find work. Insightful, well handled and honest, it was a hypnotic social document which has effortlessly retained its relevance and importance.
Federation Festival, RMIT Capitol Theatre, Melbourne, May 2001
RealTime issue #44 Aug-Sept 2001 pg. 18
© Alex Hutchinson; for permission to reproduce apply to realtime@realtimearts.net